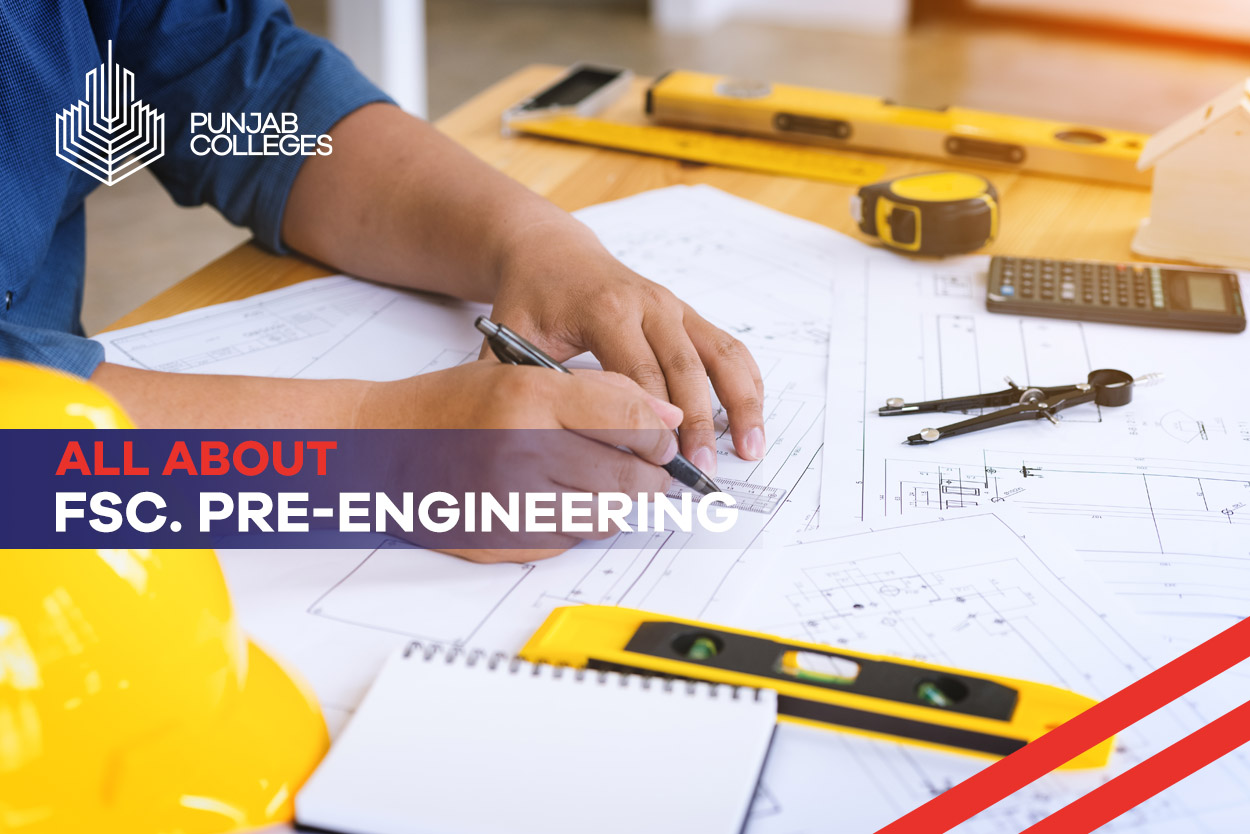 FSc Pre-Engineering is a two-year foundation programme designed for students who dream of pursuing higher studies in engineering. In Pakistan, FSc Pre-engineering is considered one of the most sought inter-level programmes for those students who want to advance their career in the fields of mathematics, physics, chemistry, or related studies. This programme gives the right exposure to scientific knowledge and experience that helps them find their passion at the intermediate stage. It is important to have analytical and quantitative thinking and the right aptitude for science and mathematics to ascertain your admission into one of the top engineering universities. 
Pre-Requisites to Get into FSC Pre Engineering
A student looking to get admission in FSC Pre-Engineering must fulfil the criteria to complete their matriculation with the science subjects.  
The science subjects are Physics, Chemistry, and Computers, with other subjects including English, Islamiyat, and Pakistan Studies.  
Admission to FSC Pre Engineering
Pre-Engineering is the most reputed and high-merit education line in Pakistan. Therefore, the top scorers of matric board exams are ideally chosen for FSC Pre Engineering. The highest scorers are chosen for admission in the most reputed engineering college for higher secondary education, also known as FSC Pre-Engineering for further education.  
After FSC Pre-Engineering
After students get admission to FSC Pre-Engineering, they spend a couple of years in FSC part 1 and FSC Part 2. in which students get advanced foundation education. After that, the students appear in the board examination for FSC part 1 and FSC part 2 separately.  
BS after doing FSC Pre Engineering
After students clear their FSC Pre Engineering in classes 11 and 12. They can take admitted to four-year bachelor's program in any of the engineering fields they want to pursue.  
For admissions in BS Engineering, students are required to score high in board exams and entrance tests.  
Careers Options after FSc Pre-Engineering
The main purpose for students to study in Pre-engineering is to get into various fields of engineering and mechanisms such as: 
Mechanical Engineering

 

Electrical Engineering

 

Chemical Engineering

 

Aeronautical and Space Engineering

 

Mechatronics Engineering

 

Atomic Engineering

 

Meteorological Engineer

 

Telecommunication Engineering 

 
Conclusion
Doing FSC Pre Engineering is the only way to get professional education in engineering subjects in Pakistan. Therefore, students must study efficiently and learn the concepts by heart to score high to achieve their dreams coming true.