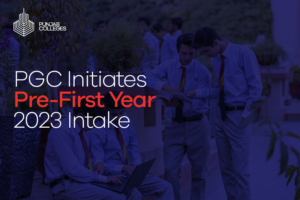 Students who appeared in the matric 2023 exams will get ample time before the intermediate admissions for the next study plan. During this free time, it is ideal for students to invest their energies and time resources in productive learning activities. Therefore, Punjab Colleges (PGC) offer a free chance to take an early start with the Pre-First Year 2023 classes. To learn about the benefits of pre-first years at PGC and to apply, keep your attention to the last of this post.   
What are Free Pre-First Year Classes? 
The pre-first year classes 2023 are open at Punjab Colleges. Taking admission to these would be the best possible decision you will ever make in your academic life. It is because of intermediate education's fresh, early, and quick start.   
Early access to quality learning resources for all intermediate disciplines is free at PGC in the pre-first year of 2023.   
FSC (Pre-Engineering) 

 

FSC (Medical) 

 

ICS 

 

ICOM  

 

FA  

 
Intermediate Disciplines 
The opportunity of pre-first year classes 2023 is open for all various disciplines in intermediate as per the boards of intermediate and secondary education permits. You can take admission for pre-first years in science, computer science, commerce, and art subjects as per your preferences.   
Importance of Intermediate Years 
Intermediate is the junction point between school and college education. The dynamic transformation from a school child to a college student is exciting and worth waiting for. Many students dream of independent and luxurious college life. Therefore, pre-first-year admissions in PGC can help you live your dreams earlier than many other students.   
FSC (Pre- Engineering) 
Students interested in learning engineering in their professional education and have matric done in computer science, maths and physics can opt for FSC pre-engineering in the pre-first year 2023.   
FSC (Pre- Medical) 
Students with matriculation completed in biology, chemistry and physics interested in learning medical or life sciences for their professional education can choose FSC pre-medical in the pre-first year 2023.  
ICS 
Intermediate in computer science is also known as ICS. ICS is ideal for students interested in computer sciences, software engineering, and similar subjects. Pre-first-year admissions in PGC are your perfect way to start ICS.   
ICOM
Students interested in business, accounting and commerce can choose commerce as their major in intermediate.  
FA 
Education in humanities is often called FA. Those students looking for linguistics or human sciences like psychology can go with FA education for the relevant perusal.   
Students will get the following advantages by enrolling in the pre-first year 2023 at Punjab Colleges (PGC).  
How Does the Pre-First Year Benefit You? 
Early exposure to the intermediate syllabus and board exam format.  

 

Professional guidance and opportunity to choose the appropriate career path. 

 

Exceptional learning experience through E-learning & professional teachers' class assistance. 

 

Confidence-building experience with optimal utilisation of time. 

 

Exploration of strength and weakness. 

 

Early curriculum coverage and revision time expansion.  

 

Development of competitive advantage over other students in various aspects. 

 

More time and resources for revision purposes.  

 
These are some prominent benefits of enrolling in pre-first year classes 2023 at PGC. Let's look at more benefits.   
Fee Structure  
The pre-1st year classes 2023 at Punjab Colleges are Free of any free. Hence, students will get a massive chance to rise early and stay ahead of students who will land in regular intermediate classes. Enrolling in the pre-first year in 2023 will also offer a free reservation for seats in inter admissions.   
Facilitations at PGC 
You will have access to state-of-the-art facilities.    
Purpose-Built Campuses 

 

Well-Equipped Labs & Libraries 

 

Robotics Labs 

 

Microsoft Certifications 

 

Extra-Curricular Activities 

 

Recreational and Education Trips  

 
Apply Now 
Interested in applying to the pre-1st year 2023? – Click here.  
PGC Intermediate Recap 
Punjab Group of Colleges (PGC) is the epitome of excellence in the education sector of Pakistan. For over three decades, our students have been standing prominent in board examinations throughout Punjab. Recently, in 2022, 176 top positions were grabbed by our brilliant students in intermediate examinations. You can be one of the next position holders!   
Conclusion 
The pre-first year 2023 classes are a golden opportunity to take an early start to rise high for your next study destination- intermediate! Avail of the admission opportunity for free admission and a worth-taking decision for your learning journey.