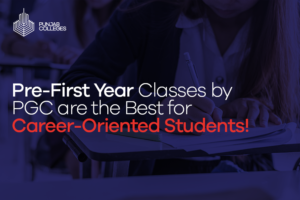 Punjab Group of Colleges (PGC) admissions for the pre-first year 2023 are about to close. Don't miss a chance, apply today and avail the best opportunity to ace your knowledge and sharpen your skills to score the best in intermediate board examinations.  
Apply online for Pre-1st Year 2023 
Introduction to Pre-First-Year Classes
The pre-first-year classes are opened by PGC. The students who appeared in matric exams this year and these days are waiting anxiously for the result declaration for further education are eligible to apply. The aim of these classes is to empower students' knowledge, skills, and vision to work for their future and professional education in a timely manner.    
Invest Your Time in the most productive Way
While studying in the pre-first-year classes, students would be able to utilise their time and energy in the most positive way. There is an extensive availability of distractions for students nowadays. It could result in a waste of time, energy and the power of focusing on the things that really matter.  
Therefore, students' performance is often affected and results in poor outcomes. Therefore, anything as a productive counter is always the best way to spend time in a positive manner.  
Prepare for Intermediate Earlier Than Many
The pre-first-year classes are a golden opportunity to take the lead in intermediate in many ways. Students will start their intermediate classes much earlier than the rest of the students who would start a regular learning session. The gap between the initiation matters a lot in the crucial classes linked with the board examination.  
Hence, an early start is always a better option to get a comprehensive grip on the details of the curriculum. The students learn and make enough revisions successfully. These all things contribute massively to the board examination.    
Pre-First Year Helps Understand Board Patterns
At Punjab Colleges (PGC), every aspect is addressed for optimal results. Similarly, our professional teachers help students to understand the subject, content and requirements of the paper examiner in inter boards.  
Choose Your Preferred Career 
The pre-first-year classes are open for all the approved disciplines of the intermediate by the board of intermediate and secondary education in Punjab. Students can easily opt for any of the following lines as per their preferences.  
FSC Pre-Engineering

 

FSC Pre-Medical

 

ICS

 

ICOM

 

FA

 
Pre-First Year is a Free Cost Learning Investment
In addition to all these benefits, the pre-first year is a learning opportunity without any fee or cost expense. Therefore, it is also the best investment for these high inflation times. Therefore, there is no room to overlook this massive opportunity for learning because of any monetary constraints.  
Apply for Pre-First Year 2023
The online application for the pre-first year 2023 can be submitted here.  
Conclusion
Pre-first-year classes are the best investment for students who have appeared in matric exams and waiting for results. They can continue their learning without any destructive gap.