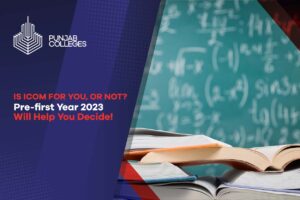 Are you done with your matriculation? And nowadays, you are considering which field to choose for your intermediate, as you are not an engineering or a medical person. Therefore, you are thinking of going into some field like business accounting insurance actuaries. Now you think about choosing the intermediate in commerce, but you are confused and unsure whether you would be a good fit for it or not. Don't worry. The pre-first year at PGC will help you decide the same. For the decision, you must go through this article's end.  
The Course Content for I Com 
To start this entire discussion, let's discuss what i.com actually is. ICOM is an intermediate level of study that focuses on the area of business, accountancy, and commerce. Hence, it is just a specialisation like pre-engineering, pre-medical, ICS, or FA.   
Therefore, those who are interested in something other than pre-engineering or pre-medical and not even in computer sciences or simple linguistics can opt for icom if they have any interest in trade, business, or commerce.  
Pre-First Year 2023 at Glance
It is often scepticism, Regarding the length and content of the syllabus of icom. However, the course length is decided by the Board of Intermediate and secondary education throughout Pakistan. Therefore, the best way to complete something lengthy is to start early and finish early.  
Punjab Group of Colleges (PGC) understands the students' struggles quite well. For the same reason, our students have been the top scorers for many years. Which ultimately results in the highest ratio of students landing in top universities for commerce, medicine, engineering, IT and other specialisations.  
The pre-first year 2023 initiative at PGC offers a golden opportunity for matrix students who have a handsome time deciding which way to choose for their career through professional education.  
The pre-first year classes are free of cost and aim to assist our future students in a better way that equips them with the latest knowledge and a grip on the curriculum to score well in their intermediate board examinations.  
Starting early eventually provides Peace of Mind, Clarity in thought process, and a solid grip on the content and concepts of crucial intermediate years, which definitely stands helpful in professional education and later in career days.  
A solid grip and clarity with the hope of scoring high and better understanding in various aspects boost our students' confidence level, shown in the intermediate board examinations in terms of better performance and optimised results.  
Advantages Of Enrollment in Pre-First Year at PGC 
Now if you have a question that it's OK to take the pre-first year, but why PGC? We have listed down some prominent features of enrollment in the pre-first year at the Punjab Group of Colleges (PGC).  
Punjab Group of Colleges is the largest educational network in Pakistan. 

 

Punjab group of colleges is a part of the Punjab group, and it has several sister institutions offering education from nursery to PhD. 

 

For the past 37 years, our students have been our pride, and continuously, we have been in the top rankings when it comes to the results of intermediate examinations throughout Punjab. 

 

In 2022, Our 176 students bagged the top positions across Punjab boards.  

 
Apply at Pre-First-Year 2023 Today!
Punjab colleges have the best teaching resources comprising subject specialists who are equally well-trained and better understand student psychology. Therefore, the teaching methods they adopt help our students understand, evaluate and absorb the knowledge they are getting as a student, which ultimately results in better performance.  
Education Prospects After I.COM
after you complete your intermediate in commerce, oh also known as icom. You can be admitted in any of the lines from your university as your BS or bachelor's programs.  
Accountancy 

 

Business Administration 

 

Commerce 

 

Insurance 

 

Banking 

 
Admissions For Pre-First Year 2023 PGC Are Open 
Now, if you have made up your mind for icom, the best time to initiate your studies is the first year at PGC.  The admission forms for the free pre-first year 2023 are available. For other information, you can visit our website!  
Conclusion 
The pre-first year of 2023 could be one of the best decisions you will ever make regarding your education and career. The benefits of the pre-first year are numerous, in addition to its free availability. So don't miss the chance; enrol yourself, complete your intermediate curriculum beforehand, and take the lead of your future differently.