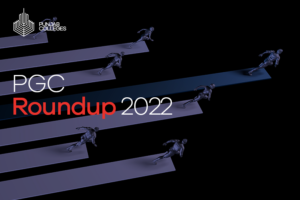 Punjab Group of Colleges (PGC) welcomes a new year will valour and zest. It is high time to keep our hopes and energy levels optimal. The root of the hopes for a better future arises out of the exciting accomplishments we gained in the preceding year, 2022. We are reflecting back to see what feathers we got in our hat in 2022.  
The Legacy of Educational Excellence Continues 
Punjab Group of Colleges (PGC) continues to bag the top positions in 2022 in intermediate exams across the boards nationwide. In federal board results 2022, our student Miss Tooba Abdul Basit, secured the 1st position in the overall and medical group. She secured 1081/1100 marks, respectively.  
Similarly, Miss Iqra Mehmood scored 1061/1100 marks and stood 1st in the Federal board exams General Science Group. Both are students of Punjab Colleges Rawalpindi.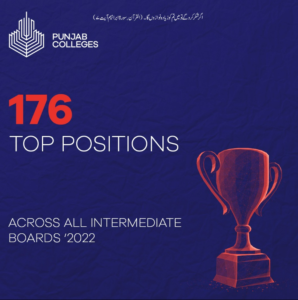 PGC continued the legacy of distinctions across all intermediate boards in 2022. Our brilliant students achieved one hundred seventy-six (176) top positions. In the Lahore board, we secured 22 top positions, while in the Sahiwal board, the legacy of distinction was carried forward by 21 torchbearers.  
Furthermore, our several students scored top positions in several inter-collegiate competitions and other miscellaneous events held by HEC, LCWU, and other institutions. 
Pride of PGC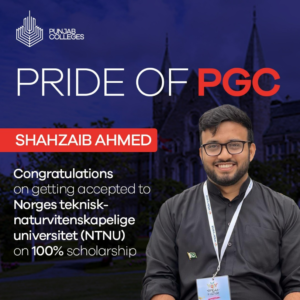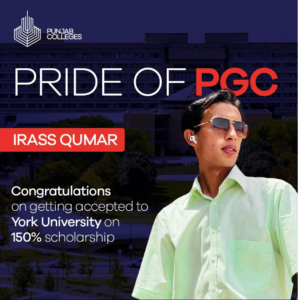 Our students have always been a source of pride for us. In 2022, our student Mr Irass Qumar from the class of 2020, got accepted into Newyork University with a 150% scholarship. On the other hand, Mr Shahzaib Ahmed, from batch 2012-2014, got accepted into the prestigious Norwegian University of Science and Technology (NTNU) on a 100% scholarship.  
In addition to the curricular activities, our students became our ultimate pride in co-curricular activities. Hafiza Summaya aced several competitions in 2022. She won the Nazaria-e-Pakistan competition and the Minhaj-ul-Quran University competition as a Qaaria.  
Mr Abrar Shahid aced as a vocalist in 2022. He secured 1st position in several competitions, including the All-Pakistan Music Conference and the All-Pakistan National Songs Contest. On the other hand, on multiple occasions, Hafsa Wajid Butt stood 1st as an Urdu Debater. In addition, Mr Zaid-ur-Rehman also remained the pride of PGC by acing multiple competitions as an Urdu Debater.  
We wish our students the absolute best of luck, and we pray they keep on shining always!  
Robotics Exhibition by PGC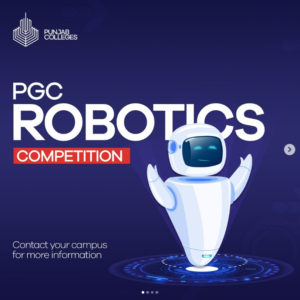 In 2022, Robots returned as PGC conducted the grand robotics exhibition 2022 in Lahore. PGC aimed to develop students' interest in artificial intelligence (AI), Robotics development and offered them an accessible platform to showcase their talents and creativity. The exhibition invited students from PGC. The skills of Model designing, circuit development, remote controls development and coding remained the focus of the robotics exhibition. Winners were selected, and prizes were distributed.  
Our Stars of Tomorrow Shone Bright 
In mid of 2022, an online competition was held for pre-first-year students. It included competitions in singing, vlogging, stand-up comedy, and much more. Winners were awarded accordingly.  
Matric Prep Made Easy-Prep by PGC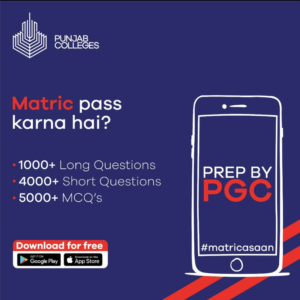 Punjab Group of Colleges understands our students' struggles in preparing for matric boards. Therefore, we launched our most powerful and fulfilling application for the students of the 9th and 10th classes, respectively, in the year 2022.  
The students can prep video lectures, notes, and objective and subjective portions with past papers and self-assessments of all the subjects as prescribed by the boards of education in the country. The app is regularly updated, monitored, and content is readily available.  
Currently, the prep by PGC comes with 1500+ video lectures, 4000+ short questions, 5000+ MCQs, and 1000+ long questions and past papers for the last five years. Prep by PGC is an online portal and downloadable app accessible on Apple & Android devices.  
Mother's Day Celebration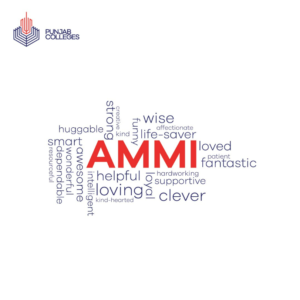 PGC wanted to do something unique in 2022 to honour all the wonderful mothers out there. In order to recognise and show their appreciation for all their mothers have done for them, our kids gathered to discuss the sacrifices their mothers have made for them. The slogan of this campaign remained –Shukriya Ammi!  
May all mothers live long!  
Gratitude to our Fathers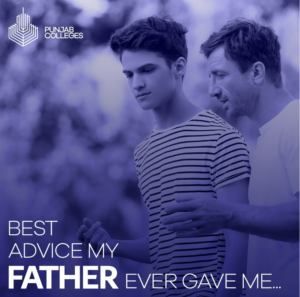 When we talk about our mothers, it is impossible to oversee the sacrifices fathers make for us! Therefore, in 2022, PGC asked its students to share the best advice their father ever gave them. There, we saw how much sacrifice fathers made, how much wisdom they hold. Consequently, how much gratitude we owe to them!  
May our parents live long!  
Shukryaa Ustaad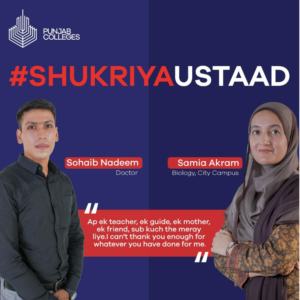 On this teacher's day of 2022, our alumni surprised their dedicated and hardworking teachers. They got customised messages recorded for their favourite teacher, and they told them how much the teachers and their efforts are cherished! All we wanted to do was to pay sincere and warm gratitude for the arduous work the teachers put in for their students. And also, let the teachers know about the fruits of their sowed seeds! The loud slogan of our teacher's day remained- Shukryaa Ustaad! 
Music Fest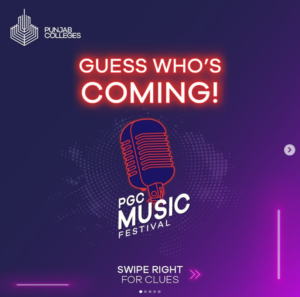 In addition to all these massive acknowledgements and significant winnings, PGC never forgets the music mantra to keep its students grinning. Music Fest remained the top music occasion of 2022. Renowned and loved artists of the Pakistan Music Industry were invited to perform on-stage in Music Fest across multiple cities. Asrar Shah, Soch-the band, Natasha Baig, and Sahara UK were the top artists and bands.  
Efforts for a Greener Pakistan
Punjab Group of Colleges (PGC) is well-aware of the adverse effects of coal burning and carbon emissions. For the same reason, forty-six (46) PGC campuses have switched to solar power, which translates to a 4881.919 CO2 reduction in tonnes. This is indeed our effort towards a clean and green Pakistan.  
Observance & Patriotism 
Apart from the celebrations mentioned earlier, PGC stood on the top in observing the national spirit of good and bad times. 5th February, 14th August, 6th September, 11th September, and 25th December were nationally observed. In addition, martyred children were remembered on 16th December 2022, in the memory of APS Mascara of 2014.  
Conclusion 
With all its white and black, 2022 came to an end. It is 2023 now, and we at PGC are optimistic, charged, and positive to bring more productiveness, soundness, and excellence to our national education sector!