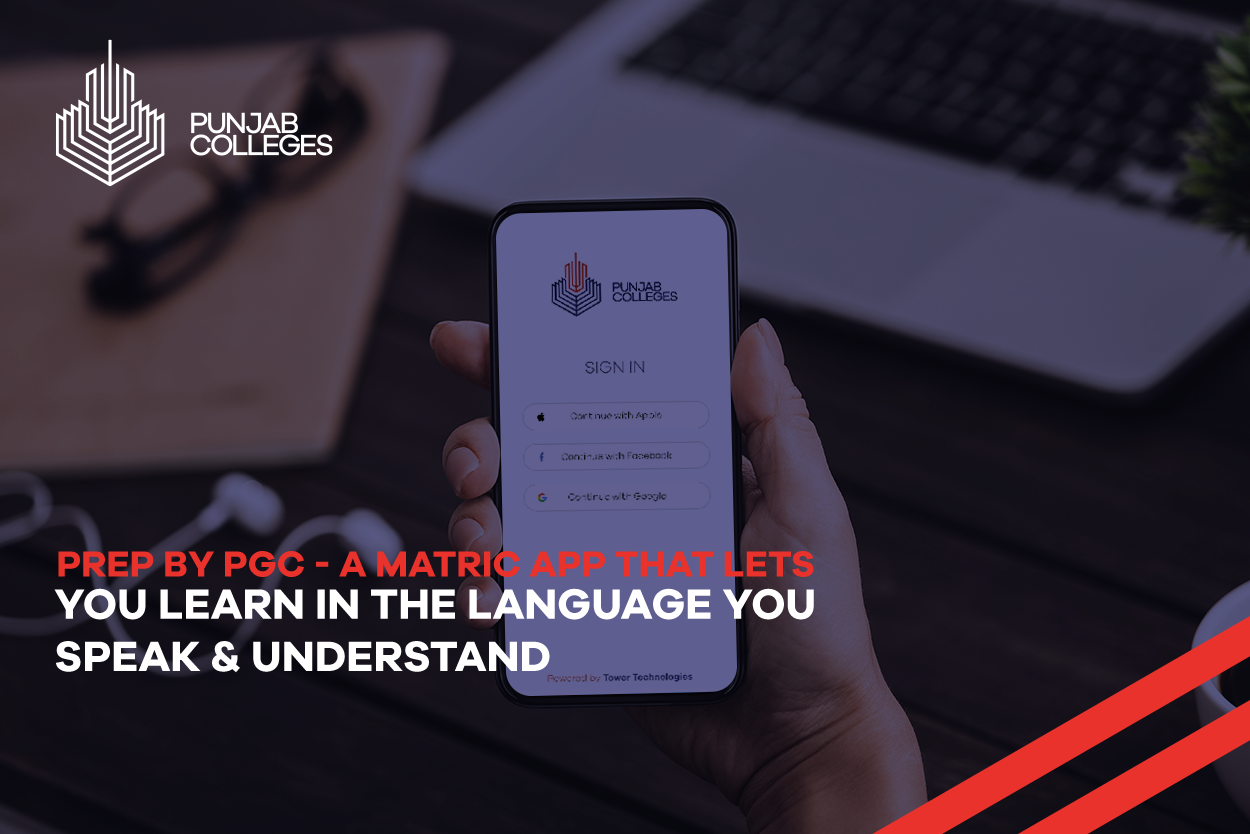 A report released by World Bank last year states that students learn quickly and easily if first taught in their native language. It also reads that students are more likely to stay in school if taught in the language they understand and speak. Poignantly, a large portion of students faces this problem in schools and colleges here in Pakistan – especially the matric students. But this wouldn't be the case anymore. As a hub of educational excellence, the Punjab Group of Colleges has always strived for equity and inclusion by offering unique solutions to contemporary problems. Overcoming the language barrier in learning is one of them.
Prep By PGC – Urdu Medium Section
Prep By PGC is a matric portal and an app that offers free and unlimited access to matric students to 2500+ video lectures, 5000+ MCQs, 1000+ long questions, and 4000+ short questions.
The great news is that the portal now contains video lectures on all subjects in Urdu, too. It means that language will no more be a barrier to learning and clearing difficult concepts.
Be it Physics notes for class 10 or Chemistry notes for class 10, there isn't even a single subject whose lectures are not available in Urdu.
Here at the Punjab Group of Colleges, our experts understand that instructions unfold in the language students speak and understand. Owing to the same reason, dropout rates are high and learning levels are low in countries where students are taught in languages they don't understand. Fortunately, this won't be the case with Pakistan anymore. Why? Let us explain.
Prep By PGC – the best app for matric – is available for all students across Pakistan. It doesn't matter whether you are a student of Punjab Group or not, all you need to do is to download the matric app from the Play Store or App Store and sign in using your Facebook or Gmail account. Voila! Now you have unlimited and free access to the material prepared by the country's top education experts.
Prep By PGC – Provide Feedback or Raise An Issue
Another great feature that has been added to this best learning app for matric is that now students can give feedback or raise an issue. Learning occurs more rigorously when students engage in debates as it fosters the concept and helps clear difficult ideas.
With this feature, if you think that the publisher has listed a wrong answer in the MCQ section, you can report it. The team will look into this matter immediately and it will be resolved at the earliest.
If you are using android, you can download the

best matric app

by clicking

here.

If you are using an iPhone, you can download Prep By PGC by clicking

here

.
All you need to do is to download the app. There's no reason to bombard Google's search box with phrases like best Physics notes for class 10 or English Notes for Class 10.
The app has some other great features, too. Let's go through them one by one.
Resources Prepared By the Country's top Education Experts
Punjab Group of Colleges is synonymous with educational excellence. Our students secure 176 top positions across all Punjab boards in the FSc exams – most by any institution.
This success is attributed to our top-notch faculty. And the best part of the free matric app is that the same faculty and experts have prepared the lectures for it. It means you will be learning under the supervision of the country's top lecturers from the comfort of your home, and that too without any cost.
No Need To Pay Hefty Fees to Academies
Thanks to Prep By PGC, matric students can now rid themselves of hefty academy fees. All you need to do is to plan your time strategically and get the most out of the app.
User-Friendly Interface
Another great feature of the best matric app is that it's extremely easy to use because of its user-friendly interface. It doesn't matter if you are good with the devices or not, you can navigate within the app without any difficulty. Though user-friendly, the interface still is striking and eye-catching.
Caters to the Needs of All Boards
The app contains matric resources – short questions, long questions, and MCQs – for all boards. The portal covers courses of all the boards, including the Lahore Board, Rawalpindi Board, Faisalabad Board, Multan Board, Karachi Board, and Hyderabad Board, among several others.
By getting the most out of the one-of-its-kind initiative, you can secure top grades in the matric exams and get admission to your country's top colleges.