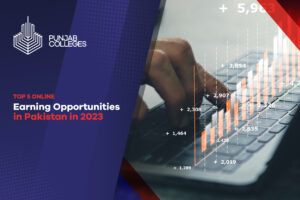 Pakistan has been facing rising inflation for the past eight months. Many people have lost their jobs; the price increase is a new norm. Therefore, it is essential to make extra money and generate stable income sources in 2023. This article lists the top five earning opportunities, which are workable for anyone who is interested in earning online money through legit sources. Online earning will be helpful in having freedom on all levels. Though, it takes time and effort as an input.  
Start Freelancing in Specific Niche
One the top of our list, we have 'Freelancing'. Freelancing is a work-from-home (WFH) concept for companies or individuals sitting in other countries and time frame. If you can do any productive work in a way that could be helpful to anybody in the world, then you can opt for freelancing.  
Students can also start it without compromising their studies. The top 10 ideal online jobs for students include writing, proofreading, social media management, and graphics designing skills.  
Freelancing platforms like Fiverr, Upwork are the prime source of starting freelancing without any investment. The per hour remunerations vary from time to time.  
Start Blog in your favourite Niche
One long-term and rewarding online career is to start a personally developed professional blog. Students often ask what is required to initiate the blog. The answer is simple: your interest and patience is the prime source of success in any blog.  
To make a consistent effort, it is advised to choose the niche that excites you. If you have an interest in cars and automobiles, start a related blog. You should obviously have ample knowledge about the basics, current standing and regular updates regarding the niche of your interest.  
The entire process of blogging is simple. Follow the steps below.  
Choose a particular niche of your interest.

 

Set up a professional blog through professional web-hosting service providing platforms like

Go Daddy

,

Hostinger.

Make blog via website portals like WordPress.

 

Do a detailed key-word research limited to your niche. You can use tools like Google Keyword Planner and Moz on early stages. Free knowledge bank regarding search engine optimisation (SEO) and Keywords is available on free-learning websites.

 

Create high-quality and satisfying content on your blog. Ensure it caters to audience queries and fulfils search engine requirements for better and faster ranking for best and fast results.

 

Share your posts on social media regularly. It is advised to make a separate page that is linked with your website (blog). The regular updates from your end will help you making an audience over time with effort and without money. However, if you are looking for quick audience built-up, you can go for paid social media campaigns.

 

After your blog has a regular audience stream, try to monetise the same through Ad sense. In this way, you will earn regular ads revenue. However, it is essential to maintain the quality traffic.  

 
Start a YouTube Channel
If you have a niche in your mind, but you are not a person who loves to talk instead of writing. Then instead of blogging, you may initiate a YouTube channel. Making a channel on YT is free, it does not require any domain buying.  
Just choose your niche

 

Do Your Research about available content on YT

 

Make Your Channel

 

Record Your Video

 

Upload On YT channel

 
The possible ways to start your channel on YouTube could be the following.  
Once your channel gets targets outlined in YouTube Channel requirements, you can earn video revenue from your videos.

 

In addition, one can start sponsored content with established brands. This will help you earn dual revenue, but for that, established channel with huge audience is required.

 

You can also go into Memberships once your channel reaches a specific level.

 
Open Online Store
Starting a blog or Video channel could be your income streams, but they are time-taking. For quick results, you can go into ecommerce store.
Daraz.pk is the sole ecommerce market in Pakistan. You can either start an ecommerce shop there or make your independent store on Shopify. The Shopify store are ideal option for following the drop shipping model in Ecommerce.  
Apart from Shopify, you can also go on Amazon, Etsy, and other ecommerce markets on international level. However, doing early research is always required. You can learn from Amazon and Shopify for more.  
Sell Digital Products
Last but not least, we can sell the digital products. The digital products are less expensive and comparatively easy to sell. The reason is that as the presence of the product is digital. Therefore, production is direct, easy, and so is buying and selling processes. The e-books, FTDs, Editable Graphics, Software and Apps are some of the hottest selling digital products.  
The established graphic designers, story writers, and painters must go for selling the digital products.  
Summary
We conclude this article by reassuring our readers that online earning in Pakistan is the new normal and most rewarding income-stream for 2023. It is high time to take steps that excite you, help you develop your skills, and impact your life in a better way in earning and living.