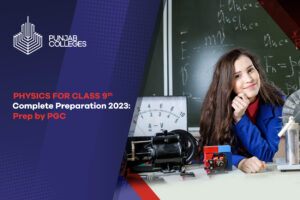 Physics for class 9 is one of the most essential subjects for science students. Nomatter, students opt for Biology or Computer, Physics is a compulsory subject. Typically, preparation for Physics is a bit consuming. Therefore, Punjab Group of Colleges (PGC) brings a complete preparation material to ensure guaranteed preparation in 2023 for class 9 Physics and other subjects.  
Download Prep by PGC

on 

Android Devices

via

Play Store

 

Download Prep by PGC

on 

Apple Devices

via

Apple Store




 
Complete all chapters for Physics for class 9
The chapters in Physics of class 9 are according to the syllabus as prescribed by the board of intermediate and secondary education (BISE) in the province of Punjab. Punjab Group of Colleges (PGC) brings a free preparation resource, named as Prep by PGC, by the educational experts in Pakistan. Therefore, whole curriculum is covered by various angles curated for examination. 
Prepare 360 Degree Course for Physics Class 9
Prep by PGC offers a bunch of options for best exam assistance. The app offers free video lectures for Physics for class 9. The lectures are recorded by the professional team at PGC. Punjab Colleges never compromises on the education standard.  
You can master your Physics board examinations by learning from video lectures. It is important to note that graduates of the Punjab Group of Colleges have a long history of earning top rankings in board examinations. Our students were successful in securing 176 top positions in 2022 alone across all boards, including the overall top score in the Lahore Board.
The experts behind Prep by PGC also created that project. The app was created with the intention of providing free access to high-quality education.  So, to get a high quality and current course in Physics for class 9, all you need is a mobile device and an internet connection. 
Directly Access the Physics class 9 Past Papers
In addition to the high-quality video lectures, the students can also access past papers for Physics for class 9 free. The past papers are available for all education boards of Punjab. Therefore, you come under the jurisdiction of any of the boards in Punjab, this app is equally productive and entertaining for you.  
Revise Physics for Class 9 with Practice Tests
We assure the students of class 9 that they will learn Physics for class 9 in comprehensive manner. The video lectures are pre-recorded and readily available for active listening on a smooth and user-friendly interface.  
In addition, the free access to the past papers will empower you with certain knowledge. For instance, you will get familiar with the paper pattern, the style of examiners, most repetitive topics and the most important topics from the curriculum of Physics for class 9.  
Furthermore, Prep by PGC comes with free assessments for all subjects, including class 9 Physics. This feature is helpful for students to practice free exam questions relating to any topic, subtopic, or chapter of Physics for class 9.  
Relearn Important Infor with MCQs Bank
With video lectures, practice sessions, the students will prepare detailed topics and chapters for class 9 Physics. However, preparation does not end here. Instead, students are half-way in their journey of exam preparations.  
Therefore, students should consider completing the objective part of Physics for class 9. To do so, the students must go through the exercises at the end of every chapter. In addition, students can learn from a free bank of multiple-choice questions (MCQs) from the free and reputed resources of Prep by PGC.  
For your information, the Prep by PGC have more than 5000 MCQs and 4000+ short questions. Now, you may analyse the level of deep learning facility available at your fingertips. 
Enjoy your Physics Prep with Independence
Students are free to learn at their own pace with Prep by PGC. This is not a lame statement because this free matric app is available for installation after you download it in your android mobile or apple device.  
Download Prep by PGC

on 

Android Devices

via

Play Store

 

Download Prep by PGC

on 

Apple Devices

via

Apple Store

 
In addition to its easy access, the quality of content is guaranteed as the app is developed by our expert team consisting of technical experts and subject specialists. Moreover, this app is regularly updated to fix any errors, glitches, or deficiency in curriculum.  
Hence, you can also report if you find any issue while you learn all your Physics for 9th class course in English or Urdu medium as per your educational medium.  
Conclusion
To sum-up this article, we are glad to remind you, class 9th students under Punjab boards of education, that you can prepare Physics for class 9 through 360-degree angle with the help and learning assistance from Prep by PGC. This free app is accessible on all smart devices. Furthermore, students can learn all without spending a penny. Therefore, complete your exam prep in 2023 as a free soul.