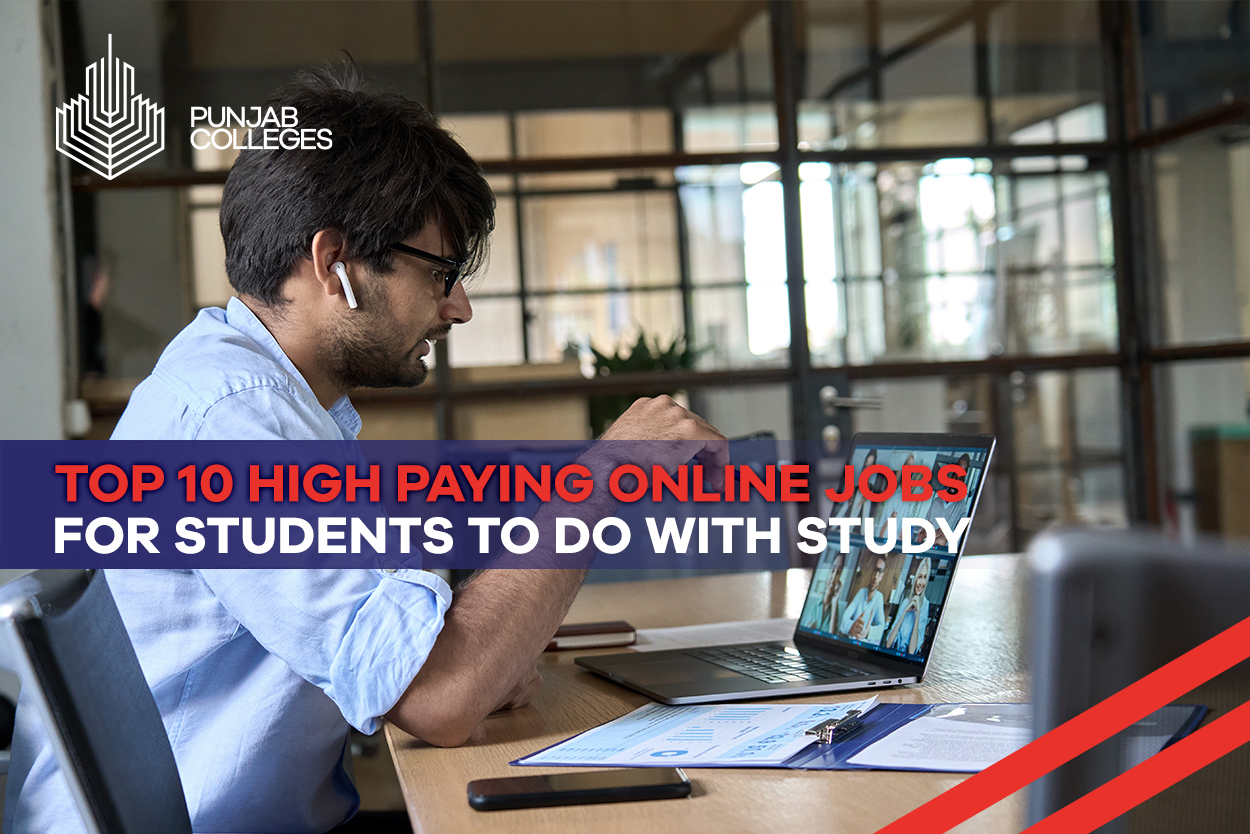 The priority of a student is education. But many students ask about working online and how to do online jobs. The freelance, work-from-home (WFH) concept has seen massive growth in the last couple of years. This article lists ten top online jobs you can do as a student in Pakistan. The good news is that your education will not be affected. Also, you can share expenses in your studies.  
Freelance Writer 
The online job that tops our list is the job of "Freelance Writer." College students have a well-developed calibre to start their career as a writer. In addition, they are linked with reading and writing phenomena. Therefore, they can easily add a writing task to their daily schedules.  
Writing is a vast field in the online job market. Students can see online jobs with titles like "content writer," "blog writer," "ghost-writer," and "product description writer.  
It is a perfect online job for you if you have a passion for reading and love to communicate. It will help you polish your communication and writing skills to the top. Moreover, the pay ranges from $15-$50/hr.
 
Freelance Proof-reader 
Another online job you can do as a student is to become a proofreader. Proofreading is a job to recheck the written content. The blogs, articles, screenplays, scripts, brochures, and ads need proofreading.  
If you have an eye for taking out the grammatical mistakes, errors, and omissions. The online job of proofreading is waiting for you. A student can make around $18-$35 per hour.  
Social Media Manager 
Today students spend too much time on social media websites like Facebook, Twitter, Instagram, Snapchat etc. Hence, it is undoubtedly an easy task for youngsters. All you have to do is to manage the corporate pages of brands or service providers. The social media manager's job is to make a prominent brand identity throughout the social media platform.  
The job titles across online platforms for similar online jobs are "community manager" and "Facebook managers." Furthermore, a social media manager makes $14-$35/hour.  
Online Tutor 
Teaching is the prophetic profession. The benefits double if you are a student yourself. The reason is that teaching or tutoring clears out the concepts, and continuous repetition makes things more apparent over time.  
Online tutoring is a part-time job that continues for a couple of hours per session. It is manageable with studies. The online market often displays "online teacher," and "tutor required." The tutors make $20 per hour.  
Virtual Assistant (VA) 
Virtual Assistant (VA) is the most prominent job in the world of online jobs. The students can offer their services as virtual assistants over freelancing platforms. Virtual assistance is the job of providing the necessary help to the respective employer.  
Managing tasks, answering the customer's query over social media platforms, making, or entering the data on a spreadsheet, and taking an eye over scheduled tasks are a few duties a virtual assistant performs. Students can arrange schedules as per their time availability. Furthermore, they can help the clients with specific tasks to complete in addition to the listed one and charge more.  
Virtual Assistants earn around $10-$20 per hour. Rates depend upon experience and skills.  
Graphics Designer 
Graphic design can be a gold mine for students with skills and interests in the field. If you have a knack for drawing, colours, sketching and drafting, starting as a graphics designer would be your brightest chance to earn a handsome amount regularly. The scope of graphics design is enormous. Moreover, it is ever expanding, and there is no chance it will leave its space.  
Some software is crucial for doing this online job. Adobe photoshop, illustrator, and In Design are some of the basics for a graphics designer. Students can learn the skills and software free from YouTube channels, online courses, and free tutorials.  
The online job of graphics designer can earn $15-$35 per hour. The more your experience enhances, the more you can make. Moreover, portfolio maintenance is essential for future endeavours.  
Search Engine Evaluators 
Search Engines like Google, Bing and Firefox often rely on user feedback to optimise their working. As a student, you can be their feedbacker. You can earn a handsome amount per hour by fulfilling the feedback form. This online job pays around $12-$15 per hour. You can find such jobs on Leap force and Lionbridge.  
Web Designers 
Web designers are also in huge demand these days. Every business is trying to be online. For that, they need web developers and designers. The designers fulfil the requirement of the target market of their clients. Enriching the user experience is the main motive behind web designing. The students with coding knowledge and designing eyes are best to work as web designers.  
Web designers earn around $24 per hour. You can get legit online jobs for web designers at freelancing websites.  
Transcriptionists 
Transcriptionists are people who document the audio content of videos. Many companies offer online jobs to transcribe YouTube videos. As a student, you can be a transcriber if you are good at taking notes and writing down what is being spoken.  
The tasks are not time-consuming unless the video is lengthy. In that case, remuneration would be increased for sure. On average, transcribers earn around $12-$22 per hour.  
Video Editors
Now, we are talking about video editors. The video editors are the professionals who finalise the video to be published. Adjusting the video's tone, adding up the sound playback, and changing the screen timing with sound effects are the prime components of editing a video.  
If you have an interest in videos and you are interested in a part-time online job without compromising your education. It is your field. Video Editors earn up to $35/ per hour.  
Keeping your education in full swing and managing a job that takes a commute and fatigue of time boundness are challenging. Online jobs are the best alternatives to earning without problems going to a physical office and schedule management. Freelancing websites like Fiverr, Upwork, Freelancer, People Per Hour and Work Chest are ideal to start.  [/vc_column_text][/vc_column][/vc_row]