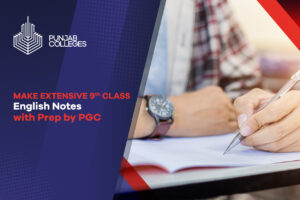 Do you want to make detailed 9th class English notes by staying at home? I have the best solution for you. Keep reading to find out.  
English has a lengthy syllabus compared to other subjects. And you need to have very detailed 9th class English notes to prepare the whole syllabus. Moreover, these notes keep every useful piece of information in one place. As a result, you do not have to open your books again and again.  
So, to ease your English exam preparation, the Punjab Group of Colleges decided to come up with a solution. Prep by PGC is an app that PGC launched to help students prepare for the matriculation examination by staying at home.   
So, what else is there in Prep by PGC except the opportunity to make comprehensive class 9 English notes, let's find out.  
Detailed Video Lectures to Make 9th Class English Notes
PGC takes pride in having a very competent and qualified faculty. Our professors have recorded detailed lectures covering the entire syllabus of 9th standard English subject. The lectures include topics such as: 
Textbook Chapters

 

Poems 

 

Grammar Lectures

 

Story Writing

 

Essay Writing

 

Letter Writing

 
So, if you want to make class 9 English grammar notes or you want to make textbook 9th standard English notes, you can do that in the comfort of your home by using Prep by PGC. the teachers have explained everything in a very easy way so that you can understand and grasp the concepts without any difficulty.  
Multiple-Choice Questions
Prep by PGC also offers a wide range of multiple-choice questions. It has over 5000 MCQs available. You can practice these multiple choice questions and improve your objective potion. As a result, you will be able to attempt the objective part of the English exam successfully. 
Short Questions 
You can also make 9th class English notes of short questions and answers. Prep by PGC offers over 4000 short questions and answers, including those in English. You can go through these questions and prepare for the final examination.  
Long Questions
The app has over 1000 long questions. When you select the option, "Long Questions" on the app, you will see it will ask you whether you want to see all long questions (textbook) or the past paper long questions. You can select the option, and you will have all the questions available on your screen.  
Past Papers
Past papers act as a cherry on the cake. When you are done with your preparation, you can go through the previous five years past papers and you will have an idea about your overall preparation. As a result, you can analyze your preparation and improve your weak areas.  
Why is Prep by PGC the Best App to Make 9th Class English Notes?
I have explained all the features of the app that you can use to make comprehensive 9th class English notes. Keep reading to find out why Prep by PGC is the best app to boost your matriculation examination preparation.  
1. User-Friendly Interface
Prep by PGC is designed to increase user experience. This means that every lecture will stream smoothly without any interruption. In addition, every icon and option is located perfectly on the screen, so you will have no difficulty finding whatever you are looking for.  
2. Urdu-Medium Students Can Also Use It
Urdu-medium students also benefit from this app for making 9th class English notes. Just open the app, click on the medium option, and select Urdu-Medium and you are good to go.  
3. Covers the Syllabus of All Punjab Boards
Prep by PGC covers the syllabus of all the Punjab Boards. You can select the board you are appearing from and every learning resource will be available according to that board's syllabus.  
4. Available for Every Matric Student
The app is not restricted to PGC students only. Thus, it doesn't matter which school you are from, you can easily download the app, start making 9th class English notes, and score good grades in the final matric exams.  
5. Great Opportunity to Learn at Your Own Pace
Another thing that makes Prep by PGC the best app for matric paper preparation is that you can learn at your own pace. You can open the app on your phone whenever you feel the most energized. In addition, you can divide your time according to your requirements.  
6. It is Totally Free
The app does not cost you a single penny. Yes, you can either download it on your phone or you can log in to the PGC online portal with a Facebook or Gmail account. Unlike academies, you will have to pay nothing to benefit from all these features.  
7. Easily Downloadable
There is no downloading restriction on Prep by PGC. everybody can easily download irrespective of the phone or any smart device they use.  
Apple Users: https://apps.apple.com/pk/app/prep-by-pgc/id1598136426 
Android Users: https://play.google.com/store/apps/details?id=com.pgc.prep 
Click on the links and download the app right now.