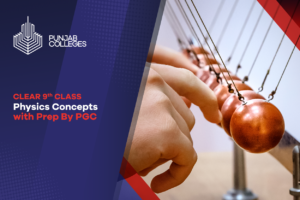 9 class Physics is quite a demanding subject. It needs a deep understanding of concepts and mechanisms that are the founding elements of Physics. Due to its complex nature, students often feel burdened and puzzled about what to do with it. However, students do not need to stay in the confusion as Prep by PGC is here to clear 9 class Physics concepts. The following writing discloses the way you can learn Physics with Prep by PGC. 

9 Class Physics Curriculum

The syllabus of class 9 Physics is detailed and foundation-builder. The syllabus includes vast scope of topics and sub-topics. They are subdivided into various chapters for a smooth flow of information. The students have to prepare the following subjects if they want to pass out 9 class Physics board exams in all boards of education in Punjab.  
Syllabus for class 9 Physics
Chapter 1: Physical Quantities and Measurements 
Chapter 2: Kinematics 
Chapter 3: Dynamics 
Chapter 4: Turning effect of forces 
Chapter 5: Gravitation 
Chapter 6: Work and Energy 
Chapter 7: Properties of Matter 
Chapter 8: Thermal Properties of Matter 
Chapter 9: Transfer of Heat 
These are the topics necessary to be clearly developed in the minds of students reading Physics in accordance to pass out as per the paper pattern. Therefore, the chapters are subdivided into various topics flowing from basic to advanced levels of learning. This makes the curriculum heavy, and students need to clear each concept. The paper pattern for class 9 Physics is discussed below.  
Paper Pattern for 9 Class Physics 
The paper pattern for 9-class Physics is the same as other subjects. The general pattern for paper in board exams comprises two portions. These portions are known as objective and subjective parts. To score high on every paper, passing both portions with good marks is essential. Therefore, focusing on both parts is essential. Let's look at the options Prep BY PGC offers for 9-class Physics.   
Preparatory Material at Prep By PGC
Prep by PGC is a preparatory app available on the play store and apple store (iOS) for use. Hence, it is operational for all smart devices. The app is versatile and fulfils the requirements of top-notch exam preparations for matric class students. Class 9th and Class 10th  students can both learn from this free app.   
The app has all the following material to prepare 9 class physics by heart and to clear the concept in complete sense of understanding.  
Free Video Lectures on all topics of 9-class Physics.

 

Free Long Questions Collection for Physics class 9.

 

Well Curated Bank of 4000+ Short Questions.

 

A bank of Multiple-Choice Questions (MCQs) in Physics 9 class.

 

Class 9 Physics Past Papers from various educational boards of Punjab.

 

Free practice sessions are available for self-assessment purposes.

 
Learning Benefits for Class 9 Physics
Class 9 students either enrolled in Urdu medium or English medium institutions can learn from Prep by PGC in the language they understand and have to appear for examinations. 
In addition, students can clear the concepts of class 9 Physics by listening attentively to the video lectures. These video lectures are recorded professionally by specialists in Physics. These mentors also know the wise and in-depth techniques to make complex ideas simple for better development.  
Furthermore, the objective and subjective portion of the course of 9 class Physics is comprehensively included. Prep by PGC has a huge bank of MCQs, short and full-length questions for Physics subject for class 9.  
Last but not least, Prep by PGC allows students in class 9 to gauge their level of preparation for Physics. As the self-assessments are available for free and have unlimited attempts. This will help the students to identify their weak areas of the syllabus to put their focus and efforts accordingly.  
Students can access all the material as per their requirements and availability of time. Prep by PGC is accessible 24/7/365.  
The user interface is simple to handle. In addition, registration is also possible in a few steps. You can also use social media or email credentials.  
Also, students can make notes for 9 class Physics with the help of all the resources of Prep by PGC.   
Download Prep By PGC
You can get free access to the app through all your smart devices. Just download from the relevant application store and register yourself; choose your city and class, and you are good to go. Links are available below.  
Conclusion
For free, students can clear their concepts of class 9 Physics with Prep by PGC. The app is an enriched resource of video lectures, long and short questions, and MCQs with past papers. Therefore, prepare for your matric exams with ample peace of mind and rock with your marks.