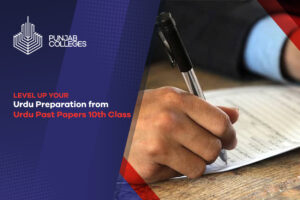 Urdu is one of the compulsory subjects at the matriculation level. Urdu has the most extensive syllabus when compared to the other subjects. However, you can improve your preparation by going through the Urdu past papers 10th class.  
The Punjab Group of Colleges took the initiative and launched an application named "Prep by PGC" for matric students. The app is the best thing for you if you want to prepare for your matric exams without joining any academy.  
Prep by PGC for Urdu Exam Preparation
The entire 10th class Urdu syllabus 2023 is made available to students who are preparing for the matric class final exams. In addition, the app has every preparer material including Urdu solved past papers 10th class.  
So, if you are concerned about your performance in the final exam, don't worry. Prep by PGC is the answer to your every problem.  
Learn Urdu Textbook Through Video Lectures
The faculty of Punjab Group of Colleges has recorded numerous lectures. These lectures are available on Prep by PGC. The whole Urdu syllabus is covered in these lectures. Thus, you can make notes by listening to the lectures.  
In addition, the teachers will also tell you what questions appeared in the previous Urdu past papers 10th class. As a result, you will not only clear your concepts but also get information regarding the important questions for the final exam.  
Improve Your Objective Portion Through a Vast Range of MCQs
The paper consists of two portions, right? Objective type and subjective type. Prep by PGC has a wide range of multiple-choice questions with answers to help you prepare for your objective type. You can benefit from these thousands of MCQs and improve your preparation. These MCQs include the whole syllabus questions and the ones from Urdu past papers 10th class.  
Analyze Your Preparation through Self-Assessment
There is another option in the app that will help you analyze your preparation. It is the "create test" option. So, you can choose the chapters from your book, and create an objective-type self-assessment test. This will assist you in assessing your preparation. As a result, you will know your weak areas and you can improve them to score good grades. 
Attempt Short and Long Questions Successfully
The subjective portion of the exam consists of long and short questions. You can attempt your final exam successfully when you have practised a lot. Prep by PGC is a way to do that. There are over 1000 long questions and 4000 short questions including Urdu questions.  
So, you can practice attempting these questions. As a result, you will increase your pace and will be able to complete your Urdu paper in time and that too efficiently.  
Better Your Preparation Through Urdu Past Papers 10th Class
This feature acts as the cherry on top of the cake. You'll not only be able to take notes and attempt different questions, but you'll also have an idea of what kinds of questions the examiner had given in previous exams. Isn't it great? 
Prep by PGC has previous five-years Urdu past papers 10th class available on the app. In addition, these past papers have solved objective type. Furthermore, the past papers are for every Punjab board. For example, if you need past papers of 10th class Urdu Lahore Board, all you have to do is select the BISE Lahore option and the year of the exam, and you will have it available on the screen. You can also download Urdu past papers 10th class.  
Prep by PGC Caters to Urdu Medium Students 
It does not matter whether you are an English medium student or studying in an Urdu medium school, the app is accessible to every matric student. Furthermore, did you know that it is completely free? YES. It will not cost you a single penny.  
So, buckle up Urdu and English-medium students, download it to your smartphones, or log in to the online PGC Portal through your Gmail or Facebook account.  
If you are an Android user, please download the app from this link.  
Apple users, click on this link to download Prep by PGC.  
Learn at Your Own Pace
One of the benefits of Prep by PGC is that you do not have to hurry in preparation. You can learn at your own pace. You can divide your time according to your weak and strong areas. Thus, you can give more time in preparing the topics that you feel need improvement. As a result, you can excel in your final exam by having a strong grip on every topic and attempting the paper with confidence.  
Quality is Guaranteed
The video lectures cover all the topics and syllabus which is approved by the Punjab board. In addition, the app is accessible 24/7, so unlike academies where you have to be physically present for a particular time, you can enjoy your freedom. In addition, the lectures stream smoothly without causing any interruption. So, the quality is guaranteed.