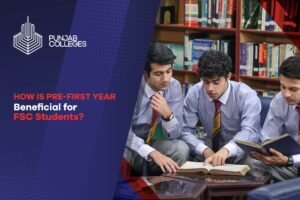 The Faculty of Sciences (FSC) comprises two major disciplines in Pakistan, pre-medical and pre-engineering. Students interested in taking medical or engineering as their future careers always opt for any of these. The matric exams are now over, and there is plenty of time before the actual intermediate admissions take place; therefore, the Punjab Group of Colleges (PGC) brings pre-first year for FSC students. To learn the benefits and advantages for future doctors and engineers, read this post in detail.  
Early Exposure to the FSC Curriculum
FSC pre-engineering or FSC pre-medical are Pakistani society's most demanded and prestigious education lines. The pre-engineering and pre-medical courses are the students' dream courses since matriculation or school days. However, we often observe that the students who opt for FC pre-engineering are pre-medical and seem to be under pressure and tense regarding their performance and career choices in case of tough competition and marks variation. For this reason, it is always advised to try harder and to put in more effort.  
Many students join academies and take extra classes during the intermediate years if they are students of FSC, either in pre-engineering or pre-medical. However, the Punjab group of colleges brings a golden chance for the prospects of FSC pre-engineering or pre-medical in 2023 to get exposed to the FSC curriculum either in pre-engineering or FSC pre-medical. You can now enrol in the pre-first year 2023 at PGC and cover the syllabus before the regular classes begin.  
Enough Time Availability for Adjustment
As you have seen above, PGC is offering a free pre-first year. This will allow you to start your FSC pre-engineering or FCS pre-medical, no matter which disciplines the students opt for their intermediate. For instance, our 176 students stood in higher positions in intermediate examinations across all Punjab boards in 2022.  
This year in 2023, you can be the one after position holders in board examinations if you adequately take your decision. We are here to assist you and to help you in your learning journey with our pre-first-year classes.  
Early Access to the eLearning Resources
Professional guidance is not the only benefit of taking admission in pre-first year classes at PGC, but early access to e-learning resources which are solely accessible to students at Punjab Colleges, is also the prominent advantage you cannot ignore.  
At Punjab Colleges, our students enjoy state-of-the-art facilities with libraries, labs, and e-learning assistance at the classroom level. Punjab Group of Colleges firmly believes in incorporating the latest learning modules to enrich the learning experience for our students.   
In-Depth Concept Development 
When the elements of the curriculum, a complete syllabus, combined with flexible time, professional guidance, and technical assistance, the students perform very well. We do this at Punjab Colleges to empower our future leaders to stand tall and strong in their relevant fields, whether they choose FSC pre-engineering or FSC pre-medical.   
Better Understanding of Proposed Examination Pattern
Completing and covering the course curriculum is only one aspect of scoring the best in board examinations. For the same reason, the students at PGC are well prepared by our professional teachers regarding the intermediate examination pattern.  
Multiple Revisions Results in Perfection
Revisions, class tests, and sendups are prominent parts of our teaching pattern for intermediate classes in Punjab colleges. With the help of all these elements, our students get through multiple revisions and test sessions, ultimately resulting in a solid foundation of concepts end mechanisms of things explained in the syllabus.  
Therefore, if you want to achieve the perfection that is attainable through practice, practice and practice, you should waste no more time and enrol yourself in pre-first year classes at Punjab colleges today.  
Pre-First- Year Classes are No-Money Expenditure
Free pre-first-year classes are a gold mine for students sitting idle after matric examinations and having no productive option besides waiting for regular admissions and results to be declared. We add PGC care for our children. Therefore, we welcome you to our pre-first year FSC pre-medical or FC pre-engineering classes without any fee submission. Yes! You heard it right the pre-first year classes at Punjab colleges are absolutely free.   
Optimal Utilization of Your Resources
We at Punjab Colleges want our youth to utilize their most precious resources in terms of time, energy, and enthusiasm for the best and most profitable career and future they will make. The admission forms are available; visit our website if you want to learn more.  
Conclusion
Pre-first-year classes are the proud initiative of the Punjab Group of Colleges (PGC). We offer free classes for students who are interested in FSC engineering, pre-medical, I.com, ICS, or FA.