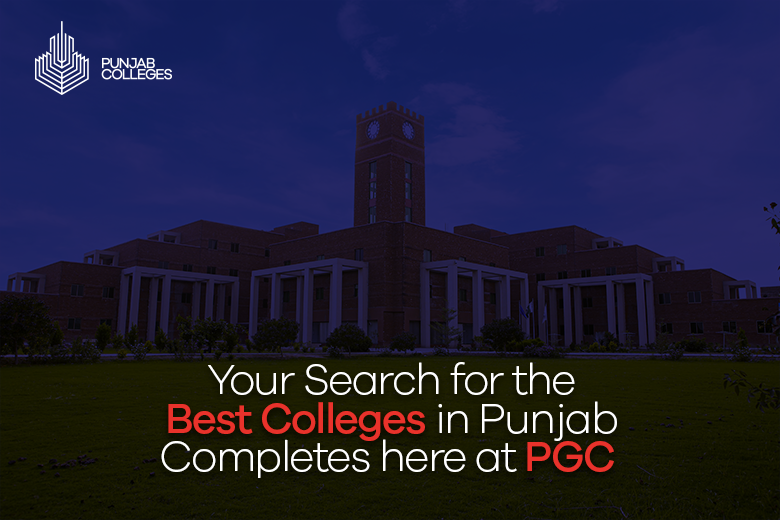 Completing a school education is a huge milestone in a student's life. The next step is the college. Transfer and evolution from school life to college life is a different experience for everyone. Therefore, some get adjusted quickly, some do not even care about change, and some get stuck at this step which ultimately reflects on the class performance, learning efforts, and board results. However, the single answer to all your questions and confusion about the best colleges in Punjab is the Punjab Group of Colleges (PGC). Read this article to know how and why? 
PGC Offers Smooth Shift 
Punjab Group of Colleges (PGC) ensures every student feels easy to adapt to the college atmosphere. Therefore, they take certain steps that make students set in the college and adapt to the new and advanced upgraded level of education.  
Similarly, the options for study and education are available for students to choose from. The details are penned below in brief.  
All Intermediate Disciplines Available
All the disciplines approved by the authority of the Board of Intermediate and Secondary Education (BISE) in Punjab are duly offered at the Punjab Colleges campuses. Quality education makes us the best colleges in Punjab. Let's have a look at them.  
Faculty Of Science (FSC)
FSC is the most popular and demanded field in intermediate classes.  Faculty of Sciences, also known as FSC, is a major head of science subjects. Which further subdivides into FSC pre-engineering and pre-medical.  
FSC Pre-Engineering
FSC Pre-Engineering is the intermediate degree for students who opt for engineering subjects. FSC pre-engineering is a two-year class, also known as classes 11 and 12. Complete details for the course are available for a read.  
FSC Pre-Medical
The other option under the faculty of science is FSC pre-medical. As the name displays, the degree covers the medical and life sciences in inter. The course curriculum is subdivided into a couple of classes, 11 and 12. The subject details and other details are available here.  
Intermediate in Computer Science (ICS)
The students who are more interested in information technology (IT), software, cyber security, and data sciences can opt for the intermediate in computer science. (ICS). The degree comprises the approved syllabus by the regulatory body. You can check out the program content here.
Intermediate in Commerce (ICOM)
If a child wants to become a financial advisor or aims to have a bank job or become an entrepreneur. The best path to follow is the intermediate in commerce (ICOM). Punjab Group of Colleges (PGC) offers the best teaching experience for all disciples, including ICOM. Therefore, a commerce degree in intermediate can do wonders for those who are keen on trade and industry.   
Faculty of Arts (FA)
Last but not least, when the humanities are your preference, you are more attracted towards the social sciences like psychology, linguistics, and arts. You can also opt for the Faculty of Arts at the intermediate level of education.  
In addition to other disciplines, PGC also has FA on their menu. And there is uniformity in the standard and quality of education pertained.  
Duration of Inter Classes 
No matter which field you choose for intermediate in 2023. The duration of the entire level is of two years. These count for inter-part I and inter-part II. These are commonly known as class 11 and class 12.  the board examinations are regularly conducted every year separately by all the boards of education in Punjab as per the official policy.  
'Learning' Made Easy at PGC Campuses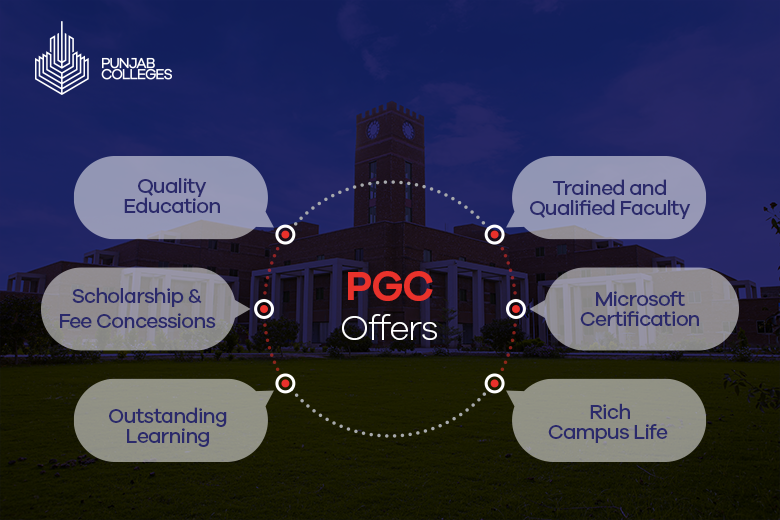 As we have discussed the offered inter programs, we have adequately structured our campuses with basic utilities. That is properly backed up by systems. Just because of this, the student's learning experience becomes enhanced, and the students get sustained focus and efficiency during the on-campus stay.  
At PGC, we have:  
State-of-the-art College Campuses

 

Well-equipped And Professionally Drafted Computer Labs and Science Laboratories. 

 

Digitally Equipped Classrooms with Air Conditioners and Power Backups.

 

Well, Furnished Campuses with Graded Cafeteria Facilities. 

 

Furthermore, we also have transport arrangements for students.

 

Microsoft Certification.
Never Worry About the Increased Fees
Most importantly, while a child is enrolled at PGC, there is no need to worry about fees and study expenses. PGC believes that no student must leave their education due to the unavailability of funds. Due to this thought process, we have a wide range of merit-based and need-based scholarships and financial assistance for our students. The available options for scholarships  
Merit-Based Scholarships

 

Need-Based Scholarships

 

Teachers' Children Scholarship

 

Kinship Scholarship

 
You can visit the scholarships for complete details.  
Experience the College Life in a Better Way
Education is the priority at Punjab Colleges. Therefore, it is the first choice of the toppers. However, at PGC, extra-curricular activities are also fully supported. For the same purpose, various clubs, societies, and events are regularly organised at the PGC campuses. After all, college life needs some memories for a lifetime.  
With Education, You Get Personality Grooming
Time is changing fast. Today, a degree alone is not enough for the success you deserve. It takes a lot more to stay on top. In terms of personality development, skills learning, adaptation, and presentation, PGC never compromises on its students.
For instance, we bring Microsoft certifications for our students to add feathers to their CVs in their later years. Moreover, our hardworking, groomed, and empathetic teachers also assist our students in a way that enables them to succeed.  
Intermediate Admissions 2023 is Now Open
Now, you know why the Punjab Group of Colleges (PGC) are the best colleges in Punjab. If you are willing to change your life and achieve your dreams. Wait no longer, as intermediate admissions 2023 are open at Punjab Group of Colleges (PGC). 
Don't Miss a Chance!
Finally, we have told you all the advantages and benefits you may have after you enrol at Punjab Group of Colleges. We intact education with skills, outlook, and personality in our students for the last 38 years of excellence!  Admissions for intermediate for sessions 2023-2025 are open. Move forward! And stay competitive!