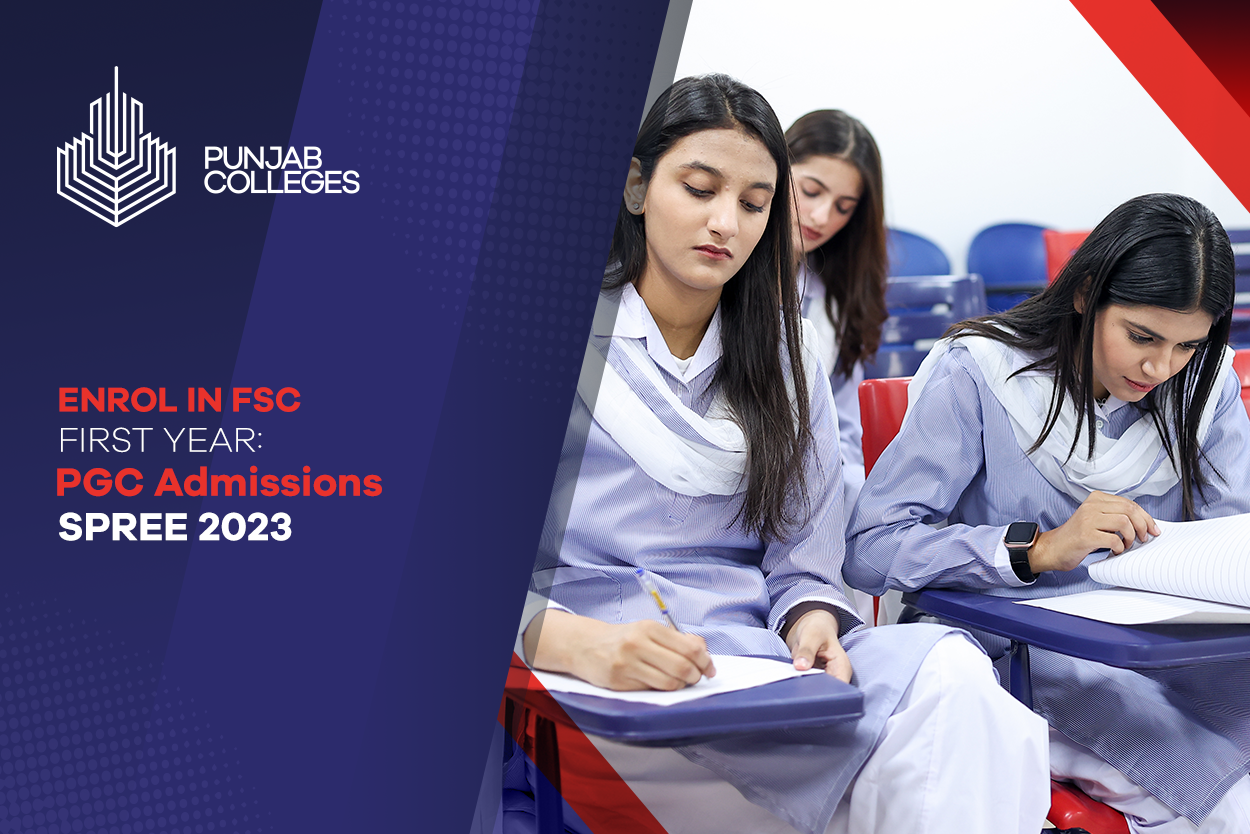 Intermediate admissions 2023 opens at Punjab Group of Colleges (PGC). You can get enrolled in the faculty of science (FSC) for both FSC (pre-medical) and (pre-engineering) to achieve your dream career of being a doctor or engineer. This article will disclose the advantages and amenities you can have while you complete your 11th and 12th at Punjab Group of Colleges (PGC) with us.  
Pursue Intermediate in Science
at PGC
Both life sciences and technological sciences are a huge part of today's world. The world is ever-changing and evolving. Therefore, students dream of joining the fields as per their interests and intellectual trends.  
However, there are two major intermediate diversions concerning the faculty of science (FSC). These are commonly known as the FSC pre-engineering and FSC pre-medical. Let's discuss the scope of study in these two programmes. In addition, the environment, style of education, knowledge transfer and proper outlook will be discussed in the content below.  
FSC (Pre-Engineering)
FSC (pre-engineering) is the first step to achieving the dream career of an engineer. There are numerous career options after doing FSC pre-engineering.  Students can join any one of the advanced courses after completing their FSC pre-engineering from Punjab Group of Colleges. The course details for FSC pre-engineering are available here.  
FSC (Pre-Medical)
Those students who have an interest in biological or life sciences opt for the pre-medical in the faculty of sciences. The major aspect of the pre-medical is the service of human life. However, options are various, and variety is ever-expanding.  
The course curriculum offered at the Punjab Group of Colleges (PGC) is completely in accordance with the approved course outline as per the guidelines of the Board of Intermediate and Secondary Education (BISE) Punjab offers.  
Comprehensive Study Practices at PGC
Course content for all classes, including FSC pre-engineering and pre-medical, is a basic element for quality studies at the Punjab Group of Colleges (PGC). In addition, PGC maintains a complete and comprehensive study plan for the students in all disciplines for intermediate programs.  
FSC, pre-medical and pre-engineering course details are mentioned on the PGC website. Our trained and well-acknowledged faculty explains the concepts in detail to the students, which ultimately structures the entire thing in the mind. And hence, our students become competent enough to solve complex situations and questions on their own.  Most of the time, students at PGC never opt for any other tuition because of our effective teaching methodology.  
Enjoy College Life at PGC
In addition to in-depth education, PGC understands the importance of a rich and learning-oriented campus life. To ensure students enjoy their precious college years, learn talents, and polish what lies hidden within them. A variety of activities are available at the Punjab Group of Colleges. A brief introduction is available in the text below.  
Welcome And Farewell Party

 

Study & Recreational Trips

 

Sports Gala

 

Cultural Festivals & FunFairs

 

Science & Arts Exhibitions

 

Seminars & Workshops

 

Concerts

 
In addition to these occasional events. Continued activities are undertaken in various societies at PGC. These societies help multiple causes. 
Blood Donor Society

 

Sports Club

 

Debating Society

 

Dramatic Club

 

Music Society

 

Health Awareness Club

 

Go Green Club

 

Science Club

 

Arts Club

 

Young Entrepreneurs Club

 

Welfare Society

 

Islamic Society

Photography Club
Scholarships & Advantages of Becoming a PGC Student
Many bright students lose their education because of financial problems and issues. Therefore, PGC offers various options for financial assistance for students. It is highly believed at Punjab Group that no child should leave their education.  
The financial support options available at the PGC are as follows.  
Orphan Students

 

Kinship Based Assistance

 

Students with Special Needs

 

Need-Based Concessions

 

1122 Employees

 

Shuhada's Children

 

Special Circumstantial Help

 
Furthermore, merit-based scholarships for high achievers are also a part of our regular plan. In addition, other incentives for high achievers are regular for PGC students. You can check out the complete details for scholarships and concessions here.  
Apply Today
Admissions 2023 at PGC are open! Get yourself enrolled today and reimagine your future in a more productive way. Apply online.