One of the most sought-after intermediate certification in Pakistan among students is Pre-Medical; every student who wants to become a doctor considers it their first significant step toward achieving their goal. Therefore, it is of great importance that you pick the best institution for your intermediate studies. And the best institution for F.Sc Pre-medical studies is Punjab Group of Colleges (PGC).
PGC has a history of academic excellence for the past 37 years and is the best choice for your Higher Secondary School Certificate. All you have to do is wait till FSc pre-medical admissions are open and submit your form. Then, alongside premium education, you will also have the opportunity for active learning and self-development.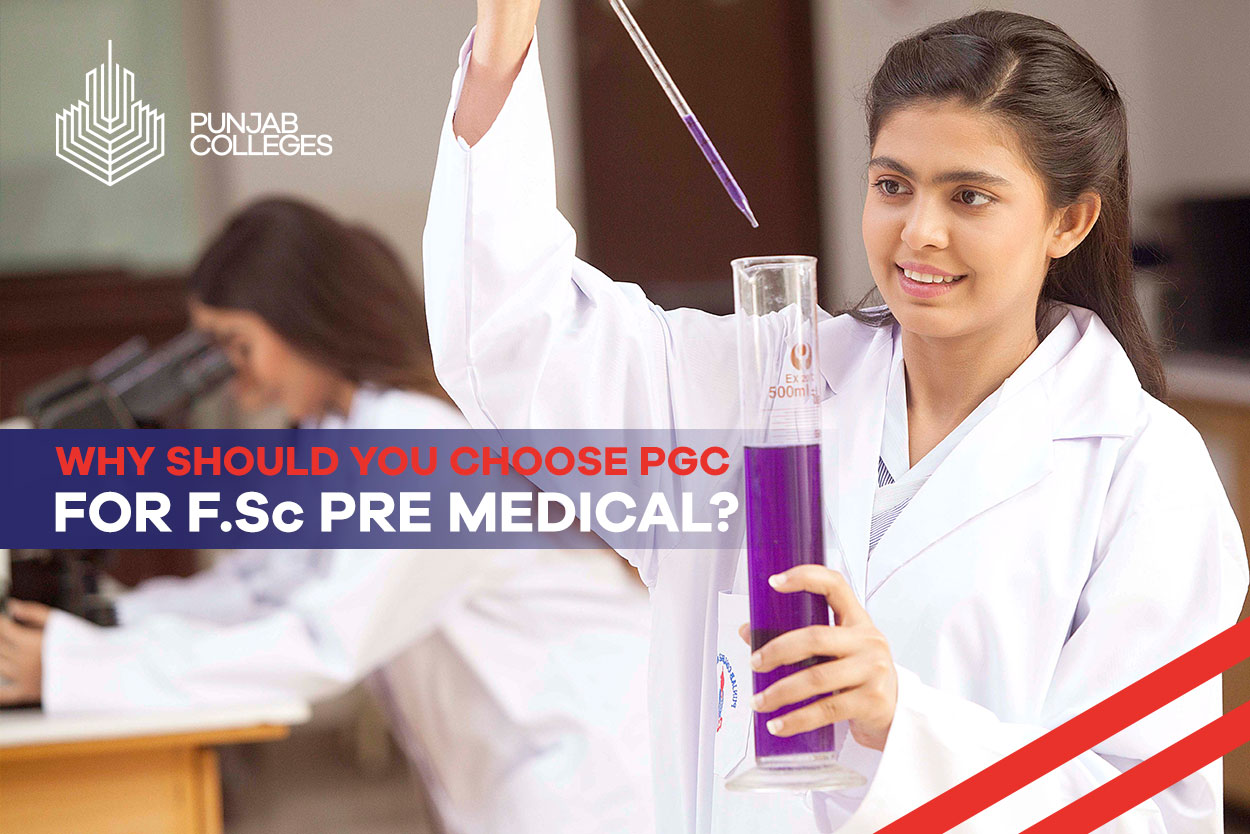 6 Reasons to Choose PGC for F.Sc Pre Medical:
Matric results for 2022 are expected to be announced in the upcoming days of August. If you have decided to opt for a medical field as your profession, we understand how frustrating it is to go through different college prospectus and still not have a clue. So, we are here to clear up your confusion and help you decide which institute you can go to for your FSc pre-medical degree.
Read these six reasons and put a full stop to your college hunt.
1. World-Class Faculty
PGC takes pride in having highly-qualified and efficient faculty who have graduated from the renowned institutions. So, you will be studying under the supervision of our teachers, who will train you well for the intermediate exams and the life ahead.
Moreover, the faculty ensures your preparation is up to the mark by taking quizzes and internal assessments in accordance with BISE protocols. As a result, you will be able to efficiently attempt your papers and score good marks. In addition, the teachers will not only assist you with your studies but also guide you regarding your career choices.
2. Purpose-Built Campuses:
We have built our campuses to meet the demands of our students. You will have every educational facility available at PGC. Our network has expanded across Pakistan following 37 years of excellence with 423 purpose-built campuses across 118 cities.
Along with imparting high-quality education based on the BISE curriculum, we try our best to make campus life memorable for you. In addition to well-designed classrooms, we have fully stocked libraries, a clean cafeteria, and power backups in every campus to ensure that students' spend the best part of their lives at PGC.
3. Well-Balanced Campus Life
PGC offers a wide range of cultural, educational, and social activities. We organize funfairs annually that will enable you to show your artistic potential. In addition, we arrange study and recreational trips supervised by our staff and experienced team.
It is your right to have a welcome and farewell party, and we celebrate your presence by planning the same events for you. Moreover, you will be attending seminars and workshops, and benefit from the real-life stories of professionals and motivational speakers.
We believe in shaping your personality so that you are prepared for the professional world. That is why in addition to academics, we offer you engaging and healthy extra-curricular activities. You will have more chances of building important skills like leadership, teamwork, self-confidence, etc.
Moreover, you can explore your hidden talents by joining various societies and clubs. Some of them are as follows:
Debating Society: Participate in inter-college debating or declamation contests.
Dramatics Club: Gain confidence, improve your speaking abilities, refine your acting skills, and learn to express yourself.
Music Society: Polish your music and singing talent.
Sports Club: Join a league tournament of badminton, cricket, basketball, hockey, football, and table tennis.
IT Club: Gain knowledge and hands-on experience in IT.
Science Club: Take part in field trips, projects, and science-related activities.
Art Club: Show your artistic talent by participating in painting, poster-making, and art competitions.
4. Fully-equipped Laboratories
Practical learning is as important as is theoretical knowledge. That is why we have modern lab facilities in our campuses. You can fill out the FSc pre-medical admissions form, get enrolled at PGC and have access to the state-of-the-art laboratories.
Our computer labs are fully equipped along with science labs where you can practice your biology, physics and chemistry theories. Our highly expert staff will accompany you to guide you on operating the latest equipment.
5. E-Learning
Furthermore, Punjab Colleges has established a learning center. The center offers an app titled as PGC. The app is absolutely free and provide you the opportunity to study and learn from the comfort of your homes. You will have access to video lectures, MCQs, and solved past papers. As a result, you will be able to prepare for your exams at times when you feel most productive. In addition, the app allows you to gauge your level of preparation for your intermediate exams.
6. History of Securing Top Positions
Our goal is to raise a generation of educated citizens who will contribute to the development of our nation. And the numbers of positions that our students grab every year — across boards in Punjab — speaks volume about PGC's quality of education.
You can be a part of our community by filling out the F.Sc Pre-medical admissions application after your matric result is announced. You will not only be trained for your final exams of intermediate but will also develop skills required to cater 21st-century challenges.
For more information, you can contact us at info@pgc.edu.pk.