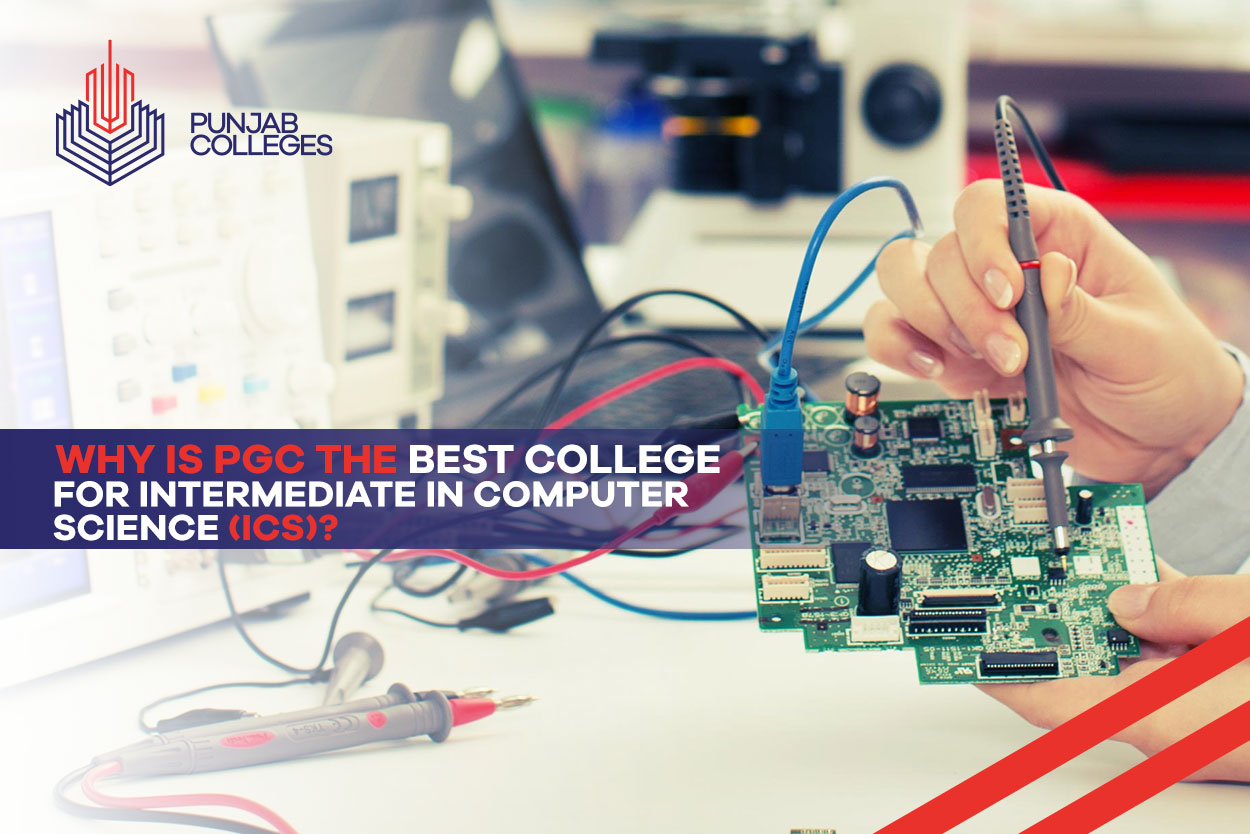 Intermediate in Computer Sciences, or ICS, is a two-year program offered by public and private colleges in Pakistan. Punjab Group of Colleges offers this program and their ICS admissions will open after the matriculation result is announced.
ICS is a two-year academic certification that provides the student with general experience as well as knowledge of the basics of computer science. ICS mainly focuses on computer subjects and prepares students for a career in computer science and technology.
If you want to pursue your computer science and technology dreams and are looking for a college to take the first step towards achieving your goal, read further to know why PGC is the best choice for you.
6 Reasons to Choose PGC for ICS:
Technology is advancing at an accelerated rate in our world. More people are entering this field, which offers improved career choices. In the modern era, computer studies cover much more than the study of software and hardware.
That being said, PGC offers the best 2-year computer science program and opens the ICS admissions for students after their matric results. The following are the reasons to choose PGC for your ICS:
Purpose Built Campuses:
You will have access to every educational facility while studying ICS at PGC. Therefore, you will be studying in fully equipped classrooms and have a hygienic cafeteria for you to hang out with your friends in the break.
Similarly, we have air-conditioned, fully stocked libraries to provide you with learning resources. Along with auditoriums and power backups, we have our security personnel at every campus gate to ensure your safety. So, you will be studying in a safe and peaceful environment.
Highly Experienced Faculty:
Teachers play the most important part in preparing you for your exam sand as well as your professional life. So, we take pride in having the best faculty on our campus. Our professors are the graduates of the most prestigious institutes. Also, they have full command over the subjects they teach.
A good teacher can totally change your perception of a certain subject, right? That is why PGC has world-class mentors to guide you throughout your academic years. They make sure you comprehend the concepts by using effective teaching methodologies. As a result, you will benefit from their experience and use their guidance in every aspect of life.
Societies and Clubs:
Good campus life is very important. You cannot study well if you do not have some recreational activities. That is why we offer you a well-balanced and unforgettable campus life.
So, take a deep breath because it is not all about studies at PGC after you are done with your ICS admissions. Apart from welcome and farewell parties that we arrange to honour your presence, we also organize seminars and different workshops for your better learning.
In addition, we have multiple societies and clubs such as:
Dramatics Society
IT Club
Go Green Club
Art Club
Music Society
Science Club
Tourism Club
We provide an opportunity for self-development and growth to students. so, you can join these societies and groom your personality. Moreover, we have recreational and study tours that you can go on and have the best experience of your life.
Fully Equipped Laboratories:
Theoretical knowledge does not benefit you much if you do not have any practical experience. You must have hands-on experience with the concepts for a successful professional life. That is why we have fully equipped laboratories at all PGC campuses. After your ICS admissions, you can apply your textbook knowledge in the labs.
While studying ICS, it is important for you to know the basics of computer science. That is why you will have access to the modern computer labs where you will complete your given projects. Thus, you will gain not only theoretical but also practical knowledge.
PGC app for E-Learning:
PGC has taken the initiative for its students to ease the study process. Now you can download the app PGC on your phones, laptops, or tablets and can learn from the comfort of your homes. You know yourself the best, right? So, you know when you feel the most productive. With the help of this e-learning app, you can now make the most of these hours.
In addition, you will have access to short questions and answers, long questions and answers, solved MCQs, and solved past papers. Also, you can ask your teachers a question via the app and get the answer. So, get yourself enrolled in the ICS program by filling out the ICS admissions form.
Scholarships and Incentives:
At PGC, we believe that hardworking students deserve appreciation and rewards to stay motivated. That is why those students who perform extra-ordinary well in their board examinations are offered scholarships.
Similarly, for those who cannot afford to pay for their intermediate education, we offer fee concessions and different incentives depending upon the need. Some of the scholarships we offer are:
Merit-Based Scholarship
Students with Special Needs
Kinship
Incentive Policies for Matric Toppers
History of Securing Top Positions:
Our goal is to produce a generation that helps our country face the challenges of the modern world. That is why we leave no stones unturned when it comes to preparing our students for the annual exams and practical life.
Thus, PGC has a history of securing the top positions in all the national educational boards of Pakistan. You can be a part of our community by choosing PGC for your intermediate studies.
The Closing Verdict:
After your matriculation result is announced, you can fill in and submit the ICS admissions application and experience the most memorable journey at the Punjab Group of Colleges. Not only will you get a premium education but also opportunities for personal growth. For information, you can contact us at info@pgc.edu.pk .