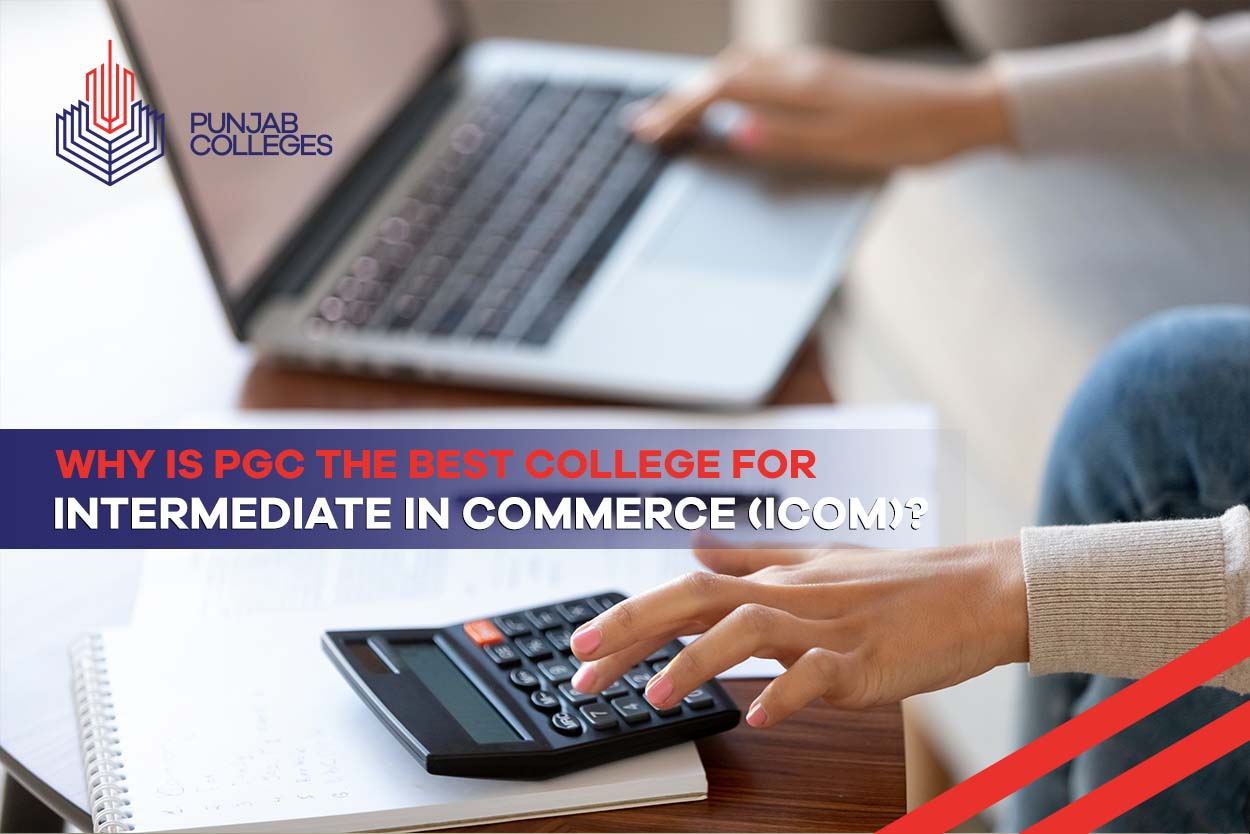 If you are an art student, then an intermediate in commerce (ICom) is the best choice for you after your matriculation. This degree will help you gain basic commerce and business knowledge. The Punjab Group of Colleges offers this course, and our ICom admissions will open right after your matric results are announced.
The Intermediate in Commerce curriculum helps students lay solid groundwork for a variety of business-related fields. Through this course, you will gain substantial knowledge of the basic concepts in:
Computer science
Accounting
Banking
Finance
Commerce
Economics
Business Mathematics
In addition, these diverse disciplines will expand your horizons and provide you with access to a wide range of postgraduate choices. So, you must understand the core ideas behind each of the key ICom subjects if you want to achieve your career goals. This is where PGC comes in and prepares you for your professional life.
7 Reasons to Choose PGC for ICom:
After you are done with ICom admissions at PGC, you will have exposure to the business world here. So, it will not only prepare you for self-employment but also develop entrepreneurial skills in you. You will learn the importance of economic principles in making the right business decisions.
However, what other factors make PGC the best choice for ICom? Read further to find out.
Purpose-Built Campuses:
We have designed our campuses to perfection so that you have access to every educational facility at PGC. Apart from fully furnished classrooms, our auditoriums are equipped with projectors and a sound system. Similarly, you will have a cafeteria from where you can have hygienic food and enjoy your break time.
In addition, our campuses have fully stocked libraries. There is a large variety of periodicals, journals, and valuable textbooks related to business technology and other fields that you can read
to gain knowledge. Moreover, the libraries are fully air-conditioned, and you will have a peaceful learning environment there.
Multiple Societies and Clubs:
Along with academics, we ensure that you have quality time to engage in healthy extra-curricular activities. As a result, you will learn teamwork, and leadership, and develop the self-confidence that you will need to excel in your relative field.
To help you explore your hidden talents, there are multiple societies and clubs that you can join, such as:
Music Society
Dramatics Club
Debating Society
Literacy Circle
Sports Club
Health Awareness Club
In addition, you can participate in regional, local, and nationwide sports competitions. We have a diverse range of sports activities such as cricket, hockey, badminton, volleyball, etc. So, you will enjoy these fun-filled recreational activities and learn new skills as well.
World-Class Faculty:
You cannot learn properly if your teachers do not teach well. That is why it is important to have mentors who will ensure you have crystal clear concepts of the subject. So, PGC is known for having highly experienced faculty at its campuses. You can benefit from their experience and guidance after submitting your ICom admissions form and becoming a part of our community.
Our competent professors will make you aware of the social, political, and economic problems that are related to business. In addition, you will learn to face the market challenges. Similarly, they will prepare you to adapt to the current situations so that you are not left behind in the global competition.
E-Learning App:
PGC has taken the initiative for its students so that they can learn from the comfort of their homes. We have launched an app called PGC that you can download on your phone, laptop, or tablet. The app will help you prepare for your annual exams. How?
The PGC app contains questions and answers for each subject. In addition, it has solved MCQs and past papers that you can utilize in your intermediate examination. You can also ask your teachers questions through the app without having to contact them personally.
Fully-Equipped Laboratories:
We have state-of-the-art labs that are up-to-date with modern requirements. Our computer labs are equipped with the latest apparatus to facilitate practical knowledge. Similarly, our science labs are designed so that you can have hands-on experience with theoretical information. You will have guidance from our highly experienced staff. They will assist you in operating the equipment.
Academic Excellence:
Our vision is to provide our students with a high-quality education and produce a generation that will help our country face the challenges of the modern world. So, to achieve our goal, we prepare our students professionally and academically. Thus, we have marked our position in society by securing the top positions on all educational boards.
Incentives and Scholarships:
We believe that every child deserves an education and those who work hard deserve rewards as well. We encourage and support our students by giving them scholarships. So, for those students who perform exceptionally well in their board exams, PGC provides them with a number of incentives.
In addition, for those students who cannot pay their fees, we offer them financial support by giving fee reductions or free education. The different scholarships and concessions are as follows:
Merit-Based Scholarships
Kinship
Student with Special Needs
Need Base Concession
Orphan Students
Special Circumstances Financial Aid
So, if you are a topper, or need help with paying dues, you do not have to worry at all. Just fill out the ICom admissions application, get enrolled and apply for the relative incentive.
The Closing Thoughts:
PGC has the academic excellence for 37 years and has never failed in keeping our promises. So, if you want to pursue ICom but do not know which college to choose, PGC is your best choice. The ICom admissions will open after the matric results. You can contact us at info@pgc.edu.pk for more information.