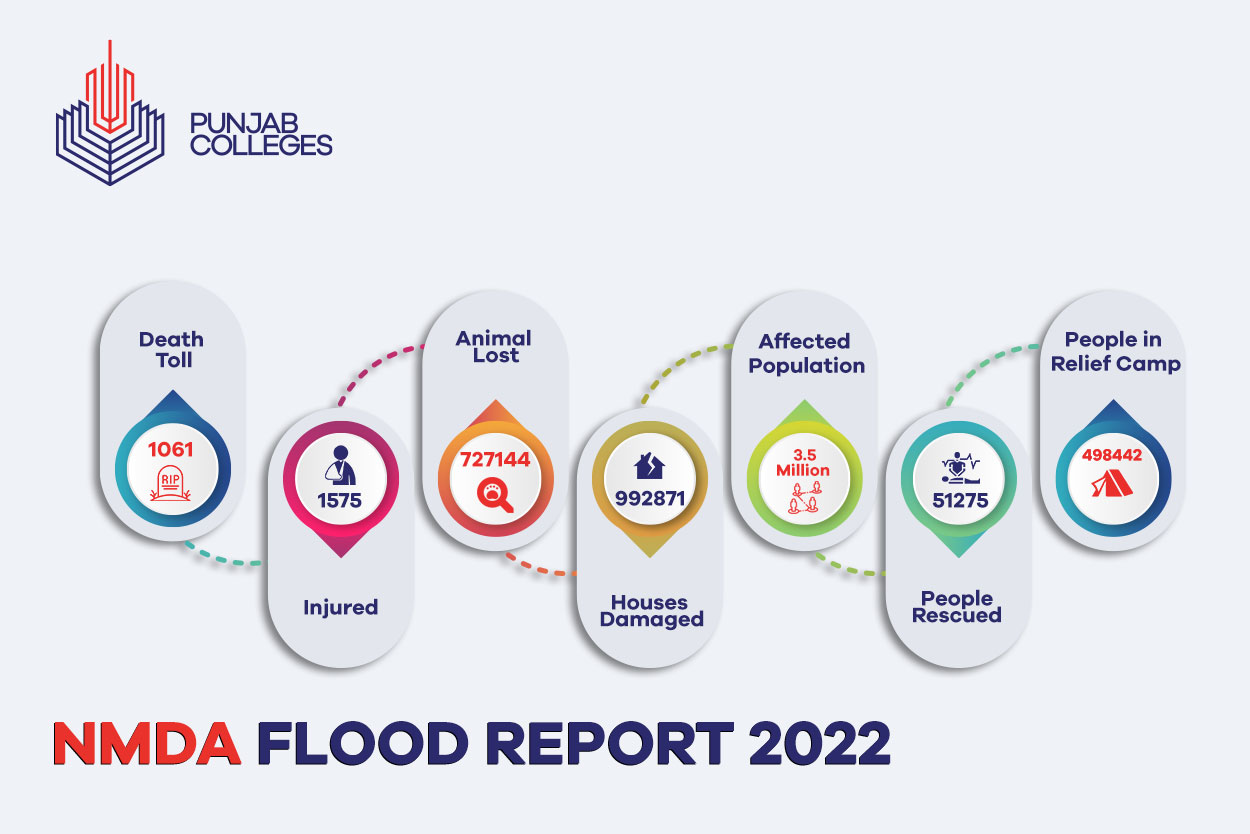 Do you know that Pakistan's carbon emissions are less than 1%? Yet our country is ranked eighth among the countries that are most vulnerable to climate change. Since the start of the exceptional monsoon season in mid-June, floods in Pakistan have wreaked havoc across the country.
Three of Pakistan's fives provinces—Sindh, Baluchistan, and Khyber Pakhtunkhwa—have been affected by torrential rainfall and flooding in recent weeks. According to government data, Sindh got over eight times the average amount of rainfall in August, destroying crops such as rice and cotton.
Many areas of Pakistan have become unreachable. However, rescuers are trying to evacuate thousands of people stuck in flood-affected districts. Local media reported that the Kach dam near Ziarat city, 80 miles from Quetta – Baluchistan's capital, had fallen due to high water, jeopardizing the lives of local residents. Other dams in the region have reportedly been damaged as well.
Furthermore, three individuals were killed by landslides and floods 2022 in Swat, Khyber Pakhtunkhwa province. Furthermore, the authorities in Nowshera requested rapid evacuations due to a "very high flood" in the Kabul River.
Similarly, social media videos showed bridges, roads, and hotels sinking under the water and people evacuating their houses. That is why rescue assistance from the army has been requested.
The Government of Pakistan established the department of the National Disaster Management Authority (NDMA). The objective was to manage disasters by implementing disaster risk reduction in development planning at all levels. In addition, it included boosting institutional capacities for disaster preparedness, response, and recovery.
According to NDMA reports, floods in Pakistan have killed almost a thousand people, including children. The death toll is 1061 today. In addition, 1575 people have been injured. These raging floods displaced over 3.5 million people and damaged more than 99,280 homes across the country.
Additionally, thousands of kilometres of roads and bridges have been destroyed. Also, there is a loss of nearly 727144 livestock. Pakistan Floods are causing earthquake-like destruction in the country.
The last time we had been affected by record flooding was during the extreme floods and torrential rains in 2010. And after that now in 2022, the floods are affecting the whole country even more. It has been pouring nonstop everywhere. The flood has destroyed homes, hotels, restaurants, and whatnot.
While thousands of people were able to save their families, others were not so lucky. A lot of women with their children are living under the open sky. Why? Because they have lost their homes because of floods 2022 and the flood water is still in the streets.
Recently, the government decided to launch an international appeal to raise funds for flood relief and rehabilitation, as well as infrastructure restoration.
This decision was made during an urgent briefing on the Pakistan floods by the National Disaster Management Authority (NDMA). The NDMA was summoned for the following two purposes:
To assess the magnitude of the damage caused by floods.
To inform development partners and donors of the severity of the problem.
In addition, the government is planning a UN appeal for humanitarian relief to assist devastated areas. Moreover, Prime Minister Shehbaz Sharif met with foreign ambassadors to ask for further international assistance.
Apart from all of this, today we want the government to offer men and resources for emergency response, rescue, and relief. It is important to show national spirit in response to the extraordinary calamities as we stand at this crucial juncture.
According to NDMA, the number of people who have been rescued from floods in Pakistan is 51275. And 498442 individuals are in relief camps. They need our help more than ever.
Due to the intense rain and flooding, relief activities are difficult to carry out. More funding from the public is required to speed up rescue efforts. If you cannot donate money, then clothing, food items, furniture, etc. are also what these victims need.
This is a national emergency, and it must be treated as such. Therefore, all resources must be gathered to deal with this major crisis.