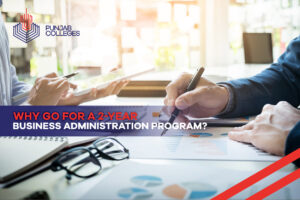 Education institutions in Pakistan offer a bachelor's degree of four years. The students must participate in eight semesters for degree completion. Afterwards, they get a chance to enter professional life. Students can make it directly to M.Phil. and then doctorate after completing a BS degree program. But the students who are interested in learning business administration but do not have enough time and resources to invest in four years BS program should go for a 2-year Business Administration Program from a reputed university.  
ADP (Associate Degree Program) Business Administration
Associate Degree Program in Business Administration is the two-year program available in Pakistan. Some of the prominent universities are offering the ADP Business Administration. The programs are in accordance with the guidelines of the higher education commission (HEC). 
Career Development Options
There is a variety of career development options available in the Associate Degree Program, majoring in Business Administration. The curriculum is designed with the industry requirements for the latest trends and techniques.  
After completing ADP Business Administration, a prosperous career awaits in the following fields.  
Education Sector

 

Marketing Agencies

 

Human Resource

 

Administration

 

Sales

 
Scheme of Studies in Associate Degree Program (ADP)
In associate degree programs, various business-related subjects are taught. Management, Marketing, Finance, Economics, Business Law, and Business Communications are included. The complete list includes some other subjects besides the elective subjects per the program and specialization scope.  
UCP (University of Central Punjab) Colleges- ADP Programs
University Of Central Punjab (UCP) offers associate degree programs in its constituent colleges.
These programs' details are available here.  
Benefits of Enrolling in ADP Business Administration
Students will have numerous benefits while getting enrolled in an associate degree program in business administration. Some of them are as follows.  
Job Opportunities
One of the fastest-growing businesses in the world is commerce and business, and the demand for these services far outpaces the supply. Your prospects of finding work following the training will therefore be greatly increased. 
Many students receive positions after the course with banks, insurance firms, governmental agencies, accounting firms, or other relevant businesses. After completing their internships, many interns land long-term jobs, while others choose to pursue advanced degrees in business fields. 
Half Duration Degree
Four years of full-time study are typically needed to earn a college degree. Diploma programmes differ from them in that they are more focused and less time-consuming. These courses, which often last one to two years, will rapidly prepare one for the job market. Learning about the newest trends and technologies is beneficial. 
Multiple Career Options
The business administration associate degree programme enables students to investigate a wide range of alternative job paths. For instance, if a person is unsure whether they want to work in the marketing or accounting industries, they can research ADP and take classes in both to gauge their enthusiasm in the respective fields. 
Low-Cost Option
Due to the excessive cost of tuition, many people choose not to enrol in a full-length degree programme. People who are struggling financially rely on scholarships to enrol in four-year programmes. However, associate degree programmes are significantly less expensive and time-consuming than traditional degrees. 
Scholarships and Concessions
The associate degree program by UCP colleges offers a wide variety of scholarships and concessions to the students of ADP Business Administration. This is the continuity of Punjab Group of Colleges' traditions and the sister institutions. Hard work and needs are always addressed at the Punjab Group.  
The students can get scholarships and concessions on merit, need, circumstances and certain situations. You can go through the details and eligibility of scholarships and concessions here. 
Final Word
Therefore, it is always a promising idea to go for the 2-year associate degree program at UCP Colleges. The quality of education is maintained in addition to the extensive career opportunities. Furthermore, scholarships and concession options are also available.