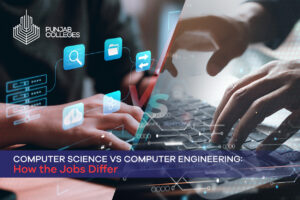 Technology is developing rapidly in Pakistan. The scope of computer sciences and the expansion in computer engineering is massive around the globe. However, links to the same field have specific jobs, sizes, and salary ranges. This article explores the present scope, capacity and earning potential of computer sciences vs computer engineering as after professional BS/MS in computer science and computer engineering can open doors in which direction.  
Introduction to Computer Science
Computer Science (CS) revolves around computers. However, under the banner of computer science, the theocraticals of functioning and software are included. In addition to the basics, the functioning is taken as a study plan. Software development, advancements, like artificial intelligence (AI) and web development falls under computer science.  
Brief of Computer Engineering 
Like CS, Computer Engineering (CE) focuses on computers, but as it links with engineering, the hardware, connections, and computer structural design remains under focus. The combination of electrical engineering and technology opens doors for various new tech-ups and job market skills. Game development, network development, and computer architecture cover under computer engineering.  
Professional Degree Options in Computer Sciences
In Pakistan, computers and technology have rapidly grown and captured students' interest over the last decade. Professional education starts with a university degree. In Pakistan, students can get a BS in Computer Science to create a professional career in computer sciences.  
Urban centres like Islamabad are offering BS Computer Science in Islamabad from universities. CUST, for instance, is a private institution focusing on the field of science and technology.  
In BS Computer Science, students can learn about the majority of computer science research focusing on software-level problem-solving. Students can anticipate learning how to use operating systems, various programming languages, and database maintenance techniques. After BS Computer Science in Islamabad, Students can become computer scientists from a reputed institution like CUST.  
Degree in Computer Engineering
Similarly, students interested in computer structures and design can opt for computer engineering. Professional education starts with BS in Computer Engineering at the university level. CUST is also offering BS in Computer Engineering in Islamabad.  
The main goals of BS Computer Engineering are problem-solving and creating hardware and software interfaces. Since computer engineers can become in charge of developing and prototyping software and hardware simultaneously, expect some parallels between the degrees and job titles of computer sciences and computer engineering. In Pakistan, students can get BS Computer Engineering in Islamabad from CUST.  
Development of Skill Set 
Both computer science (CS) and computer engineering (CE) share the fundamental idea of working with computers and computing-based technology. However, there are also some significant distinctions in each discipline's academic and practical emphasis. 
To begin with, CS and CE are both highly technical subjects that concentrate on researching computers and computer information systems. The inner workings of a computer's hardware system and the complexity of computer software must be understood if you want to work as a computer scientist or computer engineer. Additionally, students need to improve their programming abilities, which includes becoming fluent in several computer-based languages. 
To differentiate between computer science and computer engineering, it is essential to note that after doing BS Computer Science from CUST, students will be skilled in the following to work as computer scientists.  
Software development

 

Information system design

Knowledge/fluency in computer languages such as Java, JavaScript, and SQL

 

Theoretical solid mathematical background in linear algebra and statistics

 

Technical Writing & Presentations to Publish the findings

 
On the contrary, the students enrolled in BS Computer Engineering CE in CUST will develop their skills as professional computer engineers.  
Software engineering, including coding, testing, programming, and implementing the design

 

In-depth knowledge and practice with computer hardware

 

Proficiency and fluency in computer languages such as Assembly, C++, and Perl

 

Problem-solving Abilities, Including Mathematics and 

 

Communication and Interpersonal skill development

 
Market Outlook for CS vs CE
The market outlook for professional computer scientists, computer engineers, programmers, data scientists, and tech support personnel is ever-increasing. The demand is increasing worldwide, and Pakistan is not an exception for sure.  
By 2031, it is anticipated by the US bureau of labour statistics that computer and mathematical occupations will enjoy employment growth that is 15.4% faster than average. Demand for computer jobs will be fuelled by increasing demand for IT services, especially cybersecurity services and cloud computing. 
The Internet of Things (IoT) and the connectedness of consumer goods and industrial machinery are among the elements that are contributing to the expected significant development in data for mathematical jobs, as well as the demand for data collection and analysis.  
Data scientists, information security analysts, and statisticians are three of the ten fastest expanding careers in the computer and mathematics fields. Additionally, throughout the ten years from 2021 to 2031, software engineers are predicted to see the third-largest employment growth of any profession. 
According to this research, the scope of both computer science and computer engineering is positively impacted and has immense potential.  
Job Scope for Computer Science
After doing BS Computer Science in Pakistan, students would be able to initiate their professional careers in the following positions.  
Database administrator

 

Data scientist

 

Systems analyst

 

Software Developer

 

Software quality assurance manager

 

Web developer

 

Computer programmer

 

Computer support specialist

 

AI (Artificial Intelligence) research scientist

 
Scope of Job for Computer Engineering
Choosing BS Computer Engineering in university, the students will have the following career perspectives to earn handsomely. In addition, the career development after BS computer engineering is as understated. Computer Engineering combines electrical engineering and computers together to offer the following fields.  
Computer architect

 

Circuit designer

 

Communications engineer

 

Network systems engineer

 

Network architect

 

Systems programmer

 

Systems architect

 

Systems Engineer

 

Hardware engineer

 

Game developer

 

Forensic computer analyst

 

Computer research scientist

 
Salary Ranges for Computer Science
Computer Programmers is one of the career possibilities after doing BS Computer Science. While working in Pakistan, students get an average of PKR 900000/- pay in their career.  
However, according to the occupational outlook handbook, the median annual wage for computer programmers was $93,000 in May 2021. In addition, there were 174400 jobs in 2021 in the US.  
Salary Range for Computer Engineering
Around the world, after doing BS in Computer Engineering, one can start a career as a professional computer engineer, either as a computer architect, database administrator, or any of the posts stated above. According to the US bureau of labour statistics, the average salary of a computer architect for 2021 was around $48.56 per hour and $101,000 annually. Further, career growth has been anticipated at 9% growth for 2031.  
In Pakistan, according to the records, the average pay of a network engineer profession was recorded at PKR 491,276/- 
What to choose between BS Computer Science and BS Computer Engineering
Both BS Computer Science and BS Computer Engineering are promising career paths in the computer and technology field. However, you can choose any of these per your interests and priorities. However, you can choose to do BS Computer Science in Islamabad and BS Computer Engineering in Islamabad from CUST for better exposure and a practical outlook.  
After completing a bachelor's, students can pursue a master's degree in their field.  
Admissions Open at CUST for BS Computer Science & Computer Engineering 
If you are interested in pursuing a professional degree in BS computer science or BS computer engineering from a prestigious institution with better exposure to opportunities and skill development to ace the professional life, you should go for CUST. The good news for you is that the admissions for 2022 at CUST for BS Computer Science and BS Computer Engineering are open now. You can follow the admission procedure here.