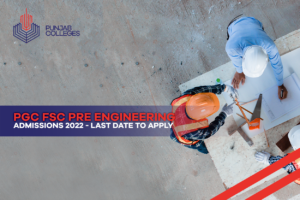 FSC Pre-Engineering is your gateway to a prosperous career in chemical engineering, civil engineering, electrical engineering, and mechanical engineering. To enrol in an educational institution that is the synonym for excellence and quality in the education sector in Pakistan with a history of 37 years, get yourself enrolled in PGC FSC Pre Engineering through online admissions PGC 2022. Please read the article to know the benefits and do it now before the last date gets off.  
Introduction to FSC Pre Engineering at PGC 
The FSC Pre-Engineering programme is one of the most reliable options for students who want to pursue successful careers in a variety of engineering sectors. The programme serves as a springboard for preparing students to pursue bachelor's degrees in prestigious universities and colleges.  
Subjects in FSC Pre Engineering Part I-II  
Punjab Group of Colleges PGC offers a rich curriculum for FSC Pre Engineering aligned with the guidelines of national boards' approved curriculum. Students will learn the following subjects in their 11th and 12th classes.  
Urdu 

 

English 

 

Islamic Studies 

 

Pakistan Studies 

 

Physics 

 

Chemistry 

 

Mathematics 

 
PGC incorporates the rich values of innovation, discipline, integrity, and empathy. Also, the technology is duly employed in teaching and training students to acing their tomorrow. For the same reason, online admissions PGC are commenced on the web portal. 
Record of Past Positions
In 2020, there were 153 top positions bagged by the students all over the boards. The students of FSC engineering were also in the winning positions.  Position grabbing is a continuous phenomenon that is linked with PGC. This highlights the quality and assurance of the promises we deliver. 
Duration of FSC Pre Engineering I-II  
It takes two years to complete the curriculum. First-year and second-year final exams are conducted separately by the national boards of intermediate and secondary education, commonly known as BISE.  
State-of-the-Art Facilities at PGC for Pre-Engineering 
Punjab Group of Colleges (PGC) offers state-of-the-art facilities to its students enrolled in FSC Pre Engineering. The students will enjoy their education at PGC campuses.  
Qualified and Trained Faculty 

 

Well Equipped and Updated Labs  

 

Availability of Books and Reference Materials at Libraries 

 

Uninterrupted Power Supply 

 

Water Filtration Plants 

 

Digitally Equipped Classrooms 

 
Scholarships and Financial Assistance at PGC Pre-Engineering 
Students can have a wide variety of financial assistance and scholarship options in the Punjab Group of Colleges. The types of scholarships are described below.  
Merit Scholarship 

 

Financial Assistance 

 

1122 Workers Concession 

 

Teachers' Children Concession 

 

Kinship Concessions 

 

Shuhada's Children 

 

Orphan Students 

 

Need-Based Scholarships 

 

Special Circumstantial Coverage 

 
The details of scholarships and concessions are available here.  
Extra-Curricular Activities at Punjab Group of Colleges 
Students will have a massively enjoyable atmosphere during their stay at Punjab Colleges for FSC Pre Engineering. Students can get their hobbies and talents addressed at PGC in addition to the focus on their studies. Certain societies and clubs are available that support diverse objectives. The details are available below.  
Debating Society 

 

Dramatic Society 

 

Music Society 

 

Literary Circle 

 

Sports Club 

 

Health Awareness Club 

 

Go Green Club 

 

Science Club 

 

Arts Club 

 

Tourism Club 

 

IT Club 

 

Young Entrepreneur Club 

 

Welfare Society 

 

Islamic Society 

 

Photography Society 

 
You can know here if you are interested in learning more about societies and clubs!  
Admissions are Open for FSC Pre Engineering 2022 
In 2022, as the matric results are declared, Punjab Colleges are accepting new batches for FSC Pre Engineering 2022. The online admissions PGC are open. You can fill out the form here.  
Do not Miss the Last Date of FSC Pre Engineering 2022 
It is essential to apply as soon as possible if you are interested in earning the FSC pre-engineering with clarity of concepts and awareness of the future dimensions. Punjab Colleges prepare their students for a better future through working knowledge and promising skills developments. However, visiting your nearest Punjab College Campus is essential to ensure your admission. Because every campus enrols its students as per their capacity, do not wait for the last date and visit your campus today to get admission to PGC pre-engineering 2022.