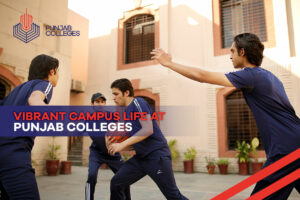 Punjab Colleges have helped educate more than 2,400,000 students all over Pakistan. We take pride in securing the top positions on all national boards for the past three decades. PGC's Intermediate admissions 2022 are open these days. Hence, you can become a part of our community by getting enrolled in our institute.  
We aim to facilitate our students' success by delivering quality education. In addition to preparing you for intermediate examinations, we help you develop the skills that you need to thrive in this highly competitive world. So, there is so much more to PGC than education.  
The Well-Balanced Yet Vibrant Campus Life of Your Dreams!
At Punjab colleges, we provide you with a vast range of social, educational, and cultural activities. The combination of these fun activities results in a pleasant campus life that you dream of. Additionally, you will have the chance to engage in healthy activities to show off your hidden talents.  
11th class admissions 2022 of the Punjab Group of colleges are going on. Thus, do not waste a second and apply online or visit your nearest campus to have the experience of a lifetime.  
Welcome and Farewell Party
From the moment you join us, we aim to celebrate every moment with you. So, to celebrate your presence, we will arrange an exceptional welcome party for you. Similarly, to honor your time with us, we organize extraordinary farewell events at the end of your intermediate years.  
Cultural Festivals and Fun Fairs
You will get a chance to exhibit your artistic potential at the fun fairs that we organize every year. These cultural festival events are fun-filled and an opportunity for you to develop self-confidence, leadership, and teamwork skills.  
Study and Recreational Trips
Punjab colleges understand the importance of the break you need from the exhausting study routine. That is why we arrange exciting study and recreational trips for you to northern areas. To ensure your safety, our team of experienced staff supervises the tours.  
Seminars and Workshops
To provide you with experimental knowledge, we arrange different seminars and workshops for you. Many industry professionals and motivational speakers are invited to speak at these events. As a result, you will have the chance to learn from their life experiences and success stories.  
Science and Art Exhibition
To generate a platform for innovation and art, PGC organizes different science and art exhibitions. You will have the opportunity to pursue your interests and passions.  
Concerts
PGC is known for arranging exceptional concerts. We believe in promoting the culture of our country. That is why musicians and singers from all over Pakistan come to perform at these concerts.  
Societies and Clubs
Along with academics, you will have quality time for interacting in mindful extracurricular activities. We ensure an enjoyable educational environment where you can actively participate in studies as well as healthy activities.  
For this, we have different societies and clubs that you can join. These are as follows: 
Music Society

 

Dramatics Club

 

Debating Society

 

IT Club

 

Photography Club

 

Art Club

 

Tourism Club

 
Sports Activities
Sports activities are highly encouraged at Punjab Colleges. You can partake in local, regional, and national competitions. You will indulge in the spirit of sports and develop sportsmanship. Do you know that a lot of great athletes are a part of our alumni, such as Wahab Riaz and Hassan Ali?  
We have a sports club that you can join as well. All you have to do is apply for intermediate admissions 2022. The sports activities that you can take part in are as follows: 
Cricket

 

Football

 

Badminton

 

Volley Ball

 

Basket Ball

 

Weightlifting

 

Gymnastics

 
Competitions
Throughout your journey at Punjab Colleges, you will be challenged with several competitions to enhance your abilities. We aim to inspire the next generation of creative thinkers by emphasizing the importance of activities other than academics.  
Therefore, we boost your confidence and motivate you to think out of the box. In addition, when you win the competitions, you will get cash or non-cash prizes.  
Following is a list of competitions that you can participate in at PGC: 
Qirat and Naat

 

Calligraphy

 

Stand Up Comedy

 

Coding

 

Online Gaming

 

Singing

 

Photography

 

Painting

 

Essay Writing

 

PGC Takra

 
Apply Now for PGC's Intermediate Admissions 2022
11th class admissions 2022 of the Punjab Group of Colleges are now open as the matric results have been announced. You can enrol and gain substantial knowledge along with experiencing the best campus life.  
Now is your chance to stand out from others and learn from the best faculty in town. So, be a part of our growing community and help our legacy grow.  
For more information, you can contact us at infor@pgc.edu.