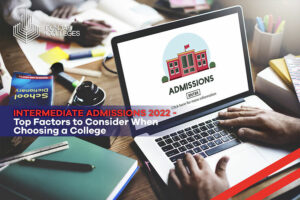 Every student has to choose a college after their matriculation results. Graduating from a prestigious college plays a very crucial role when you apply for higher studies. So you have to be very careful in selecting the institute for intermediate education. However, the good news for you is that Punjab Colleges' intermediate admissions in 2022 are open.
For the past three decades, the Punjab Group of Colleges has secured the top positions on all educational boards. Furthermore, with every passing year, our number of position holders is increasing. Thus, these achievements have set an example in both the public and private sectors.
Factors to Consider When Choosing an Institute for Intermediate
The intermediate years are very important for your educational years. That is why you must consider the following factors when you are thinking of selecting a college.
1. The Desired Courses Regarding Your Field
You must choose the institute that offers the courses in your chosen field. Here is where PGC makes a difference. Punjab Colleges ensure that you have every opportunity to pursue your dream career. Whether you want to become a doctor, engineer, entrepreneur, or artist, we offer every intermediate course that you need to study to achieve your professional goals.
PGC's Courses for Intermediate Admissions
FSc Pre-Medical
If you wish to study medicine to become a physician or any medical professional, then you should choose FSc Pre-Medical. Punjab Colleges admissions are open nowadays. So, you can get yourself enrolled and get one step closer to your dream profession.
FSc Pre Engineering
The course is designed for students who want to become engineers. You will be able to secure a seat in the top engineering universities with FSc Pre-engineering from PGC.
FA
FA Intermediate admissions 2022 in Punjab Colleges are open. So, if you are interested in pursuing fields like the arts, humanities, media, and journalism, this is the course for you.
I.COM
I.COM is the best field for you if you want to develop expertise in accounting and commerce. PGC will help you hone the skills that will lead you to promising careers.
ICS
The world revolves around technology these days, right? So, to prepare you for 21st-century challenges and develop the required skills, PGC offers an intermediate course in computer science and technology. ICS 11th class admissions in PGC are open as matric results have been announced.
2. Facilities for Students
We make sure you have a lifetime of experience with us. That is, we provide you with every educational facility. Our aim is not limited to delivering high-quality education. We ensure you have every opportunity for self-development and growth.
Experienced Faculty
PGC takes pride in having the best faculty. The teachers are well-educated and will ensure you are fully prepared for your intermediate board exams. In addition, you can seek their guidance regarding your educational and professional life anytime you want.
Well Equipped Laboratories and Libraries
Another factor you must look for when choosing a college is the laboratories and libraries. PGC has state-of-the-art computer and science labs. You can put your theoretical knowledge into practice and improve your experimentation.
Similarly, we have fully stocked, air-conditioned libraries at our campuses. You will have every reading resource available. Moreover, you will have a peaceful environment where you can prepare for your assessments and exams.
E-Learning 
To ensure the availability of education, PGC offers an e-learning portal. As a result, you will have access to interactive video lectures and other electronic media. In addition, PGC has virtual classrooms to connect you with teachers in real time.
Campus Life
A vast range of social, educational, and cultural activities are available at PGC to provide you with a well-balanced campus life. Throughout your journey at PGC, you will be attending:
Welcome and farewell parties
Seminars and workshops
Cultural festivals and funfairs
Concerts
Science and art exhibitions
Sports gala
Study and recreational trips
Societies and Clubs
Punjab Colleges believe that you need quality time to engage in healthy extra-curricular activities along with academics. That is why there are so many societies and clubs that you can join to explore your hidden talents and show your talents.
Debating Society
Music Society
Dramatics Club
Sports Club
IT Club
Blood Donor Society
3. Scholarships and Incentives
Punjab Group of Colleges believes in rewarding students who are deserving and hardworking. That is why we offer scholarships to students. In addition, if you cannot afford to pay for your studies, we have the facility of fee concessions.
Here are some incentives that we offer:
Merit-Based Scholarships
Shuhda's Children
Students with Special Needs
Need-Based Concessions
Orphan Students
Kinship
Special Circumstances Financial Aid
Incentive Policies for Matric Students
Punjab Colleges' Intermediate Admissions 2022 Are Now Open!
Studying at a well-reputed college is important for your educational journey. That is why you must be very sure about the choice you make. PGC is the best intermediate college in town. and 11th class admissions are open. So, you can apply online or visit the nearest campus to get yourself enrolled. Become a part of our community and help our legacy grow.