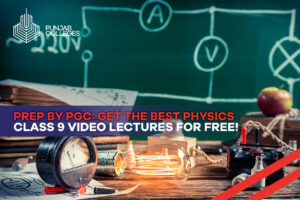 9th class is the first standard at school where you have to study physics as a distinct subject for the first time. If you have trouble understanding physics concepts, we have a solution to ease your preparation. PGC has launched an app where you can access physics class 9 video lectures along with past papers and MCQs.  
The app is named "Prep by PGC." It contains all the necessary materials for you to prepare for your matriculation examination. And the best part is, you do not have to go to the academy for it. You can stay at home and study at any time you want. Isn't it great?  
In addition, there is an online portal known as the Free Online Matriculation Portal. You can log into it and get physics class 9 video lectures along with other subjects' lectures and papers.  
Why Prep by PGC?
PGC took this initiative to facilitate the students. We believe that every student deserves an education and must have equal opportunities to prepare for the final exams. That is why the online portal and app are designed to fulfil this objective.  
Let us look at some of the amazing features of Prep by PGC.  
Preparation by a Highly Qualified Faculty
PGC takes pride in having the best faculty in town. Our professors and teachers are highly qualified and hold degrees from renowned institutions. They ensure you are fully prepared to ace your matriculation exams.  
Thus, our faculty put extra effort into preparing these physics video lectures for class 9. So, you will be learning from experienced teachers in the comfort of your home.  
User-Friendly Interface
So, what annoys you the most when you open an app or a website? The time it takes to load pages, right? You do not like waiting and it irritates you. Our goal is to facilitate our students' learning. So, to avoid this, we have designed our app with a user-friendly interface.  
Thus, when you are trying to study physics video lectures for class 9, every video will open straight away. Similarly, you can access every other feature without having to wait long.  
Single Platform for Every Preparation Material 
From physics video lectures for class 9 to solved past papers, everything is available to you on a single platform. Thus, you do not have to open different textbooks and attend separate classes for each subject.  
Prep by PGC contains every prep material in one place. All you have to do is log in to your online portal or the app and start preparing right now. The following are the resources you will have access to: 
5000+ MCQs 

 

1500+ Video Lectures  

 

10th Class Solved Past Papers 

 

9th Class Solved Past Papers  

 

4000+ Short Questions  

 

1000+ Long Questions  

 
Anybody Can Download It
Whether you are an Apple user or an Android lover, you can download the app. We know that iOS has strict rules and policies, which is why we have created a Prep by PGC version for Apple. So, you can download it on your iPhone here. In addition, you can download the app on Google Play from here if you use an Android phone.  
Not Restricted to Punjab Group Students
We have good news for you! It does not matter which school student you are; you can benefit from it irrespective of the institute you belong to. Thus, if you find physics a difficult subject and want to prepare for it, Prep by PGC is your best option.  
You can access the physics video lectures for class 9 right now by downloading the app or logging into the online portal examination.  
Fulfils Every Board's Requirements
We understand that every board has different requirements. That is why our faculty has created lectures on every subject according to all educational boards' standards. We have secured more than 450 positions on all boards in 2021. That displays our effort in preparing you for the matric exams.  
Thus, it does not matter whether you belong to the Lahore board, Faisalabad board, Gujranwala board, Multan board, etc. the app will prepare you accordingly. So, you will be able to ace your final exams and produce amazing results.  
It is Totally Free!
You must be thinking that an app with these many features will definitely cost a lot, right? however, this is not true. Prep by PGC costs nothing. YES! It is totally free. Thus, if you think that you cannot afford to pay for the academy, then you do not have to. 
Download the app right now and start your preparation. So, whether you need short questions and answers or physics video lectures for class 9, you can access them for FREE.  
For the Online Matriculation portal, visit this Free Matric Prep by PGC | 9th & 10th video lectures and more.