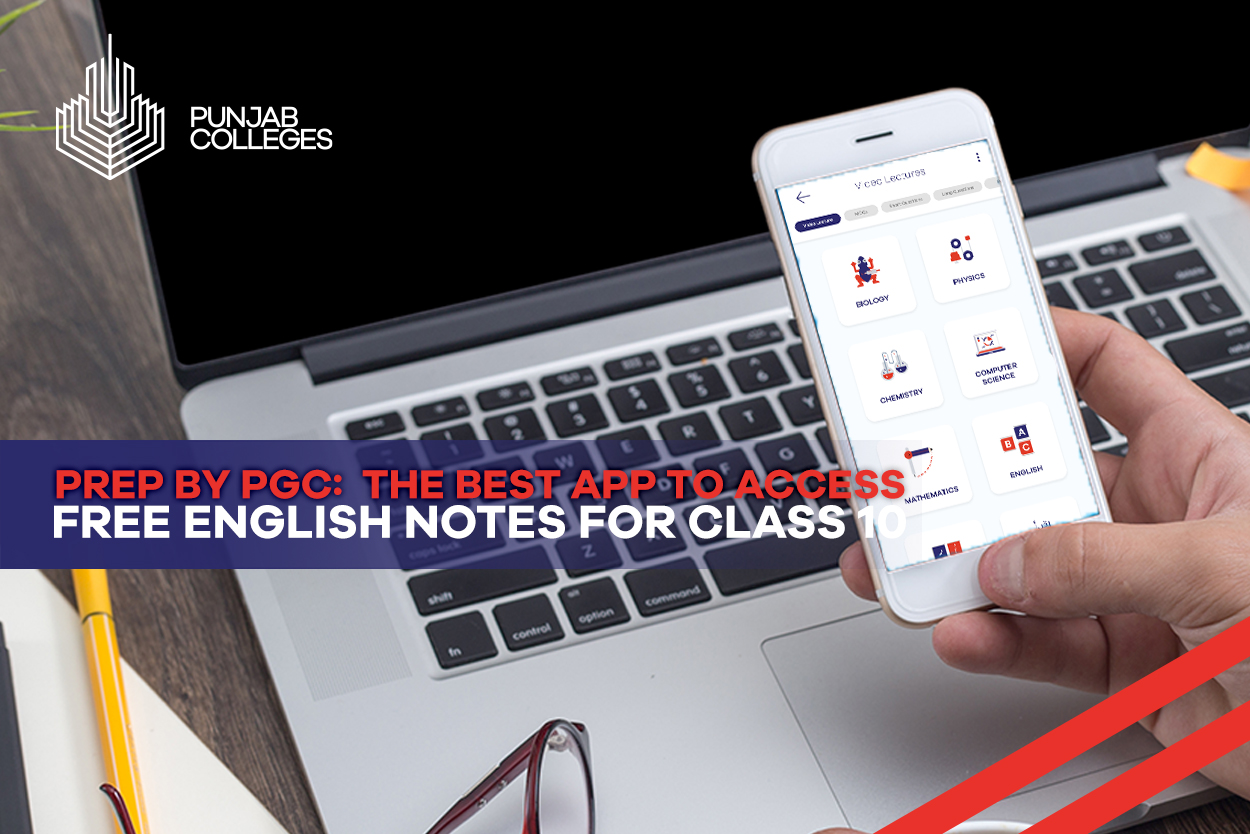 Students in the tenth grade are frequently confused about the board exams, especially those who have difficulties preparing for the English exam. However, it is critical to achieve high marks in the English paper in order to maintain your overall grades. However, to achieve this, you need English notes for class 10.
English is one of the compulsory subjects in matriculation exams. Whether you are a biology, computer, or mathematics student, English is a subject that you have to study irrespective of the field you have chosen. In addition, a slight change in grades would ruin your entire performance.
The question is, from where can you get English notes for class 10? Punjab Group of Colleges has launched a free application named Prep by PGC. This app has every learning resource that you need to prepare for your matriculation examinations.
So, if you think you are weak in English and wish to strengthen your grip on it, but you cannot go to the academy, then learning from Prep by PGC is the best option. You can stay home and start preparing right now.
Learn from World-Class Faculty:
The app and the Free Online Matriculation Portal enable you to learn from the best faculty of PGC. All the lectures have been prepared by our highly qualified teachers. So, you will be learning from them without having to be physically present on campus.
In addition, you will have access to English notes for class 10 and video lectures along with the lectures for other subjects. Thus, you can easily prepare for the exams at any time you want.
All Educational Resources on a Single Platform:
You do not have to take a separate class for every subject, as you have to in academies. Instead, you will have access to all resources through a single platform. Whether you need video lectures to study chemistry or you want to learn English from English notes for class 10, everything is available with just one click.
The online portal and Prep by PGC will provide you access to the following features:
4000+ Short Questions
1000+ Long Questions
9th Class Solved Past Papers
10th Class Solved Past Papers
1500+ Video Lectures
5000+ MCQs
Free of Cost:
The best thing about this portal and Prep by PGC is that it costs nothing. So, you do not have to pay hefty fees to academies to prepare for your matric exams. Instead, you can simply download the app on your phone or laptop without spending a single penny and start learning from the best professors in town.
Accessible to Everyone:
Are you worried that you are not a Punjab Group student, so you cannot benefit from the app? Well, this is another amazing feature of this app and portal. Prep by PGC and the Free Online Matriculation Portal are accessible to everyone.
Thus, if you are not a member of the Punjab group community but you want English notes for class 10 or past papers for Biology, then do not worry at all. Just go to the online portal and log into your account or download the app and start preparing.
Covers the Syllabus for Every Board:
Do you know that over 450 Punjab Group students have achieved top positions across all boards in Pakistan? That demonstrates the extra effort our lecturers put in to help you with your exam preparation. Additionally, their efforts are not limited to students from a single board.
They have prepared English, Math, Biology, and other lectures, as well as Chemistry, Urdu, Pak Studies, and English notes for class 10 in accordance with each board's syllabus. As a result, the PGC Free Matriculation Portal serves all boards' requirements, including Lahore Board, Rawalpindi Board, Faisalabad Board, Multan Board, and Karachi Board.
User-Friendly Interface:
What irritates you the most when you run an app on your phone? The pages do not load instantly. Prep by PGC is designed in a way that it has a user-friendly interface. As a result, you will have fast access to English notes for class 10. In addition, you can easily locate every feature on the app without any difficulty.
No Downloading Restriction:
Whether you are an Apple user or an Android lover, you do not have to worry that Prep by PGC is not downloadable. There is no downloading restriction and you can benefit from the app irrespective of the cell phone model you use. Apple users can download the app from this link while Android users can do it by clicking here.
You can also have free access to English notes for class 10 on the Free Online Matriculation Portal. Visit this Free Matric Prep by PGC | 9th & 10th video lectures and more.