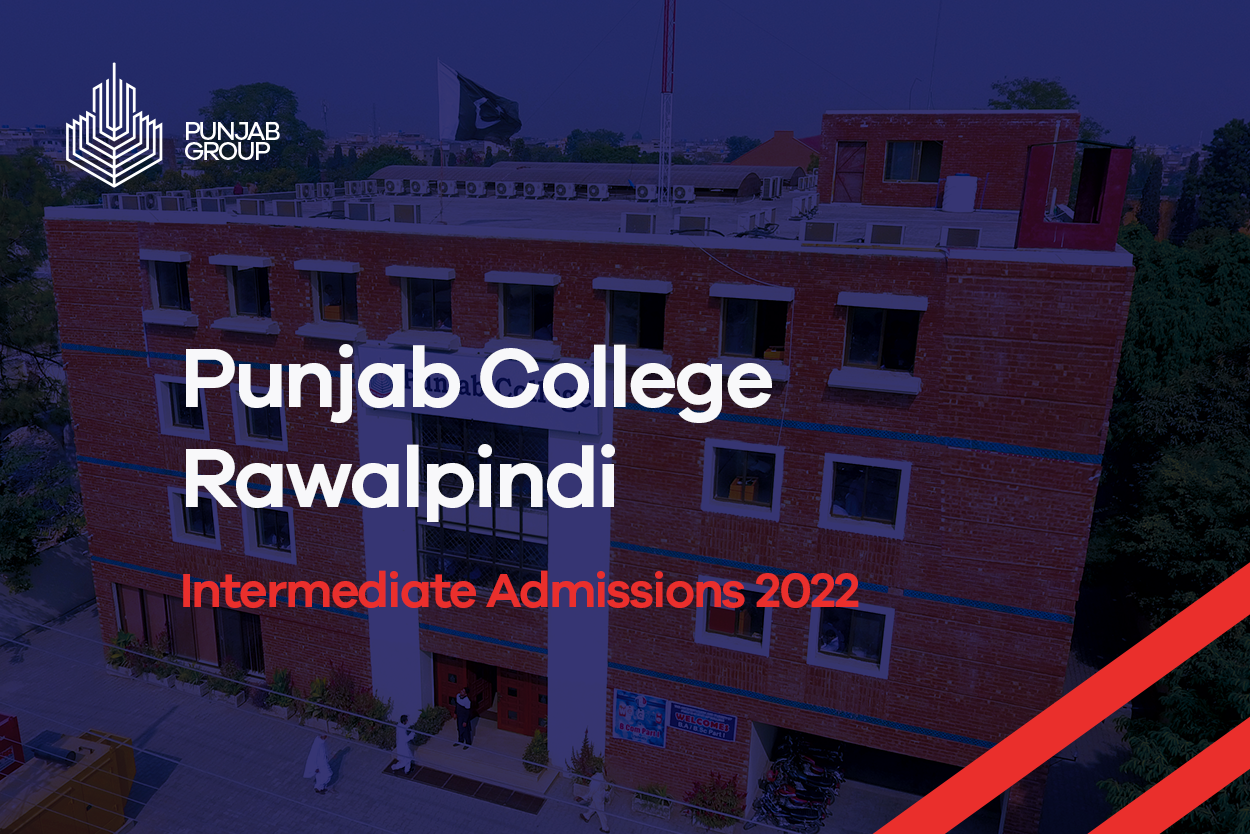 Punjab Group of Colleges, commonly known as PGC, have been the trendsetter in the college education arena in Pakistan since 1985. The institution changed the conception of higher secondary education in the country. Every year since 2005, many PGC students grab positions in Intermediate Board Examination nationwide. Keeping the momentum going, after the result declaration by BISE (Board of Intermediate and Secondary Education) throughout Punjab on 31st August 2022, Punjab Colleges Rawalpindi has opened its Intermediate Admissions 2022. There are numerous advantages to getting admission to PGC. Go through the article below to discover how you can transform your future with PGC.  
Educational Disciplines in PGC Rawalpindi 
The importance of inter in a student's life is a gateway from one end of the tunnel to another. Preceding from Matric to proceeding towards the university level of education is incomplete without the essential inter years of class 11th and 12th. Following the guidelines of boards, PGC offers education in the following career lines to the students in PGC Campuses Rawalpindi.  
FSC – Pre-Engineering 
Students who have an interest in the engineering field are invited to opt for FSC. Pre-Engineering at PGC. In FSC Pre-Engineering, concepts and practical knowledge essential for a robust base of engineers are under-focus.  
FSC- Pre-Medical 
Those who want to be doctors in their careers go for FSC Pre-Medical. Professional teachers teach the challenging concepts of Biology, Chemistry and Physics at PGC Rawalpindi, which makes it easy for students to understand the concepts and procedures.  
General Sciences
Students interested in mathematics and statistics should admit to the general sciences group. The same is available at PGC Rawalpindi. Students will learn complex components with water clarity the professional guidance.  
ICS Stats/ Physics 
Punjab Colleges offer vibrant options for students to get an education suiting their calibre and career outlook for the future. In addition, all the options are duly approved by authorities, so there is no problem in making choices. Likewise, PGC- Rawalpindi offers intermediate in computer sciences with Stats and Physics variations to choose from.  
ICOM 
Those students interested in accounting, commerce, and banking should opt for inter commerce, also called ICOM. Students can get themselves enrolled in Punjab College Rawalpindi for the same.  
Salient Features of PGC Rawalpindi 
Apart from quality education, Punjab Group has been well-known for campus-based, state-of-the-art facilities for its students since its inception. The students genuinely feel pleasure and ease during their tenure in the college for the following reasons.  
Well-Trained Faculty 
Maintaining the quality, PGC Rawalpindi has world-class faculty for all intermediate subjects. The faculty are educated and well-trained with teaching methods and digital tools to enrich the learning experience for students.  
State-of-the-Art Class Rooms 
Punjab Colleges Rawalpindi holds well-structured and digitally upgraded classrooms with facilities of smart boards, multimedia, and animated lecture delivery. Students absorb knowledge quite well with digital facilitation.  
E-Learning Facilitations 
PGC has a portal and e-learning app that helps students access educational materials 24/7 through a smartphone. Similarly, the students at PGC Rawalpindi have direct access to the portal and app. Students can download the app on android and apple.  
Free Microsoft Certification 
Punjab Group of Colleges has always been an innovator. Adaptation is always their power-point. With the changing times, PGC has focused on digital skills. Therefore, they have gone in collaboration with Microsoft Inc. Under this partnership, the students of PGC have a massive chance to do the international certification of Microsoft Office Specialist (MOS), which skills up the students and prepares them for higher education, online jobs, and professional careers beforehand.  
Proper Power Back-ups 
With other facilities, the Rawalpindi campuses of the Punjab Group Of Colleges have an uninterrupted power supply and water filtration plants installed. These basic human necessities make it difficult for students if they are unavailable. Therefore, PGC makes studying easy for students on campus.  
Updated Libraries 
Punjab Colleges Rawalpindi has well-stocked libraries on all campuses. The students are encouraged to read books, periodicals, reference books, industry magazines and academic journals.  
Latest Equipped Labs 
Intermediate study plans require a massive amount of practical and complex conceptual studies. These all demanded equipment and apparatus that helps to understand the concepts and polish the practical requirements. Therefore, Punjab Colleges Rawalpindi has prepared the labs, which are furnished with the latest apparatus and safety measures to ensure the safety of students.  
Separate Campuses for Boys & Girls 
Regarding religious and social values, PGC has separate campuses for boys and girls in Rawalpindi, like in other cities. This encourages female students to continue their education with peace of mind.  
Extra-Curricular Activity Options at PGC 
PGC encourages the students to take part in distinct extra-curricular and co-curricular activities. For this reason, PGC has various societies and clubs that polish the hidden talents of our students during their stay in Intermediate at PGC Rawalpindi. A list of Societies is Available here.  
Also Read: Complete Guide for 1st Year Admissions 2022, PGC
Scholarships & Incentives for Students at PGC Rawalpindi
Punjab Colleges believes in encouragement and support. Therefore, the institution offers various merit scholarships, need-based aid, concessions, and incentives. Complete details are available here.  
PGC Campuses under BISE Rawalpindi 
In Rawalpindi, the Punjab Group of Colleges has five campuses. In addition to Rawalpindi, the campuses are available in the adjacent towns of Rawalpindi. PGC Campuses-Rawalpindi is as follows.  
Punjab College Satellite Town 

 

Punjab College for Women (PGW) 

 

Punjab College for Women (PGW), Iran Road, Satellite Town 

 

Punjab College- Quaid Campus 

 

Punjab College for IT (PCIT) 

 
Position Holders of PGC  
Students at Punjab Colleges have been high achievers for a long time. In the recent Federal Board Result declaration, PGC students ruled the Intermediate Examination 2022. The results disclose that students from PGC, Miss Tooba Abdul Basit secured 1081/1100 marks and 1st position in FBISE examinations 2022. Furthermore, Miss Iqra Mehmood secured 1061/1100 marks securing 1st position in FBISE exams general science group. Both toppers are students of PGC Rawalpindi campuses.  
Apply For Intermediate Admissions Rawalpindi 
The students looking to get admissions in Intermediate 2022 have a massive chance to light up their future with formal studies, quality education, digital literacy, and uncompromised guidance at Punjab Colleges Rawalpindi. Do not miss your chance. Apply Today.  
  [/vc_column_text][/vc_column][/vc_row]