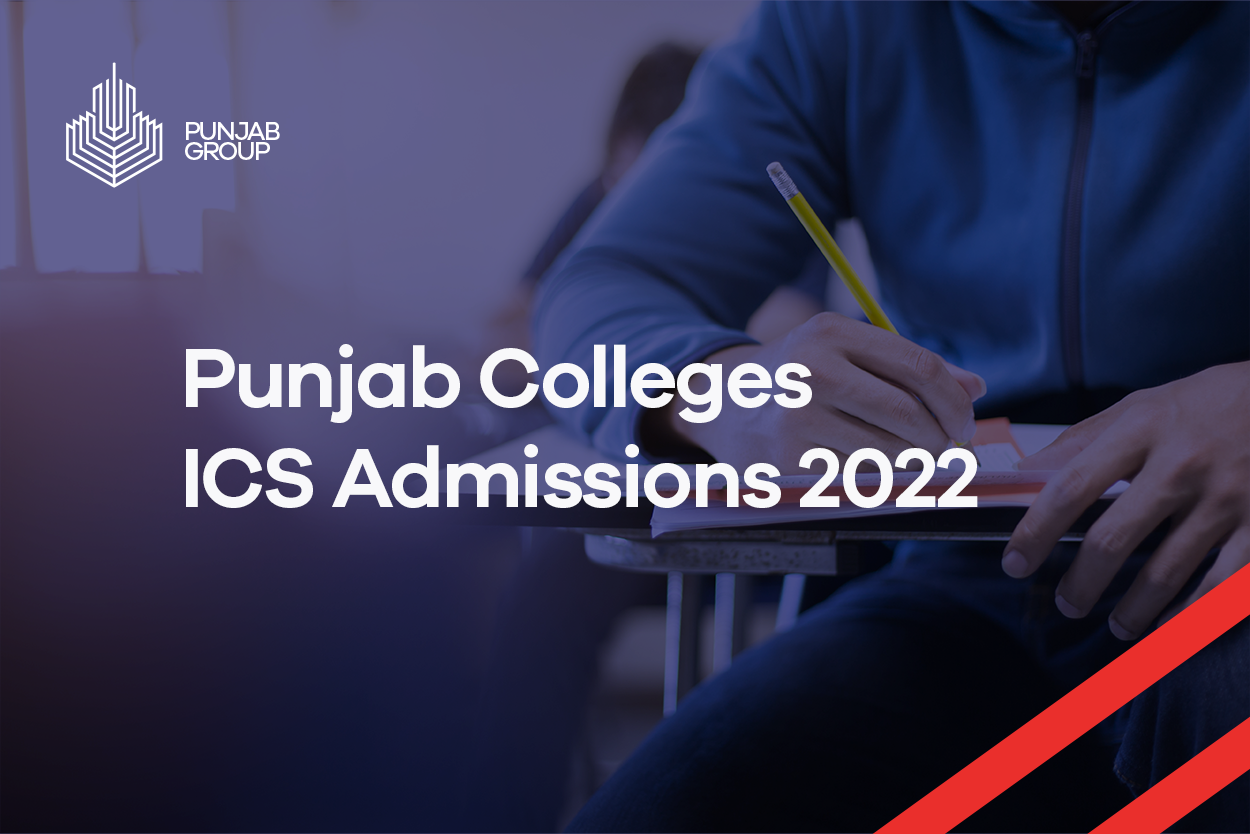 We live in an era of technology. Information Technology is massive in the present, and the future is expected to be luminous. In Pakistan, a considerable quantity of students has an interest in computer advancements and IT. Therefore, Punjab Colleges ICS admissions 2022 are open for the new intake. If you are looking forward to quality education and opening doors to the best computer institutions for higher studies, have a thorough introduction in the following.  
Introduction to ICS
ICS is abbreviated for Intermediate in Computer Sciences. Punjab Colleges educates students with a career orientation for information technology and computer sciences with all required assistance to help them learn the basics of computer sciences deeply.  
Curriculum Of ICS at PGC 
Punjab Colleges teach the Intermediate in Computer Science (ICS) curriculum with the country's Boards of Intermediate and Secondary Education (BISE) guidelines. The scheme has seven subjects divided into the 11th and 12th years of schooling. There is a combination of compulsory and elective subjects. Likewise, PGC offers the following combinations to choose from in elective subjects.  
Physics + Maths + Computer Science  

 
Statistics + Maths + Computer Science 

 
Statistics + Economics + Computer Sciences 

 
Any of the above sets add to the compulsory subjects of Urdu, English, Islamic Studies, and Pakistan Studies.  
The course duration for intermediate in computer science is two years. However, BISE (Board of Intermediate and Secondary Education) conducts the exams for the 11th year and 12th year separately.  
Facilities For ICS Students at PGC
Punjab Colleges facilitate their students at every level. Everything is discussed below, from physical structures to human resources, trainers, labs, and libraries.  
Well-Trained Faculty 
The faculty for intermediate in computer sciences at PGC is well-educated, trained and digitally advanced to satisfy the fire in students' bellies. The faculty comprises highly qualified professional staff having years of teaching experience.  
Latest Computer Labs 
At PGC, students enjoy learning in the ICS program. The underlying reason for this enjoyment is the availability of the latest and up-to-date state-of-the-art computer labs. The students have satisfaction with optimal learning through experimentation and practical knowledge of quality equipment and the latest computers. Robotic Labs  
Updated Libraries 
Punjab Colleges always keep their libraries loaded with the latest books, academic journals, and materials for the sake of students. The students can get massive help from the library to prepare any of the subjects in depth and detail for better understanding and a firm grip.  
Free Microsoft Certification 
Punjab Colleges have taken a brilliant step for their intermediate students. Punjab Colleges have offered free-of-cost certification of 'Microsoft Office Specialist-MOS. It is an internationally recognised certification which plays a crucial role in the professional development of students.  
Computer Aided Class Rooms 
Classrooms play a crucial role in students' adaptability. For the same reason, PGC has equipped classrooms with multimedia-supporting smart boards, projectors, and animated lectures.  
E-Learning Facilitation 
Students enrolled in ICS also access the e-learning portal and PGC mobile app for the on-the-go learning experience. Students also have a chance to have free online lectures through the 'My Team' App for the need of an hour.  
Parents get to know about attendance reports via regular SMS updates.  
Uninterrupted Power & Water Supply 
Punjab colleges have installed alternative power supply solutions and water filtration plants to facilitate students with basic needs. These facilities are available on all PGC campuses nationwide.  
Also Read: Punjab Colleges 1st Year Admissions- Complete Guide 2022
Extra-Curricular Activities at ICS PGC 
In addition to academic excellence, Punjab Colleges (PGC) inputs a lot of effort into bringing out the hidden talents of its students. The students in ICS enjoy their stay at the college during their studies. PGC has a variety of activities to be held throughout the intermediate years.  
Clubs
Photography Club 

 

Tourism Club 

 

Science Club 

 

Health Awareness Club 

 

Art Club  

 

Sports Club 

 
Societies 
Blood Donor Society 

 

Debating Society 

 

Dramatic Society 

 

Welfare Society 

 

Islamic Society 

 
The details about societies, clubs and extra-curricular activities are available here.  
Sports
PGC has a considerable history of successful participation of students in various sports events and competitions nationwide. Some of the regular sports conducted at PGC are as follows.  
Table-Tennis    

 

Cricket    

 

Hockey    

 

Cycling    

 

Athletics    

 

Netball   

 
Scholarships Options for ICS Students 
Punjab Colleges are a firm believer in appreciation and support. Therefore, the institution holds several scholarships and incentives for students.  
Merit-Based Incentives 
For high achievers, toppers and position holders, multiple prizes are available. Likewise, for high-scorers, PGC holds merit-based scholarships.  
Concessions
The students having parents and guardians in the teaching profession could have teacher's child concessions. In addition, the students with siblings in the previous or current batch enrolled in the Punjab Colleges stand eligible for kinship scholarships.  
Financial Aids 
Following financial supports are available for needy students.  
For Orphan Students    

 

Need-Based Scholarship    

 

1122 Employee Incentives    

 

Support for Shuhada's Children

 
Incentives For University 
The students enrolled in ICS at Punjab Colleges are entitled to have incentives in fees and admissions during their admission process to Muhammad Ali Jinnah University (MAJU) and Capital University of Science & Technology (CUST). These are the sister institutes of PGC. Further details are available here.  
Admissions are Now Open 
PGC has a history of positions from 2005 to 2022 in the intermediate examination conducted on the board levels. Furthermore, our legacy continues with stars like Atif Aslam, Aima Baig, Wahab Riaz and Hassan Ali. Every year the heritage enriches, and we are proud of it. It is your chance to be a part of the legacy to grow. Punjab Colleges ICS Admissions 2022 opens now!