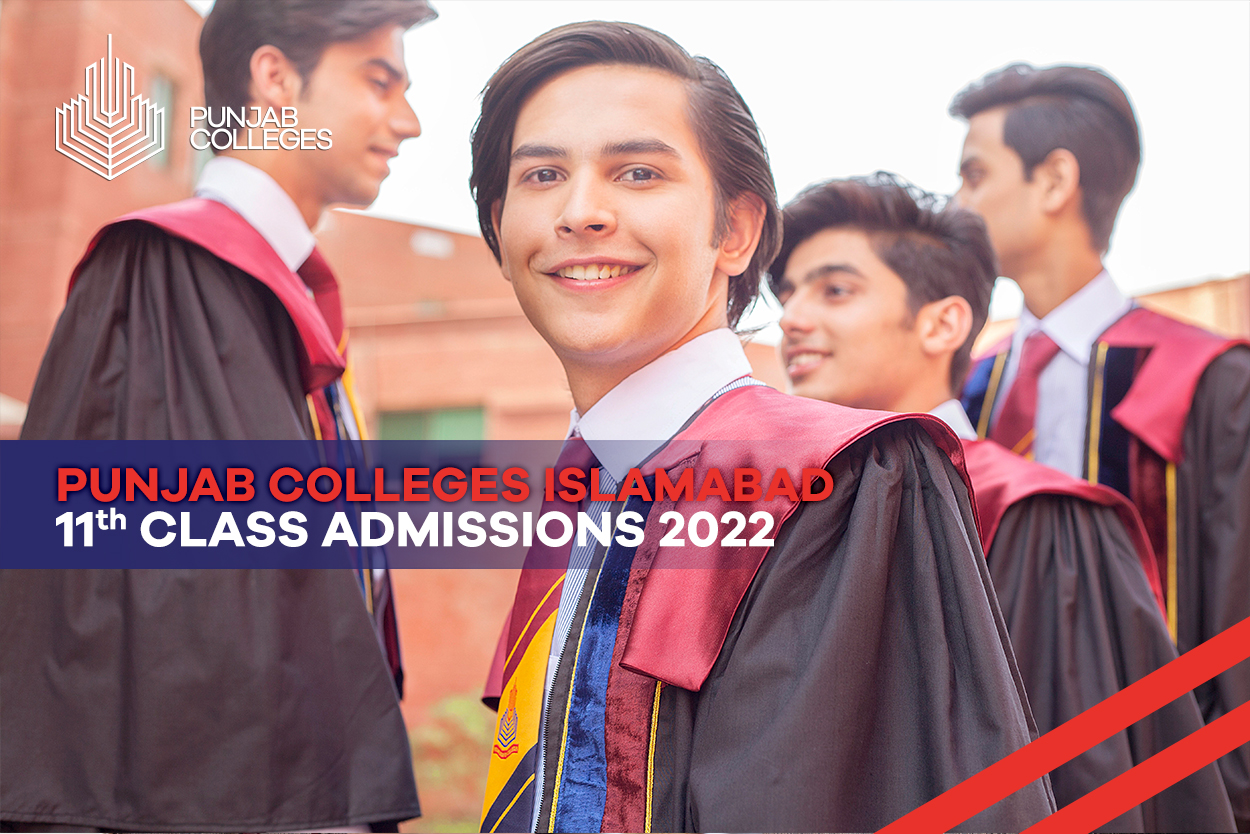 Punjab Colleges are a renowned name for education excellence throughout Pakistan. They have been playing on the front foot for the last 37 years and are glorious to date. Having a legacy of positions, honours, and wins, they provide unmatched quality with efficient and polished students, players, singers, and athletes to the country. Punjab Colleges Islamabad is ready for 11th class admissions 2022. The advantages and incentives are uncompromised. To know more, you must go through the article below.  
Punjab Colleges Islamabad 
Punjab Colleges Islamabad offers quality education for boys and girls. The intakes start at class 11—this tenure for two consecutive years, namely, the 11th and 12th classes of education. PGC (Punjab Group of Colleges) Islamabad is undoubtedly the best college for intermediate for distinct reasons. You can find the reasons below.  
Programs Offered for Class 11th in PGC Islamabad
In Islamabad, all disciplines are available for education. Students can choose any one of their choices.  
FSC- Pre-Engineering 

 

FSC – Pre- Medical 

 

ICS (Intermediate in Computer Sciences) – Physics 

 

ICS- Stats 

 

ICom  

 
Students interested in engineering can take admissions in FSC pre-engineering. Likewise, the students looking to choose the life sciences as their career can opt-in to the FSC Pre-Medical for 11th class admissions. They will learn the basics of these alluring sciences to appear in the annual exams for intermediate part one.  
Similarly, students interested in computer sciences can choose the ICS. The intermediate in computer sciences is available with two variations to choose from. The details are available here.  
If accounting, commerce, and business attract a student, your choice should be ICOM. ICom students can get admissions to rated business schools at the university level.  
Benefits of Intermediate Admissions in PGC 
Going to Punjab Colleges Islamabad for intermediate in 2022 will be beneficial in several ways. The students will get an excellent education, campus experience, extra-curricular activities, farewell and welcome celebrations and guidance from well-educated and trained faculty. Keep reading the advantages below.  
Highly Qualified Faculty 
Punjab Colleges Islamabad has highly qualified and well-trained faculty. The faculty have digital literacy and a grip over the subject. Students can get much support from the teachers of intermediate subjects.  
State-of-the-Art Campus 
PGC has a history of well-designed and maintained campuses throughout the country. The same standard is held in the capital also. The campus in Islamabad has an uninterrupted power supply, a water filtration plant, and multimedia-supporting classrooms.  
Equipped Labs & Laboratories 
Intermediate is all about theory and practical knowledge gain. Labs and laboratories play a crucial role in better understanding the challenging concepts in the major subjects of Biology, Chemistry, Physics and Computer Sciences.  
Keeping this need in mind, Punjab Colleges have always maintained a standard in laboratories, equipment, updated systems and students' safety.  
Sports Events 
In addition to educational excellence, Punjab Colleges never neglect the importance of sports. Equal support and opportunities are available for students on a regular basis. That is the reason for continued winner ship throughout Punjab Colleges in different sports.  
Cricket 

 

Table Tennis 

 

Badminton 

 

Hockey 

 
These are some of the sports. In addition, the annual sports gala is a mega sports event for the year.  
E-Learning Opportunities 
Admissions to the 11th class at Punjab Colleges open new doors of e-learning for the students. The students can learn on the go with PGC App, which is known as 'My PGC App'. In addition, the students can access the portal and get online classes with My Teams.  
Class 11th Admissions & Scholarships 
Punjab Colleges offer various scholarships for students.  
Merit Scholarships 

 

Need-Based Financial Assistance 

 

Concessions  

 

Monetary Incentives for Toppers, High Achievers and University Admissions   

 
For more details, please visit Scholarships & Concessions.
Also Read: Punjab Colleges 1st Year Admissions- Complete Guide
Campus Life After 11th Class Admissions 
Clubs & Societies 
Punjab College has various societies and clubs operational. Students are free to join clubs and societies as per their interests. The complete list of clubs and societies is available here.  
Study and Recreational Trips 
Punjab Colleges are aware of the importance of exploration and tourism. For this sake, the college arranges different educational and recreational trips for their students.  
Concerts
Punjab Colleges arrange concerts at regular intervals for students' entertainment. The enjoyment is equally encouraged with studies. 
Best College for Intermediate in Islamabad-PGC 
You have a chance to decide your future in intermediate. Punjab Colleges Islamabad is your destiny to ace your academics at the middle level of the 11th class and 12th class simultaneously. Punjab Colleges have opened admissions for 11th Class Admissions 2022. Apply Today!