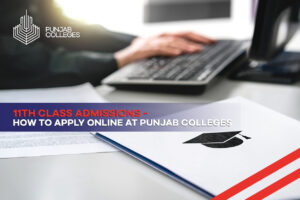 11th class admissions are now open in Punjab Colleges. The Punjab Group of Colleges has a history of academic excellence. We have secured top positions in all Boards of Intermediate and Secondary Education (BISE) from 2005 to 2022.  
So, if you are looking for a college for your intermediate studies, then PGC is the best choice. The question is, how can you apply for 11th class online admissions?  
The Procedure to Apply for 11th Class Admissions Online
The procedure is simple and you can do it easily on your phone or laptop. Follow these simple steps: 
Open Google and search for PGC's official website. 

 

Go to the website and you will see an admission ad as soon as the page opens. 

 

Click on the ad and you will be directed to the admissions page.

 

If you cannot see the ad, then click on the three-bar icon at the top right corner of the page.

 

A drop-down menu will appear. Click on Admissions.

 

Then select "intermediate" from the menu. 

 

You will see different categories, including Pre Medical, Pre Engineering, ICS, I.Com., and FA. 

 

Choose the field you want to pursue and click on it. 

 

The admissions page will open with an "Apply Now" tab in the bottom right corner. 

 

A new page will open, requiring all your personal and educational information. 

 

Fill in the data and submit the form. 

 

You will receive a reference number. 

 

Take that reference number to the nearest PGC campus and get yourself enrolled. 

 
In addition, if for some reason, it is not possible for you to apply online for 11th class admissions in Punjab colleges, then you can also avail the other option.  
You can go to any PGC campus in your area. 

 

Get the prospectus and admission form. 

 

Fill out the form and submit the required documents along with it. 

 

Collect the fee slip from campus and deposit the fee in the bank. 

 

Get your roll number from the admissions office. 

 
Facilities for Students at PGC
Punjab Colleges never fail to provide you with exceptional educational facilities. Whether you want to become a doctor, engineer, or entrepreneur, we will help you achieve it. As a Punjab group student, these are some of the major amenities you will have access to: 
Well-Trained Faculty
Irrespective of the course you choose to study at PGC, we have a highly educated faculty for each degree. Professional teachers with years of experience will teach you and prepare you for your final exams.  
Fully Equipped Laboratories
Our campuses have the facilities of modern laboratories. From the latest computer lab to fully equipped science labs, you will have access to the latest technology. In addition, our staff will accompany you to the labs to teach you how to operate the equipment.  
Libraries
We ensure you have a peaceful environment to study in. That is why we have air-conditioned academic libraries. Whether you need a textbook, a journal, periodicals, or an encyclopedia, you will find every reading resource available in the library.  
Microsoft Certifications
Through our collaboration with Microsoft, we offer free Microsoft Office Specialist (MOS) certifications. You can learn to use MS Word, MS PowerPoint, and MS Excel without spending a single penny.  
PGC App and Online Portal
We have an e-learning app accessible to only PGC students. So, after your 11th class admissions in Punjab Colleges, you can benefit from this app named "PGC". In addition to the app, you can also find every piece of study material you need for exam preparation at the online portal of PGC.  
Campus Life
Apart from providing you with a premium education, PGC ensures you have a vibrant campus life. Thus, you will not get bored by the exhausting study routine. So, there is so much more to PGC than studying. 
Societies and Clubs
To explore your hidden talents, you can join the multiple societies and clubs of the Punjab Group of Colleges. These clubs arrange different activities where you can exhibit your skills. It is also a great opportunity for self-growth and developing self-confidence.  
These are some of the societies and clubs you can join: 
Debating Society 

 

Music Society 

 

Dramatics Club 

 

IT Club 

 

Health Awareness Club 

 

Islamic Society 

 
Sports Activities
We know that extra-curricular activities are incomplete without sports, right? That is why PGC offers a variety of sports that you can participate in. In addition, so many sportsmen and artists, such as Wahab Riaz, Hassan Ali, Abrar-ul-Haq, Atif Aslam, etc., are part of our alumni.  
The diverse range of sports activities is as follows: 
Cricket

 

Volleyball

 

Kabaddi

 

Boxing

 

Swimming

 

Football

 
Concerts and Recreational Trips
Punjab Colleges arrange different concerts with renowned musicians and singers from all over the country. In addition, we organize study and recreational trips to different northern areas so that you have a memorable experience.  
Welcome and Farewell Parties
We honour and celebrate your presence at our institute by arranging exceptional welcome and farewell parties. We ensure you have an experience of a lifetime and we love enjoying every moment of it with you.   
Apply to 11th Class Online Admissions Now!
Punjab Colleges' 11th class admissions are open. Apply online or visit the nearest campus to become a part of our community. For further information, you can always contact us at info@pgc.edu. Or you can WhatsApp us.