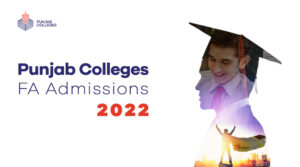 Are you done with your matriculation examination and have chosen the field of Faculty of Arts (FA) for intermediate education? Then we have good news for you. FA admissions 2022  for the Punjab Group of Colleges are now open.  
What is FA?
The Faculty of Arts (FA) is a two-year intermediate degree. You basically study two major fields in this degree: 
Arts:

 It consists of subjects that deal with creativity. For example, literature. 

 
Humanities:

 It comprises all the subjects that deal with aspects of human society and its culture. 

 
So, if you have a knack for becoming an artist, lawyer, journalist, psychiatrist, philosopher, politician, mathematician, or government servant, then you should opt for the FA degree.  
Types of FA Degree
There are two main types of FA degrees: 
FA Humanities: 

Students interested in pursuing careers in the arts, humanities, journalism, media, and other relevant fields should consider this FA humanities

 program.

 

FA General Science: 

Students interested in pursuing jobs in science should consider the FA General Science

 program.

 
Curriculum Detail of FA
The course comprises two main categories: Compulsory subjects and elective subjects. The Punjab Group of Colleges ensures that you get a high-quality education by following the Boards of Intermediate and Secondary Education (BISE) protocols.  
Compulsory Subjects
 for FA
Urdu

 

English

 

Islamic Studies

 

Pakistan Studies

 
As far as the elective subjects are concerned, you will have the opportunity to choose from the three groups given by the Pakistan Boards.  
Elective Subjects for FA Humanities
Civics

 
Phy.Education

 
Economics

 
Fine Arts

 
English Literature

 
Home Economics

 
Islamiyat Elective

 
Elective Subjects for FA General Science
Physics

 
Mathematics

 
Statistics

 
Computer science

 
Economics

 
FA Combination List of Elective Subjects
Different colleges offer various types of elective subject combinations. If you are interested in any competitive exams, such as CSS and PMS, you must choose your subjects accordingly. You should also try to choose your favourite subjects for FA. 
Why PGC for Intermediate in FA?
The Punjab Group of Colleges offers every educational facility to its students. Keep reading to know why you should choose PGC for your FA degree.  
A History of Academic Excellence
PGC has never failed in providing students with premium knowledge and preparing them to ace their intermediate board exams. We have secured around 450 top positions across all Punjab boards in 2021.  
Highly-Qualified Faculty
PGC takes pride in having the experienced and professional faculty of FA. The teachers are well educated and have full command of the subjects they teach. So, they will prepare you not only for the final exams but also for practical life.  
Fully Stocked Libraries
All campuses of PGC have air-conditioned, extensive academic libraries. You will have access to a wide range of periodicals, journals, textbooks, encyclopedias, etc. In addition, books on religion, language, literature, and other disciplines are available in the libraries.  
State-of-the-Art Laboratories
The fully equipped laboratories are another facility that PGC offers. These labs are up to date and equipped with modern requirements. Whether you want to practice the concepts of computer science, biology, physics, or chemistry, you will have access to the labs. In addition, the highly qualified staff will assist you in operating the latest apparatus.  
E-Learning and Virtual Programs
PGC has taken the initiative in e-learning. While on your educational journey for a Faculty of Arts degree, you can learn from the interactive video lectures through the e-learning portal.  
Free Microsoft Certifications
We are offering free Microsoft Office Specialist (MOS) Certifications in collaboration with Microsoft to our students. You can now save up to $160. The certifications are for these three categories: 
MS Office

 

MS Word

 

MS PowerPoint

 
Extra-Curricular Activities at PGC
We believe that to perform well in studies, you need a healthy mind residing in a healthy body. That is why, to refresh your mind from the exhausting study routine, we offer our students quality time to engage in healthy physical activities. That is why we have this for you: 
Societies and Clubs
There are numerous societies and clubs that you can join. These activities will help you build teamwork, leadership, and self-confidence. By actively participating in these engaging, educational, and enjoyable activities, you will explore your hidden talents and learn new skills.  
Look at the list of our societies and clubs: 
Debating Society

 

Music Society

 

Dramatics Club

 

IT Club

 

Health Awareness Club

 

Islamic Society

 
Sports Activities
You will have a lot of opportunities to participate in local, regional, and national sports competitions. Thus, during your FA degree, you will indulge in the spirit of sports and hone your sportsmanship skills.  
The diverse range of sports activities that PGC offers are: 
Cricket

 

Football

 

Badminton

 

Volleyball

 

Basket Ball

 

Swimming

 

Cycling

 
Campus Life at The Punjab Group of Colleges
Along with different educational and sports activities, PGC offers social activities for you. reason? We want to provide you with well-balanced campus life. 
Welcome and Farewell Parties
We honour and celebrate your presence at our institute by giving you exceptional welcome and farewell parties.  
Concerts
We organize concerts with renowned musicians and singers on all our campuses. We do so to promote the culture and art of our country and to provide you with a fun time.  
Study and Recreational Trips
By joining us on these exciting cultural trips to northern areas, you will have the chance to experience the beauty of our country. Our highly competent staff supervises these trips to ensure your safety.  
Cultural Festivals and Fun Fairs
You can exhibit your artistic potential in the cultural festivals and funfairs we arrange.  
Incentives and Scholarships for Students:
We reward our hardworking students by giving them scholarships. In addition, if you cannot afford to pay for your education, we offer multiple fee concessions and incentives to deserving students.  
The incentives we offer are as follows: 
Merit-Based Scholarship

 

Student with Special Needs

 

Need Base Concessions

 

Orphan Students

 

Kinship

 

Special Circumstances Financial Aid

 
PGC FA Admissions 2022 Are Now Open!
If you want to be a part of our community and get the best education with majors in FA, now is your chance to do so. The Faculty of Arts (FA) Humanities and FA General Science  admissions 2022 of PGC are now open.