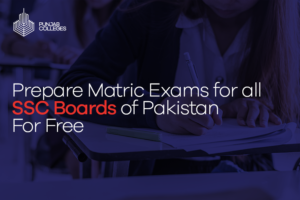 Matric Preparation is a major part of students enrolled in classes 9th and 10th in Pakistan. The country's local education system comprises a secondary school certificate (SSC) and a higher secondary school certificate (HSSC). The matric preparation is also known as the secondary school certificate or school leaving certificate. Students often spend a lot of resources, including time, money, and effort, and continue to switch from source to source to ensure complete preparation. In the following text, matric students will learn about the creative options to prepare for matric exams for all SSC boards of Pakistan for Free.  
Prep By PGC: Matric Preparation App for Free
You can get the opportunity to complete your matric preparation for both years of secondary school certificate (SSC) in Pakistan. There are different educational boards in the country, and the online free resources are duly designed as per the requirements of the syllabus by the educational boards. Therefore, it is not a cause of worry for students who are looking for courses and content according to their board of education. In the text below, you will read about all the features and benefits of this up-to-date and free-of-cost preparatory resource.  
Get HQ Video Lectures for classes 9th & 10
th
In a high-quality recorded format, students can get video lectures for all subjects of the 9th and 10th classes. The videos are playable with all the video-related functions playing to get the most out of them. The videos for all topics are recorded with technical and educational staff supervision. In addition, the videos for all subjects are distributed in the form of lectures for the ease of students to get exactly what they are looking for.  
Professional teachers and subject specialists deliver the lectures to provide maximum knowledge in the most adaptable way possible. The video lectures are more than 1500 and counting.  
Availability of Complete Notes for 9th & 10th Subjects
After listening to the video lectures, the next step is to make proper notes. The matric exam preparations are incomplete without detailed notes for all subjects of classes 9th and 10th. However students make notes on their own, but if due to any deficiency, you have no notes or incomplete notes for any subject. There is no need to get tensed! Because Prep by PGC holds a complete collection of well-curated subject notes for students in addition to the video lectures. Therefore, you can prepare all subjects with comprehensive help and professional assistance through this classic digital resource.  
Ace Objective Portion of Exams in Matric Preparation
The board examinations for classes 9th and 10th are divided into two sections. Objective and Subjective parts. Therefore, one can only score his best if all portions are addressed. However, it may feel a lot of burden or stress to do matric preparations in this way.  
We have good news for you now. You do not need to worry about an objective portion of any subject in class 9th or 10th. The underlying reason for this assurance is that Prep by PGC produces a huge bank of objective questions for all subjects of 9th and 10th simultaneously.  
There is a huge bank of multiple-choice questions comprised of 5000+ MCQs and 4000+ short questions to ace all your topics in any subject.  
The subjective Part is Essential in Scoring High in Matric
Essay-styled, long-length questions are the other part of the board examination in both SSC classes. Therefore, the matric preparation without preparing the long questions is left half-done. To avoid this significant deficiency, the app under discussion brings over 1000 long questions to get you ready to win the war of your future in a fun and relaxing way.  
Get Help from Past Papers for the last 5 years
Past Papers are the gold mines for acing the matric preparation under all Pakistan education boards. Students are always advised to go through the exams of the past five years for sure to see the exam pattern, trends in repetitions, essential questions, and topics. Therefore, students often spend a huge amount to buy past papers printed by publishers nationwide.  
However, Prep by PGC has solved this problem also for students. Now, you can get the past papers for all subjects of classes 9th and 10th. It is your chance to polish your matric preparation without any monetary expenditures.  
Past papers are uploaded for all boards of education on the app for students' assistance.  
Opportunity to Analyse your Matric Preparation 
After you do exam preparation, it is essential to test your knowledge. Therefore, schools, academies, and tutors conduct revision examinations repeatedly for all subjects. This helps students to identify their weak areas to overcome deficiencies.  
Prep by PGC offers a massive opportunity to do self-assessments for all subjects in the syllabus of classes 9th and 10th. Students can get unlimited chances to do testing as per their requirements without any pain of academies, time slots, expenses, and personal pace.  
Continue Matric Prep for 24/7/365
As it is an online resource, students can access the app throughout the day, week, and year as per their choice. The students are free of any time constraint money constraints. In addition, it could be a healthy activity to continue in leisure time.  
Access is Available on Digital Channels
Students of classes 9th and 10th are tech-savvy. They love to use mobiles, tablets, and computers when they want. Therefore, this app is designed to keep the interests of the young generation of Pakistan. Students can install prep by PGC on their android devices or apple devices as per the availability. Moreover, they can get registered on the online portal also.  
Summing Up
Matric preparation is the most crucial part of student life in Pakistan. Students often feel too much expense, effort, and pain in doing the exam preparations. However, the prep by PGC has solved all these issues right away. The app offers all preparatory materials, including video lectures, objective and subjective portions, and self-assessment quizzes, free of expense. Therefore, students can download the app and continue their exam prep at their pace and in the comfort of their homes.