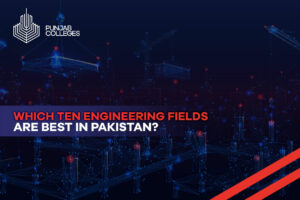 Students in Pakistan dream of opting for the engineering field in their career-making years. Therefore, they work hard to score high marks in matric to land FSC Pre-Engineering. By the same, they can land in top-notch engineering universities in their professional education. However, during university education, students need clarification about which engineering field they should pursue as a career. To read about the top engineering fields in the country, you will have to read the article to the end.  
Mechanical Engineering 
In Pakistan, one of the most diverse engineering specialities is mechanical engineering. Machines are a major focus of mechanical engineers' work. Mechanical engineers create both power-generating and -consuming machinery, such as air-conditioning and refrigeration systems, internal combustion engines, steam turbines, and electric generators. In Pakistan, mechanical engineering has a bright future and a wide range of applications. If you are keen to learn more about machinery and engines. In that case, you can select this career path to become a qualified mechanical engineer. As technology has taken over the world and innovative technologies are being developed daily to lessen the labour of humans, this field has a lot of potential both in Pakistan and globally. 
Electrical Engineering
One of the most diverse engineering disciplines in Pakistan is electrical engineering. Their work involves electrical machinery. From electric motors and navigation systems to power generation machinery and the electrical parts of automobiles and personal electronics, electrical engineers design, develop, test, and oversee the production of electrical equipment. In Pakistan, there is a very bright future for electrical engineering. You might choose this field to become an electrical engineer if you wish to work for electric companies like WAPDA. The field's scope is expanding every day. They can earn up to Rs. 605112/- PKR annually in Pakistan.  
Civil Engineering
Buildings, roads, airports, bridges, dams, and other large public works projects are all designed by civil engineers, who also oversee their development. If you enjoy building and mall design, choose a career as a professional civil engineer. This industry has a promising future because buildings, malls, restaurants, schools, plazas, and hospitals are all growing daily. Civil engineers are huge in the count and still in demand. The average annual salary goes up to Rs. 480804/- PKR.  
Mechatronics Engineering
Robotics, aerospace, medical and assistive technologies, mining or defence, material handling, human-machine interaction, manufacturing, crewless aerial and ground vehicles, and education are just a few fields where mechatronics engineers can find employment. 
The subjects of mechanical engineering, electrical engineering, and computer engineering are all combined into one field. The scope of this profession is expanding both in Pakistan and globally daily. Claiming a price tag or income for any job is impossible because the salary potential is based on numerous factors. However, according to reliable resources, the per year earning potential for a mechanical engineer could rise to Rs. 511293/- PKR 
Chemical Engineering
Chemical engineers' primary responsibilities include designing and troubleshooting processes for manufacturing goods, including chemicals, fuels, food, pharmaceuticals, and biologicals, to mention a few. Large-scale industrial facilities use them most frequently to enhance productivity and product quality while lowering expenses. 
Chemicals are being utilised everywhere, including by us, to cultivate fruits, vegetables, and livestock. As a result, both in Pakistan and globally, this field has a lot of potentials. A chemical engineer can earn up to Rs 425000/- PKR per year with reliable resources. However, potential and options vary as per the situation and organisation.  
Software Engineering
Solutions of all kinds, including desktop and online programmes, mobile apps, games, robotics, operating systems, network systems, etc., are created by software engineers. They use programming languages, frameworks, databases, servers, and other technologies to transform an idea into a finished product. Computers are used everywhere, and their use in workplaces and enterprises is growing daily.  
To efficiently run their enterprises, people require software. The use of software has significantly grown in COVID-19. Many software programmes are created in COVID to help businesses and educational systems move online. Thus, this field's potential is expanding. Software engineering offers a handsome earning potential of up to Rs. 826248/- PKR on an annual basis. 
Computer Engineering
Most computer engineers spend their days at an office. They oversee and create a company's computer hardware and software systems. They are responsible for designing new equipment, maintaining gear, and developing software systems. 
The world is changing daily, and businesses and workplaces are using computers increasingly. Following COVID-19, several companies that were not previously selling or offering goods and services online revised their plans to do so. Computer engineers can https://www.erieri.com/salary/job/computer-software-engineer/pakistanearn excellent salaries as the resources show the annual pay at Rs. 2618656/- PKR.  
Petroleum Engineering 
Petroleum engineers have located, recovered, and maintained the world's oil and gas resources. Petroleum engineers collaborate with geoscientists and other experts to comprehend the geologic formation of the rock hosting the reservoir after oil and gas are identified. The drilling techniques, a drilling equipment design, drilling plan implementation, and operation monitoring are then done. Petroleum engineers can make a handsome amount in Pakistan and abroad as well. Resources show that, on average, petroleum engineer makes RS. 1140000/- PKR; however, the actual salary may differ due to diverse factors.  
Aeronautical Engineering
Engineers in aeronautics work with aircraft. They are concerned with the research, development, and production of flying machines and the procedures for building and maintaining aircraft. The equipment includes fighter jets, commercial aircraft, missiles, and satellites. Mostly, government and defence contractors are the prime employers of aeronautical engineers. They can make up to Rs. 1454370/- PKR annually.  
Architectural Engineering 
Assuring the structural and functional stability of building structures and systems, finding, and resolving design defects, and working with internal departments and outside parties on building and design projects are all duties of the architectural engineer. In Pakistan, on an annual basis, an agricultural engineer can make around Rs. 2200131/- PKR as per the trends. However, market, economic conditions, organisations, and career level can affect the final deal done! 
Conclusion
Engineering is ever increasing field in Pakistan and around the world. The expansion and versatility of engineering are breathtaking. Hence, there are massive opportunities for present and future engineers. However, making a career choice aligned with individual nature and preferences is always a great idea.