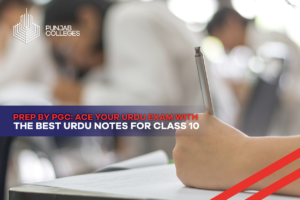 Urdu is our mother language and everyone can speak it. However, not everyone finds it easy to study. In addition, it is difficult to score good marks in this subject. So, to help you ace your Urdu exam in matric finals, we have provided you with Urdu notes for class 10.
You can access these notes from anywhere at any time. How? The Punjab Group of Colleges has launched an app named "Prep by PGC" for matric students. Thus, you can now study and prepare for your Urdu exam easily.
Why Should You Prepare from Prep by PGC?
What is better than having Urdu notes for class 10 available with a single click? The app, along with the Free Online Matriculation Portal, has so many features. Read further to know why you should download the app right now and start studying from it.
User-Friendly Interface
So, when you launch an app or a website, what frustrates you the most? Isn't that how long it takes for pages to load? Therefore, created our software with a user-friendly interface to prevent this. Our goal is to make it easier for our students to learn.
As a result, when you try to study Urdu notes for class 10, every topic will be available to you right away. Similarly, you will not have to wait long to access any other feature.
Every Reading Resource on a Single Platform
Everything from Urdu notes for class 10 to solved past papers is available in one place. As a result, you do not need to read through many textbooks or go to various classes for every subject. Isn't it amazing?
Prep by PGC has all of the preparatory materials on a single platform. All you have to do now is log in to your online portal or app and begin prepping. You will get access to the following resources:
5000+ MCQs
1500+ Video Lectures
10th Class Solved Past Papers
9th Class Solved Past Papers
4000+ Short Questions
1000+ Long Questions
FREE
You are probably thinking that an app with this many functions will be too expensive. However, this is not the case. PGC prep is free. YES! It is completely free. As a result, if you believe you cannot afford to pay for the academy, you do not have to.
Whether you need short questions and answers or MCQs, you can access them without spending a penny. So, what are you waiting for? Install the app right away to get started with your preparation.
Accessible to Every Student
We have some exciting news for you! It makes no difference which school student you are; you can profit from it regardless of which institute you go to. The app is designed for all students because we believe everyone deserves an equal chance to produce amazing results.
Thus, Prep by PGC is your ultimate solution if you find Urdu subject challenging and want to prepare for it. Furthermore, by downloading the app or signing into the online test portal, you can access the Urdu notes for class 10 right now.
Learning from Highly Qualified Faculty
Our professors and lecturers are highly qualified and hold degrees from prestigious institutions. They have full command of the subjects they teach. Thus, they make certain that you are completely prepared to ace your matriculation examinations.
As a result, our professors went above and beyond to provide these Urdu notes for class 10. Thus, you will not only be learning from professional professors but also will be doing it in the comfort of your own home.
No Downloading Restriction
The app is available for both Apple and Android users. We understand that iOS has strict regulations and policies, which is why we designed an Apple Prep by PGC version. So, you can get it on your iPhone here.
Similarly, if you have an Android phone, you can also download the app from Google Play by clicking here. Thus, there is no restriction on downloading the app or accessing the Free online matriculation Portal.
Caters to Every Board's Requirements
We fully understand that each board has a different set of requirements. As a result, our faculty has developed lectures on all subjects in accordance with the guidelines of all educational boards. We have secured almost 450 positions across all boards in 2021. That indicates our efforts in preparing you for the matriculation exams.
Therefore, the app will prepare you appropriately regardless of whether you belong to the Lahore board, Faisalabad board, Gujranwala board, Multan board, etc. As a result, you will be able to ace your final examinations and generate outstanding results.
So, if you need Urdu notes for class 10 along with short questions and answers, solved papers, and MCQs, install Prep by PGC. In addition, you can also log into the online portal with Facebook or Google account and access all the prep material for free.
Free Matric Prep by PGC | 9th & 10th video lectures and more.