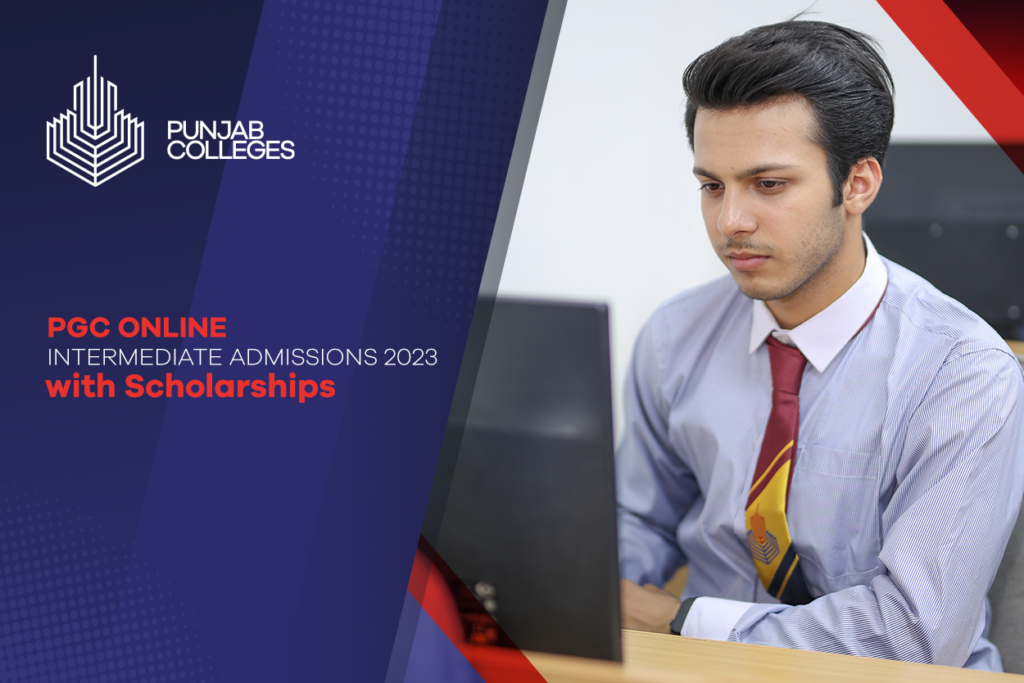 Accept the heartiest congratulations on your wonderful matric results. We know that you are looking for the best intermediate institution. Here, we are going to tell you that the Punjab Group of Colleges (PGC) are accepting online intermediate admissions 2023 applications. And big scholarships are available for the high achievers!  All details are available in this article. Also, the admission form link is attached for your direct and easy access. So, stay tuned till the end of this article.  
Welcome to Intermediate 2023
Now that you have passed your glorious school education with wonderful scores in matric exams. It is the best time in the world to move one step ahead! Yes, We at Punjab Group of Colleges (PGC) welcome you to your college life. 
The major disciplines you can join while doing Higher Secondary School Certificate (HSSC) under the BISE are as follows.  
FSC. (Pre-Medical)

 

FSC. (Pre-Engineering)

 

ICS.

 

ICOM.

 

F.A

 
These are two-year programmes. They are subsequently subdivided into two separate years. These years are known as class 11th and 12th. Also, as intermediate part I and part II. The board examinations are conducted for each year separately. This is the same thing you have experienced in your matric years.  
PGC offers the best experience of school-to-college transformation. In addition, the best learning experience and other benefits majorly focusing the benefits for students in every possible way. The content below highlights the benefits you will have while you take intermediate admissions 2023.  
PGC Brings the Best on the Table
For the last 38 years, PGC has been enlightening the educational sphere in Pakistan. The PGC is a proud sister institution of a complete network comprising schools, colleges, and universities. Students and their quality education have been our focal point in all these years.  Therefore, we are all still standing tall for our youth. With various offers as follows.  
Quality Education

 

Merit-Based Scholarships

 

Need-Based Scholarships

 

Incentives for PGC Students

 

Best Learning Experience

 
Let's Celebrate with Scholarships
Keeping the long-lived tradition of scholarship alive, PGC is offering tremendous merit-based options for intermediate admissions in 2023. The details of topper scholarship options are as under. These scholarships are for the top 10 position holders in matric 2023.
Punjab Colleges offer educational scholarships to the top 10 position holders of all Punjab Boards and the federal board upon their admission to any of our Campuses:
Positions

1

 

2

 

3

 

4

 

5

 

6

 

7

 

8

 

9-10

 

Scholarships

 

10 lacs

 

05 lacs

 

03 lacs

 

02 lacs

 

01 lac

 

50 k

 

50k

 

50k

 

50k

 
Other scholarships are available in the following.  
Efforts, hard work and brilliance, are encouraged in Punjab Colleges. Students that thrive academically are eligible for a special scholarship from us. They are eligible for fee waivers of up to 100%. At the time of admission, students with grades of 75% or higher are entitled to apply for free education. Other options for fee concessions are as follows. 
Teachers' Children Scholarships

 

Kinship Scholarships

 

Assistance to Orphan Students

 

1122 Employee Benefits

 

Need-Based Concession

 

Incentive Policies for High Achievers

 

Incentive Policies for PGC Students for Further Education

 

Shuhada's Children Incentives

 

Special Circumstantial Scholarships 

 
To learn complete details, you can visit the scholarship page.  
Other Things Remain the Same
In addition to the scholarships, and high-quality education, PGC offers the rich experience of college life. You can enjoy a well-balanced college life with curricular and co-curricular activities during your intermediate 2023 with us.  We have societies, hobby and cause clubs, and regular healthy activities. Some of them are mentioned below.  
Literary Society

 

Music Club

 

Drama Club

 

Debating Society

 

Sports Club

 

Blood Donation Society

 

Islamic Society

 

Entrepreneurial Society

 
Online Admission Portal 2023
 Now that you have got a detailed overview, it is your time to choose the intermediate discipline from the list and apply through the online admission 2023 form. PGC is the best option for Pakistan's students to get knowledge and skills.  
Conclusion
Online Intermediate Admissions 2023 are open at PGC. Massive scholarship options are available. To know more, visit us at pgc.edu.pk, and to get yourself enrolled, apply online.