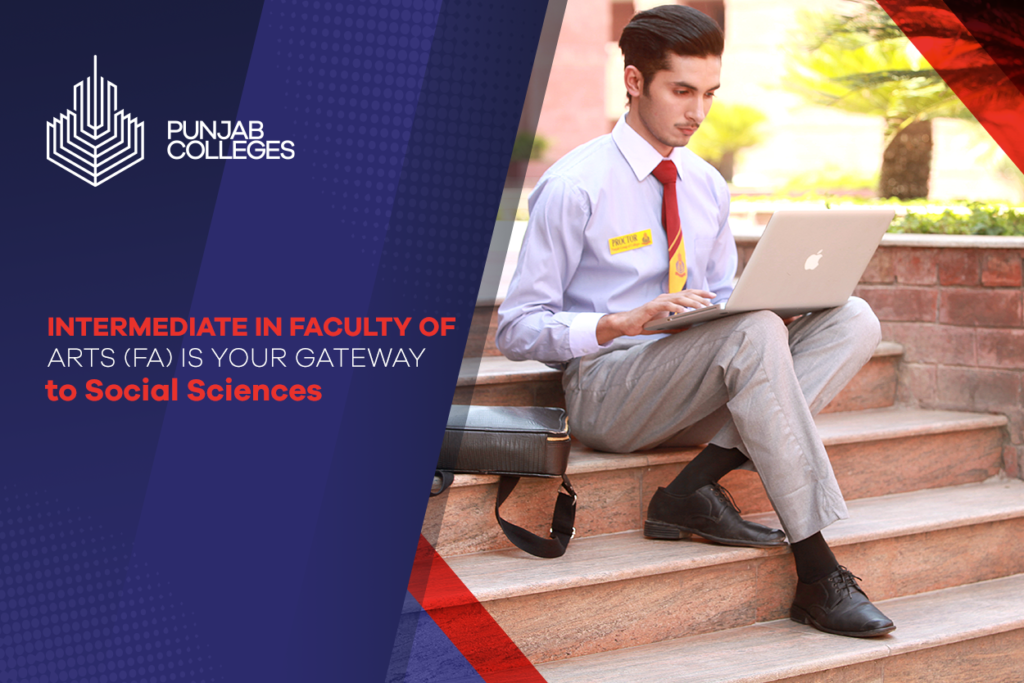 After matriculation, many students are willing to go to the social sciences in their later years of education. They also are not so fond of hard subjects like Biology, Physics, Chemistry, and Maths. Therefore, they look for an ideal option that not only gives them freedom while studying but also a great career option in the future that also carters their creativity and talent. Hence, FA is the most suitable option for such creative students. PGC brings inter admissions in 2023 for such souls.  
Know FA Humanities
In Pakistan, four major lines are offered in classes 11th and 12th. These are known as the faculty of humanities, the faculty of science, computer science, and commerce. This article will focus on FA humanities.  
Those students who have more interest in linguistics, social sciences, and arts should not go for science subjects. Rather, they should understand their creative side and polish their sense of design and style as per their preference.  
They can choose a great career along these lines as they can become the best writers, psychologists, architects, or interior designers as they put their effort into it with natural talent.  
Curriculum and Eligibility
Details The intermediate in humanities FA is the basic stone for all professional degrees in social and design sciences. There is a combination of compulsory and elective subjects. Furthermore, the subjects available in FA Humanities are available here.  
The degree comprises a couple of years with separate exams for each year.  
Future Study Options After FA
Once the student completes their inter in humanities (FA), various degree options are available for them. So, you are free to choose your career as you like. Some of the available study options are mentioned in the list below.  
Either you want to pursue a career in languages, linguistics, or fields of phycology, gender studies, or anything similar or maybe if you are willing to become a designer in any capacity. FA humanities can be ideal for you. As you can get ample options to choose from after interring in humanities is completed.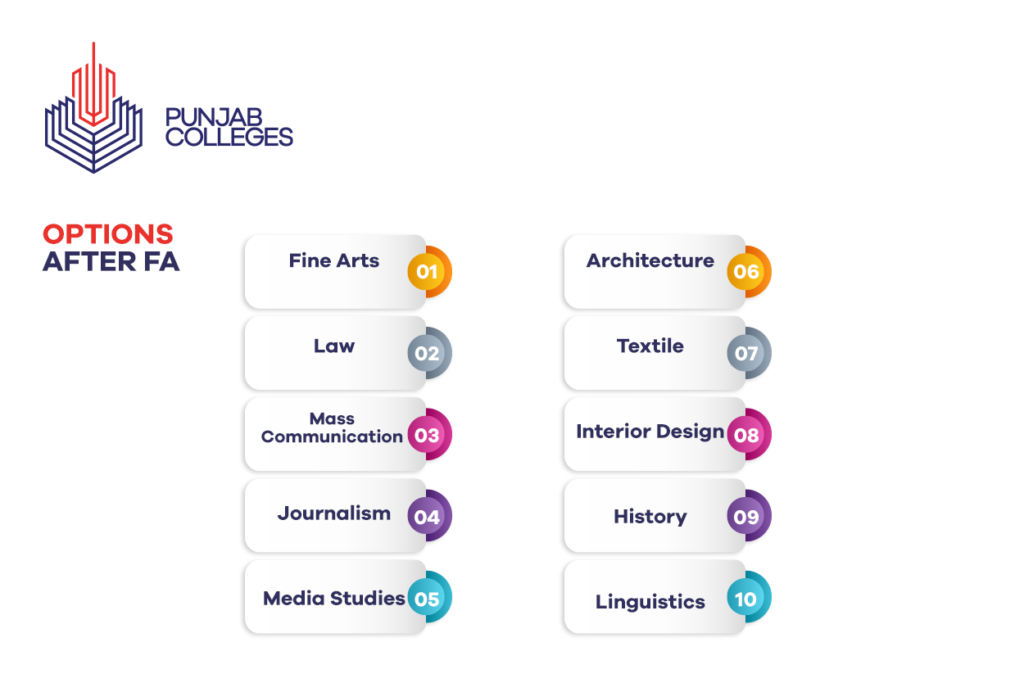 Available fields after FA: 
Languages and Linguistics

 

Law and Order Studies

 

Phycology, Gender Studies, or Sociology

 

Field of Designing

 

Media Studies

 
In addition, you can also peruse the IT courses like digital marketing, content writing, data analysis or graphics designing as per your interest.  
Take the lead with PGC
Punjab Group of Colleges (PGC) offers a golden chance to enrol in FA humanities to learn the subjects best. PGC has been the toppers' choice for science subjects, humanities, and commerce. 
For the last 38 years, PGC has generated the best results in the board examination. Not only education and studies, but our scholars do also wonder in sports, debates and other performing arts on various platforms.  
Furthermore, PGC offers many on-campus facilities for all students that enhance their learning abilities and polishes certain skills and elements of personality. Confidence and hard work are the primary elements here.  However, at Punjab Colleges, you will have the following facilities.  
Trained Educated Faculty

 

State-of-the-art Campuses

 

Equipped and Powered Classrooms

 

Well-Stocked Libraries

 

Clubs and Societies

 

Scholarship Options

 

Extra-Curricular Activities

 

Transportation

 

Robotics Labs

 

Microsoft Certification 

 
You can look for all details on our website @pgc.edu 
Online Admissions 2023
Admissions 2023 for inter-are open at PGC. An online admission portal is available. You can apply online to get yourself enrolled at the Punjab Group of Colleges (PGC).  
Conclusion
FA Humanities is one of the prominent lines in the intermediate. You can choose it with full confidence after considering its variety of options. Inter admissions are open at PGC. Apply today and a lead for your future.