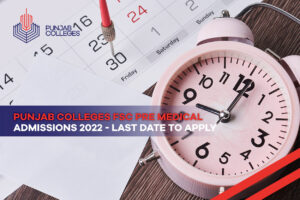 FSC Pre-Medical admissions 2022 are open at Punjab Colleges. The Last Date to Apply may soon be over. Apply before you miss a chance. If you are unaware of the benefits, you could get by getting admissions to the Punjab Group of Colleges for your FSC Pre-Medical, which can lead you to the prestigious medical colleges in the country.  
FSC Pre Medical Course Outline 2022 
Punjab Colleges offers FSC in Pre-Medical to students who want to enter the field of health and healing- medicine. The course provided by PGC is aligned with the guidelines of Pakistan's education boards. The course of FSC Pre-Medical comprises subjects as described below.  
Urdu 

 

English 

 

Islamic Studies 

 

Pakistan Studies 

 

Physics 

 

Chemistry 

 

Biology 

 
FSC Pre-Medical consists of two years duration. 11th and 12th classes are collectively called FSC Pre-Medical if students choose medical subjects. PGC incorporates complex knowledge and develops practical skills among the students. Due to this, students get the proper guidance and from best teaching and monitoring methods. They eventually perform their best at board exams and ace their careers in renowned medical institutions in their further education. You can see complete details here.  
Previous Positions in Pre-Medical Group Bagged by PGC 
In 2019, the Punjab Group of College secured 167 overall positions across boards. In addition, first and second positions in Lahore Board Examination in Pre-Medical Group were secured by Punjab Colleges Students. In Gujranwala Board, 25 Positions were secured by the Punjab Group of Colleges.  
Moreover, our students secured 1st positions in pre-medical in 2020 in the Lahore Board, Gujranwala Board, Faisalabad Board, and other boards. PGC students got 153 positions across boards in the same year.  
Facilitations Available to FSC Pre-Medical Students at PGC 
At PGC, Pre-Medical students will enjoy several benefits.  
Top-Notch Faculty having Quality Education and Massive Experience 

 

State-of-the-Art Buildings with electricity backup and Water Filtration 

 

Upgraded & Well-Equipped Laboratories and Labs for Practical Knowledge Enhancement  

 

Libraries Providing Latest Literature  

 

Well-Structured and Digitally Equipped Classrooms 

 
Scholarships and Financial Assistance for Pre-Medical Students  
Punjab Group of Colleges PGC provides financial assistance to students needing help. In addition, PGC never leaves the bright students unnoticed. Merit Scholarships are available to the toppers and high achievers.  
Several types of concessions and discounts are available. The list is available as under.  
Teachers' Children Concession 

 

Kinship Concessions 

 

Financial Assistance for Orphan Students 

 

Need-Based Scholarships 

 

1122 Employee Concessions 

 

Concessions for Shuhada's Children 

 

Circumstantial Scholarships and Financial Assistance 

 

Afternoon Students are also eligible 

 
You can look out for the complete details of scholarships and concessions here.  
The Vibrant Campus Life at PGC 
The students of FSC Pre-Medical enjoy their stay at PGC. Campus life is not just about typical studies, exams, and tests. The students are also provided with bright and vibrant life.  
The PGC campuses are fully assisted with various activities.  
Welcome and Farewell Parties 

 

Study and Recreational Trips 

 

Sports Gala 

 

Cultural Festivals and Fun Fairs 

 

Science and Arts Exhibitions 

 

Seminars and Workshops 

 

Concerts 

 
In addition, there are several societies and clubs to polish the art and creative skills in the students.  
Blood Donation Society 

 

Dramatic Society 

 

Debating Society 

 

Music Debating 

 
Online Admissions PGC Are Open 
Punjab Colleges help their students at every level of education. The facilities there are numerous and validating.  Therefore, online admissions PGC are open for pre-medical students. You can fill out the admission form here and apply. The intermediate admissions 2022 through online admissions PGC are open to enrolling in your desired college degree.  
Do Not Wait till the Last Date 
Please make sure to apply right now. And do not wait for the last date of online admissions PGC for Punjab colleges FSC Pre Medical Admissions 2022. The reason for NO LAST DATE DISCLOSURE is every campus has its number of seats and capacity to intake students. Therefore, you must visit your nearest PGC campus and enrol yourself today or apply online by clicking here.