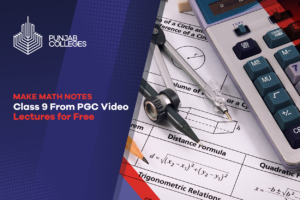 Mathematics for class 9 in Pakistan is essential for science group. Which later enables the students to choose either engineering or computer sciences in their intermediate and later in professional education at BS and MS levels. It is also a high-scoring subject due to its calculative nature. However, due to rich content and complex conceptual structure, students often need help to score well. PGC understands students' problems and hence addresses the issue of proper guidance. Class 9 students can learn maths topics from the free PGC video lectures and make notes for 9 class maths. Details and other benefits like past papers and practice options are available; read below.   
Prep by PGC is available for Android Devices. Hence you can download it from the Play store.   
Prep by PGC is also available for Apple Devices (iOS); therefore, you may download it from the Apple store.

Make Class 9th Notes for Maths Via Video Lectures 
Students can watch, listen and learn from the free video lectures on all topics in Maths. The video lectures are high-quality and accessible in a free app known as Prep By PGC. The app is ready to install on smart devices.   
Furthermore, the lectures are recorded by professional teachers who specialise in mathematics as a subject and also know the psychology of students to guide them appropriately. The topics available for ninth-class mathematics are mentioned below.   
Chapter 1: Matrices and Determinants  
Chapter 2: Real and Complex Numbers  
Chapter 3: Logarithms  
Chapter 4: Algebra Expressions and Algebra Formulas  
Chapter 5: Factorisation  
Chapter 6: Algebraic Manipulation  
Chapter 7: Linear Equations and Inequalities  
Chapter 8: Linear Graphs and their Applications  
Chapter 9: Introduction to Coordinate Geometry  
Chapter 10: Congruent Triangle  
Chapter 11: Parallelograms and Triangles  
Chapter 12: Line Bisectors and Angle Bisectors  
Chapter 13: Sies and Angle of a Triangle  
Chapter 14: Ratio and Proportion  
Chapter 15: Pythagoras' Theorem  
Chapter 16: Theorem Related to Areas  
Chapter 17: Practical Geometry- Triangles 
  
Learn Class 9th Maths' Topics Qs by Qs  
With Prep by PGC, students have an opportunity to learn the entire topic for class ninth maths portion by portion. The lectures are available for more than just an overview of the topic. Instead, they are subdivided into multiple parts linked with associated questions available in the exercise of the chapter. In this way, it is easy and practical for them to make class 9 maths notes from question to question.   
Furthermore, students can get help from the same video lecture as many times as they want, and there is the freedom to learn on repeat as per requirement.   
Complete Class 9th Maths Notes with Curated MCQs  
Notes making for class 9th is incomplete without making notes for the objective portion. Therefore, prep by PGC offers a well-developed bank of multiple-choice questions. The students can make maths notes for class 9th with vast MCQS available on each chapter and topic. In addition, MCQs from past papers are also in the access to ninth-class students of all educational boards in Pakistan.    
Don't miss the Questions while making notes for class 9th Maths 
In the board examinations, short- and full-length questions are the essential parts of papers. The same is the case with mathematics for class 9th. Therefore, you can make complete maths notes for class 9th with all types of multiple-choice questions, short questions, and full-length questions with visual help in the form of video lectures.   
Download Prep by PGC and Enjoy the Following Features
Now that you know how to make comprehensive math notes, class 9, with the help of prep by PGC in terms of professional assistance via video lectures, MCQs, past papers, and short and long length questions called numerical in maths. It is essential to learn about the features of this app for your help.  
Prep by PGC is available for Android Devices. Hence you can download it from the Play store.   
Prep by PGC is also available for Apple Devices (iOS); therefore, you may download it from the Apple store.   

Quality is Guaranteed 
Quality of content is guaranteed in accordance with the approved syllabus of all boards of Punjab 

 

Students can enjoy their freedom as the app is accessible 24/7. 

 

The app is available in both Urdu & English Medium and is equally helpful for students of both education mediums.  

 

Using this matric app is convenient and easy as students can get themselves registered through email and social media accounts. Just select your city and relevant board of education with your class. And you are good to go.  

 

The user interface is so simple, and the app runs smoothly. Therefore, the students will learn through smooth video streaming and practice sessions.  

 
Conclusion 
Now students in matric part 1 can make math notes for class 9 from video lectures, mcqs, short questions, and numericals without paying hefty fees to tuition. Furthermore, they can assess past papers for the last five years and various practising options to gauge the level of preparation for ensured results in board exams.