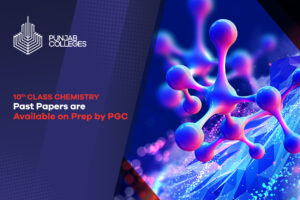 Chemistry is a complex science subject with different principles and multiple branches. To score well in the final matriculation examination, you must have top-notch preparation. And chemistry 10th class past papers are a great help in improving your overall grades.  
Where Can You Find Free 10th Class Chemistry Past Papers?
The Punjab Group of Colleges launched an application named "Prep by PGC." The main goal was to provide education to every student easily. So, those students who cannot join academies or different test sessions can easily benefit from this app. 
This extraordinary platform will help them score excellent grades in the matric examination. So, in addition to having various learning materials, Prep by PGC also has 10th class chemistry past papers.  
What Does Prep by PGC Offer?
There is an ocean of information available on Prep by PGC. Every student can easily download the app on his phone and start preparing for the final exams from it. The following are the chemistry learning resources available on Prep by PGC 
1. 10th Class Chemistry Past Papers
Prep by PGC offers chemistry class 10 past papers along with all the other learning resources. So, why do you need chemistry past papers? Let me explain in detail.  
There are numerous advantages to using previous exam papers, including the following: 
It helps determine the estimated duration of the exam.

 

Represents the average number of questions.

 

Identifies the number of available choices.

 

It aids in calculating the amount of time required for each question.

 

Determines the format of exam questions (short-answer, multiple choice or essays).

 

It is useful for practising exam techniques.

 

Identifies important areas of study for improvement.

 
One of the most important advantages of practising past papers is that they help students understand the most likely subjects that will be covered in the exam. Although most courses cover a wide range of related topics, reviewing previous papers can help you avoid wasting a lot of time on topics that are unlikely to appear on the paper. 
Thus, Prep by PGC offers previous 5 years 10th class chemistry past papers to help you level up your preparation.  
2. Chemistry Video Lectures
Apart from offering the students chemistry past papers 10th class, Prep by PGC also provides you with over 1500 video lectures. These lectures cover the entire syllabus of the 10th class. Thus, you will find the chemistry detailed video lectures. You can watch these recorded lectures whenever you want and learn from the highly qualified faculty of PGC.  
3. Multiple-Choice Questions
The chemistry matric exam consists of two portions, the objective and subjective portion. Prep by PGC aims to prepare you for the whole paper. That is why the app has over 5000 multiple-choice questions, including those from past 10th class chemistry past papers.  
You can practice these MCQs before appearing in the final paper. As a result, you will attempt the objective paper quite successfully. Hence, you will score excellent grades on the final paper.  
4. Short and Long Questions Answers
Prep by PGC also prepares you for the subjective portion of the paper by providing you with over 4000 short questions and over 1000 long questions. You can use this feature to your advantage and practice these questions.  
Not only will you be able to prepare for chemistry thoroughly, but you will also be able to manage your time to complete the paper on time. You will also find 10th class chemistry past papers' short and long questions on the app.  
5. Practical Exam Preparation
Chemistry is a subject with practical implementation. So, the video lectures will explain the practical portion in detail. In addition, you will find the MCQs, short questions, long questions, and 10th class chemistry past papers with practical exam questions.  
As a result, you will not only be preparing the theoretical portion but also the practical part of the matric papers.  
6. Urdu-Medium Students 
If you are an Urdu medium student, or you know students who study in Urdu medium schools, then I have a piece of good news. Prep by PGC is not limited to English medium students. Yes. Urdu medium students can also benefit from it. They have to choose the "medium" option, and a drop-down menu will appear. You can now select the option that suits your requirements the best. 
Prep b PGC has the following options: 
English Medium

 

Urdu Medium

 

English Medium with Islamiat and Pak Studies in Urdu

 

English Medium with Islamiat in Urdu

 

English Medium with Pak Studies in Urdu

 
7. No Downloading Restriction 
Every matric student can download the app without any limitations. Regardless of the fact that whichever phone you have, whichever school you are from, you can download the app anytime you want.  
So, for Apple users, this is the link to download Prep by PGC on smart devices.  
Android users can always download the app from Google Play using this link.