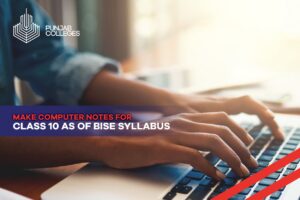 Class X students prepare to make computer notes for class 10, suitable for any board of secondary education in Punjab. In this article, you will know about the opportunity to learn all the topics of your tenth-grade curriculum. Stay glued and learn about this majestic and surprisingly super productive smart learning app.   
Download Prep by PGC on your Smart Device
Students who opt for computer science in class 10 can prepare this glorious and exciting subject through all the crucial elements covering the whole course in a single, accessible source just a click away.   
The students having android mobile or tab can download the free matric app (Prep by PGC), and the users of apple devices can install it via the apple store.   
You just tab download and install the well developed app, and we tell you, in further detail, what you can learn from here.   
Get yourself Registered and Choose your Class
Now that you have downloaded the app, it's time to register yourself. Just use your email, or social media account like Facebook to get started.   
Choose your city for the relevant board and class 10 to get direct and free access to the material to make computer notes for class 10. You are good to proceed with the preparatory material for computer science.  
Go to Video Lectures and Learn 10th-class computer science
The students of class 10 can now get the following options to learn every topic to its maximum potential with professionally recorded video lectures for 10th-class computer science. The topics currently available in the recording are as follows.   
Introduction to Programming 

 

User Interaction 

 

Conditional Logic 

 

Data and Repetition 

 

Function 

 

Practical 

 
These are just broad links; every component of each topic is explained as subtopics. You can listen to the professional expert mentors of computer science to teach the 10-class computer science while keeping the students' standards in mind.   
Grab your Pen and Paper and Make Long Length Notes 
After you have listened to the video lectures on computer science, you can now take full-length notes for the same with the help of 10th-class computer science-solved exercises. You just have to take your pen and register to write down what you have learned and all you want to write in notes. You can get all video lectures as per the course of Punjab Boards. 
Write Down the Short Questions 
In addition to long questions, the computer notes for class 10 are incomplete without taking the short questions properly. Hence, students can make the short questions independently in addition to those available in the exercise.  Prep By PGC- free matric app you have just installed on your mobile also offers around 4000 plus short questions for all subjects, including computer science.   
Learn Objectives as Multiple-Choice Questions (MCQs) 
As a student of class 10, you must be known of the fact that the board exams are incomplete without multiple choice questions (MCQs). You also see the scope of detailing in the board examination. It becomes even more critical in science subjects like computers to prepare in-depth and with detail to score high in 10th-class computer science.   
The app you are learning about also has a substantial handsome bank of multiple-choice questions (MCQs) for all subjects; computer science is second to none. Therefore, you can prepare computer notes for class 10 in the complete sense of the examination.   
Test your Computer 10 Class Knowledge
At the stage when you have prepared one topic, chapter, or an entire course. It is essential to test your knowledge to make a robust and strengthened foundation for further learning. Hence, you can take the self-assessments for various topics, the whole course of 10th computer science as per your requirement. The option of self-assessment is a power bank of this free matric app because of its quality, quantity, and free accessibility.   
Revise the Weak Points 
As you attempt a test for any topic or whole curriculum for computer science after you make notes for class 10. It is high time to read again about the topics and parts of the course which are lesser in your memory, or you need clarification about any concept in class 10 computer science solved exercises.  
You can again go back to the free video lectures and learn anything you want. Try to understand short- and long-range and multiple-choice questions (MCQs).   
Ace Computer Practical for Class 10 
With the help of the same learning app, the students of class ten can ace the practicals that are a compulsory part of the computer in class 10. You can learn them with video lectures and even can do them revise as per your time, and learning ability allows.  you can also access the online portal.  
Conclusion 
The students in Pakistan can now learn all matric subjects, including computer sciences. Students can make computer notes for class 10 with the help of free resources like video lectures, long and short questions, and multiple-choice questions as per your requirement. The opportunity for self-assessment is glorious; that is also free of cost and available 24/7. Students can download the Prep by PGC on their smart devices.