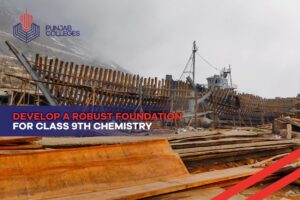 In class 9th and 10th, basics of potential future professional education start in Pakistan. The science subjects and the arts subjects are major variants which results in the degree in engineering, computer science or humanities in later years. Therefore, students opt for science in their matric must learn Chemistry class 9 with other subjects like Physics, Biology or Computer Sciences. This article will help you with powerful resources to develop a strong foundation for class 9th chemistry.  
Learn All the Basic Concepts for Chemistry Class 9
Chemistry class 9 has all the foundation concepts and theories. The chemistry class 9, chapter 1 starts with chemistry fundamentals and leads further to various chapters and base developing stones. The list of chapters is available next in this article.  
The students of class 9 should focus on the fundamentals to ace their board exams in both objective and subjective part of the exam. In the following text, you will know some easy ways to learn more with less input and headache.  
Prepare 9th Chemistry Chapters Thoroughly
All the chapters are important in syllabus of the 9th class chemistry. The students can learn all the following chapters from free matric app developed with combined efforts of expert technicians and teachers at PGC.  
Students can listen to free video lectures on their smart devices. They can clear their concepts, make notes, and revise from the chemistry specialists. The curriculum outline for class 9th from chapter 1 are as follows.  
Chapter 1: Fundamentals of Chemistry 
Chapter 2: Structure of Atom 
Chapter 3: Periodic Table and Periodicity of Properties 
Chapter 4: Structure of Molecules 
Chapter 5: Physical State of Matter 
Chapter 6: Solutions 
Chapter 7: Electrochemistry 
Chapter 8: Chemical Reactivity
Division of Chapters
The chapters named above are further broken down in various subtopics and small sections in the portal of Prep by PGC. Students of class 9 are free to listen to any video lecture relating to any of the topic as per their learning requirements.  with these extensive video lectures, it will surely become handy for class 9 students to make chemistry notes.  
Prep by PGC have Vast MCQs Bank for Chemistry 9
th
In addition to the video lectures, our free matric app- Prep by PGC, also comes with more than 5k well-drafted, selected, and curated multiple-choice questions (MCQs). With the help of these questions, you will learn the huge important points from every chapter and from the past papers of class 9 chemistry. 
Get Chemistry Class 9th Past Papers for Free
In Pakistan, the board examinations are incomplete without past papers. The importance of the same enhances in science subjects. Therefore, you can get Chemistry class 9 past papers in Prep by PGC free of any cost.  
Chemistry class 9 past papers have all the components of subjective and objective portions. The long questions, short questions, and multiple-choice questions are the essential part of past papers.  Furthermore, Prep by PGC offers past papers for five consecutive years for all subjects, including 9th class Chemistry.   
Opportunity to Get All Short and Long-Length Questions
Papers in board exams in matric part one and two (aka 9th and 10th classes) have expanded scope of knowledge testing. These testing pattern have diversions. The objective sort of questions has short-length questions, multiple-choice questions. Whereas on the other hand, the long-length questions are also a prominent part of chemistry class 9.  
With Prep by PGC, students can learn more than 1000 long questions, 4000+ short questions and 5000+ MCQs for class 9.  
Now, you are actively looking to access the free matric app on your smart devices. We are sharing it in the text below.  
Download Prep by PGC through Play Store
Prep by PGC is available on the Google Play Store for android users. Hence, if you have an android mobile or smart tablet, you can download it freely. The online portal is also available. 
Install Prep by PGC via Apple Store
Now, coming towards the apple smart phone. If you have an apple mobile of tablet, you can open your Apple App Store and download and install Prep by PGC in no time.  
Benefits of Installing Prep By PGC
Whether you are an android or apple device owner, you can enjoy the following benefits from Prep By PGC.  
Free Matric Preparation Portal at Your Fingertips

 

Instant Access to More than 1500 Video Lectures

 

Bank of Above 5000 MCQs

 

1000 Long Questions

 

4000 Short Questions

 

Free Video Lectures for class 9 and 10 

 

Carters to all Punjab Boards in English and Urdu Medium

 

User-Friendly Interface 

 

Get Rid of Hefty Academic Fees 

 

Available 24/7

 

Free Self-Assessments & Quizes

 
Conclusion
To sum up, we are reminding you, in the end, that you can prepare Chemistry class 9 for free through Prep by PGC. It is a free matric portal that will help you ace your 9th & 10th class in Punjab Boards in both English and Urdu Medium.