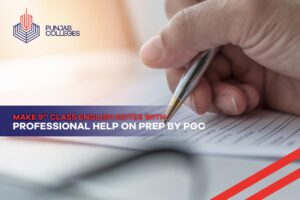 9th class English notes are essential to make in order to score well in every aspect of the extensive course content. Therefore, Prep by PGC brings professional help for free to make preparation for class 9 English with notes. Get through the article below and learn how to make class 9th English notes with the best learning opportunity.  
9th Class English-Rich Content 
English is a compulsory subject in the 9th class. In addition, the course content is rich in nature. There are variations included in the form of literature, stories, grammar, translation, and other components. There are well-diverse chapters in 9th-class English. This course is designed by the board of intermediate and secondary education.  
Cover 9th English with Video Lectures
Students of the 9th class can learn all chapters from high-quality, professionally drafted, and free video lectures recorded by the professional teachers of English.  
Get Exam Preparatory Material for Boards
The board exams are a nightmare for many first-timers. They feel pressured over a number of factors. Many of the elements are rumoured and the only solution to combat all issues and bag high scores to get good grades is to prepare to the fullest of your potential and understanding. Furthermore, practice is a prominent part of high matric scores in board exams.   
The examination of board exams for matric classes of 9th and 10th comprises of objective and subjective portions. The objective portion is subdivided into short questions and multiple-choice questions. Whereas the subjective portion comprises of long or full-length questions. All of these are the preparation part of 9th class English; notes must be made keeping this in mind.   
Long and Short Questions
The long questions are also known as full-length questions. Therefore, while listening to the 1500 plus free video lectures on Prep by PGC, students of the 9th class must make English notes in a fulfilling way for each type of question.  
In addition, the students can get more than 1000 full-length questions. 4000 short questions for all subjects for matric class. The students of classes 9th and 10th can both take benefit from this free matric app.  
Multiple Choice Questions
Apart from long and short length questions, the free matric app has a wide bank of multiple-choice questions (MCQs) for all subjects including English. Therefore, the ninth-class students can easily prepare the 9th class English notes for all aspects of board examinations.
 
Past Papers for Preceding Years
Another important aspect of attempting the board exams successfully is the subject preparation from the past papers for all compulsory and elective subjects. In addition to making 9th-class English notes, the students can easily access the papers that were asked in their relative board of examination for the last five years from Prep by PGC.  
With the help of past papers, the 9th-class students can identify the important topics and repetitive questions accordingly. Furthermore, looking at and reading past papers enable students to understand the pattern of statement, questions, and part of grammar.
 
Free Assessment Material 
All the benefits stated above are not the only aspects of our free matric app. In addition, we also offer an opportunity for students to do unlimited practice for all subjects by attempting new questions on every new tap. Prep by PGC not only takes questions for all subjects, including English, randomly from past papers and exercises in the form of quizzes. Therefore, in addition to making the 9th class English notes, students can attempt various questions at any time of the day.  
Download Prep by PGC in your Smart Devices
Punjab Group of Colleges (PGC) understands the needs of the modern era. For the same reason, we have involved the latest technological resources at every level of education to evolve our future. Students of 9th class make English notes through the app in their mobile or tablets.  
By learning with apps, students can manage their learning with their extracurricular activities. Prep by PGC is a useful free learning app working 24/7.  
Conclusion
Just to remind the matric students, we are stating again that you can make 9th-class English notes for free with the help of free video lectures. You can prepare an English syllabus with respect to fulfilling the requirements of objective and subjective portions in board examinations. You can get familiar with paper patterns through free past papers for English. You can also practice and overcome your weakness by attempting free self-assessments.