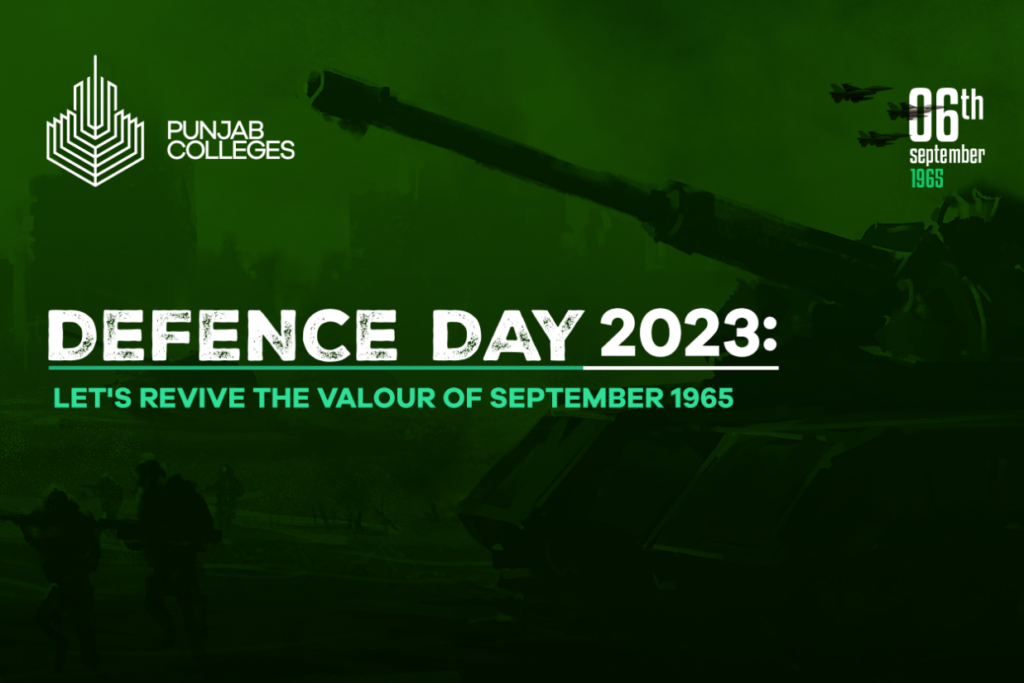 The 6th of September has enormous historical significance in Pakistan. On this day, the country comes together to remember the courageous soldiers and people who bravely defended our country during the 1965 Indo-Pak War and made the supreme sacrifice. To successfully address the difficulties of the present and the future, it is essential that we remember the brave acts of the past as we observe Defence Day in 2023. 
Remembering the Heroic Stand of 1965
1965 was a difficult year for Pakistan. It was a time when aggressiveness from across the border threatened the country. Pakistan's armed forces and its resolute civilians responded to the challenge in the face of hardship. They showed unmatched bravery, tenacity, and cohesion. 
Chawanda Fighting, Operation Grand Slam, and the outstanding defence of Lahore are just a few examples of our military forces' unwavering spirit in action. Our warriors' bravery and selflessness during those trying times remain indelible in history. They serve as an example of our nation's everlasting dedication to its defence. 
Obliged to our National Martyrs of 1965
It would be unjust not to pay our tribute to the martyrs of the 1965 War. Pakistan army sacrificed its most skilful soldiers of the soil in these seventeen days. The martyrs of War of 1965 are as follows.  
Captain Muhammad Sarwar Shaheed

 

Naik Saif Ali Janjua Shaheed

 

Major Tufail Muhammad Shaheed

 

Major Raza Aziz Bhatti Shaheed

 

Pilot Officer Rashid Minhas Shaheed

 

Major Shabbir Sharif Shaheed

 

Captain Muhammad Sarwar Muhammad Hussain Shaheed

 

Major Muhammad Akram Shaheed

 

Lance Naik Muhammad Mahfuz Shaheed

 

Captain Karnal Sher Khan Shaheed

 

Havildar Lalak Jan Shaheed

 
The details of the heroic acts of the soldiers of the Pak Army can be seen here and here.  
From 1965 to 2023: Lessons to Be Learnt
As we celebrate Defence Day in 2023, we must reflect upon the timeless lessons that the heroes of 1965 imparted to us. 
Strongest Unity Displays in Diversity 
People from all walks of life came together during the 1965 war for a shared goal. This solidarity cut over racial, cultural, and linguistic barriers and was crucial to our defence. This solidarity continues to be a ray of hope for a stronger, more united Pakistan even now as we struggle with internal problems.  
Our laymen were on foot towards the borders, chanting for their army and raising slogans to keep their spirits high. Singers presented the national songs for the nation to keep them elated. To date, many are the face of courage in Pakistani society.  
Showcase of Resilience in Adversity
The inspirational tales of strength from 1965 are astounding. Our capacity to persevere through adversity and move forward in the face of insurmountable challenges demonstrates the human spirit. This resilience is a quality that still stands to be very valuable in our contemporary environment, which has its own unique set of difficulties.   
The Pakistani nation never fails to amaze the world when it comes to the country.   
Maintain Diplomacy and Peace
Pakistan's efforts to resolve the conflict through diplomatic means in 1965 demonstrated our commitment to peace. While our armed forces defended our borders, our diplomats were working tirelessly on the international stage. Today, in a world where diplomacy is more critical than ever, this approach should serve as a guiding principle. 
Quick to Adapt Innovation and Upgrades
 The heroes of 1965 showcased remarkable innovation and adaptability. They made the most of limited resources and devised new strategies to counter the enemy. In the age of technological advancements and ever-evolving threats, the spirit of innovation is crucial for our defence. 
Revive the Valour for Motherland in 2023
Defence Day is not merely a day of remembrance but a call to action. As we honour the sacrifices of the past, let us also look to the future. Here's how we can revive the valour of September 1965: 
Support Our Armed Forces
 Our soldiers continue to stand guard, ensuring our safety. It is our duty as citizens to support them, not only through words but also through actions. We must advocate for adequate resources, improved living conditions, and healthcare for our military personnel. 
Promote Unity with Countrymen
 Let us embrace the diversity within our nation and work towards a more united Pakistan. We should celebrate our differences and build bridges across divides, recognizing that our strength lies in our collective unity. 
Revise Your National and Domestics Priorities 
Update Education 
The heroes of 1965 were brave and well-educated individuals who excelled in their fields. Investing in education is a backing in our nation's future. We must prioritise education to empower our youth, especially in underserved areas. 
Polish Skills
The major player in the win of 1965 was the skilled personnel on the battlefield. This is 2023; we pray that no physical wars happen. But we are living in an era of technology and advancements. Therefore, we must win the war against economic, social, and domestic, and psychological enemies and stand tall with our social, technical, and emotional skills.  
Promote Peace 
While preparedness for defence is crucial, we must also advocate for peaceful resolutions to domestic and international conflicts. Pakistan ought to keep leading the charge for world peace. 
Conclusion
Defence Day 2023 is a day of inspiration as well as reflection. This day serves as a reminder of the courage and selflessness displayed by the heroes of 1965 while also igniting that same spirit within us. As we work to create a stronger and more affluent Pakistan for future generations, let's do it with cooperation, fortitude, diplomacy, and innovation. We can rekindle the courage of September 1965 by working together and tackling the future with unyielding commitment.