If you live in Gujrat or are a resident of a nearby area and are looking for colleges for 1st-year admissions, then Punjab College Gujrat is the best place. This campus of the Punjab Group of Colleges was established in 2021 with every state-of-the-art educational facility available.
We know that the intermediate years of education are the stepping stones to the career you want to pursue. You decide whether you want to study medicine or whether you want to be an engineer. Similarly, these years open the doors for your careers in computer or commerce fields.
That is why, after your matriculation exams, you need to choose a college in which you prepare not only for higher studies but also for your practical life. This is what PGC aims to do, and the best thing is that Punjab College Gujrat 1st Year Admissions are open.
So, all you have to do is enrol yourself and experience the best time of your academic years with us. However, if you are still confused, let us help you make your decision.
Why Should You Choose Punjab College Gujrat for Intermediate?
Here are some reasons why you should choose the Gujrat campus of PGC:
Purpose-Built Campus
Highly Experienced Faculty
Well-Equipped Laboratories
Fully Stocked Libraries
Scholarships and Incentives
E-Learning Facility
Purpose-Built Campus:
High-quality education is important, but the place where you study plays a very important role in your academic years. You spend most of your time on campus. So, the building should be up to the mark. The Punjab College Gujrat is built on 93,153 square feet and can accommodate up to 4,000 students. We have designed it to ensure a conducive environment for learning. It is a purpose-built campus having four floors with exceptional in-house facilities.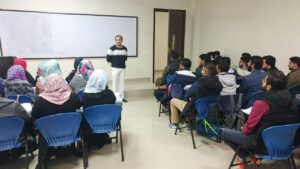 Similarly, the campus incorporates 72 spacious classrooms. We also have an auditorium with 250 student accommodations along with four lecture theatres. Furthermore, the campus includes a conference room, a seminar room, and a reception desk that you can go to if you need any information. It is an eco-friendly campus with greenery surrounding it.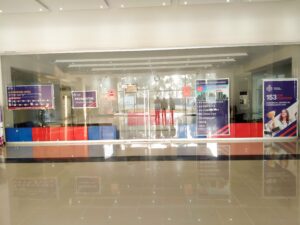 Reception.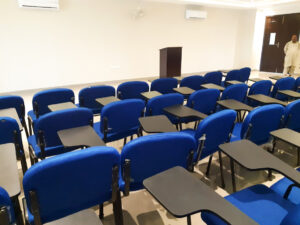 Lecture Hall.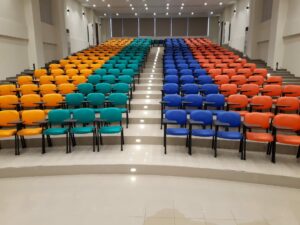 Auditorium.
Highly Experienced Faculty:
To prepare you for a successful future, we have a faculty of highly experienced teachers. You will be studying and taking guidance from them. They work hard to ensure that you are well prepared for your annual exams. We use effective teaching methodologies to ensure that you understand every concept.
Furthermore, the professors at Punjab College Gujrat create internal assessments following BISE protocols to ensure you are fully prepared for matric examination. As a result, you secure good grades in your HSSC and are one step closer to achieving your goals.
Well-Equipped Laboratories:
Punjab College Gujrat has seven cutting-edge labs that are up-to-date with modern requirements. These include computer labs, physics labs, zoology labs, etc. The most modern tools are available in our computer laboratories to assist with practical knowledge.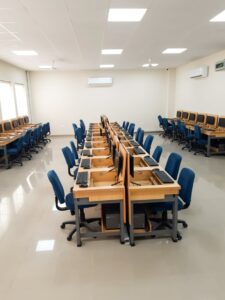 Computer Lab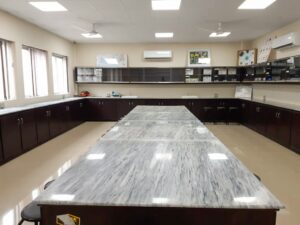 Physics Lab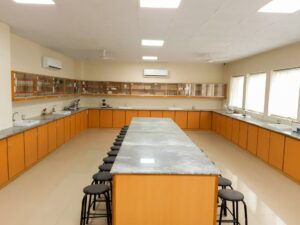 Zoology Lab
Similarly, our science laboratories allow you to put theoretical knowledge into practice. Our professional staff will guide you in operating the apparatus so that you get trained for the competitive market.
Fully Stocked Libraries:
Libraries are important for any educational institute as you will need help from additional books to prepare well for exams. In addition, libraries are places where you can study in peace without any interruption.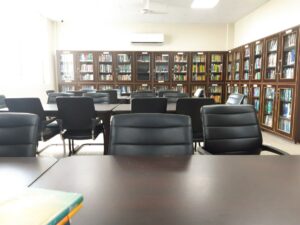 Punjab College Gujrat has 2 fully stocked libraries that include:
Textbooks
Encyclopedias
Dictionaries
Directories
Journals
You can become a part of our community by taking admission to PGC as Punjab College Gujrat 1st Year Admissions are open. As a result, you can make the most of every facility we provide you with throughout your journey.

Scholarships and Incentives:
Every child deserves a quality education, and those who put in a lot of effort should be rewarded. We encourage and support our students by providing them with scholarships. As a result, PGC offers a variety of incentives to students who excel in their board exams.
Furthermore, for students who are unable to pay their fees, we provide financial assistance in the form of fee concessions or free education. The multiple scholarships and concessions are as follows:
Merit-Based Scholarships
Kinship
Student with Special Needs
Need Base Concession
Orphan Students
Special Circumstances Financial Aid
So, if are worried that you cannot afford to pay for your studies at PGC, do not worry at all. Punjab College Gujrat 1st Year Admissions are open and you can also apply for a scholarship.
E-Learning Facility:
PGC has taken an initiative to assist its students with their studies. We have launched an app known as My PGC App. You can now learn from the comfort of your own home by downloading the PGC app to your phone, laptop, or tablet.
You are the one who knows yourself the best, right? So you will know when you are most productive. You may now make the most of these hours by using this e-learning application.
Furthermore, you will get access to:
Short questions and answers
Long questions and answers
Solved MCQs
Solved past papers
You can also use the app to ask your teachers questions and receive answers. However, the app is only for PGC students, so you have to be a student at PGC. Punjab College Gujrat 1st Year Admissions are open. So, enrol yourself and benefit from this facility right now.
The Final Word:
Finding the best college for your intermediate years is a challenging task. PGC, on the other hand, succeeds in providing you with a premium education as well as a vibrant campus life. We have secured 488 top positions in all of Pakistan's educational boards in 2021.
So, if you have completed your matriculation and are looking for the best college in Gujrat for your HSSC, Punjab College Gujrat is your best option. Punjab College Gujrat 1st Year Admissions are now open as matric results have been announced. For more information, you can contact us at info@pgc.edu.