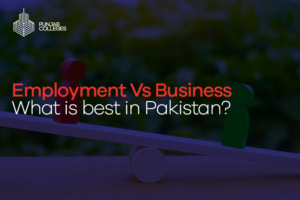 Often people are found tense about whether they should do employment or start a business of their own. This trend is present in the younger generation to much extent. After completing their degrees, they need help deciding what to pursue. In the article below, we have tried to list the pros and cons of doing employment and business one after another one. We hope you will get strong backup points to make up your mind about certain decisions between the best business in Pakistan or employment.  
Benefits of Job 
Job hunting is a serious business in Pakistan. Hundreds of fresh graduates enter the market every year, and competition gets tougher with every passing year. However, there are the following benefits of doing a full-time job in Pakistan.  
Regular Remuneration 
The most attractive benefit of engaging a 9 to 5 job is b is the attainment of a regular paycheck at the end of the month. Steady income confirms the income stream and grants peace of mind. Those with a family to look after feel easy with this point and therefore prefer a job over a business.  
Chance of Learning  
The jobs in the early years provide significant chances to learn about practicality, skills, corporate work, model, and environment. In addition, a person gets other soft skills by working in a corporate environment.  
Opportunity of Networking 
Networking is a vital element of career development and professional growth. The job station connects people together and they stay together for many years next to come. Their friendships and professional relationships are frequently built and broken off. Therefore, a person gains valuable experience.  
Access to Community Building 
With the passage of time, person switches workplaces, organisations, cities, and even countries travelled. The community is built while being in employment at various levels. This results in a reputation built-up, and a person is well-known in a certain professional community.  
Well-Managed Work-life Balance
Another benefit of regular employment is that a person can balance work and personal life together. There are leaves and 8 hours in an office; the other hand is available to sit with your family to enjoy the moments and keep the ties strong.  
Other Benefits 
In addition to all these benefits, a person also benefits from company-provided benefits as per the job opportunity and level of seniority in an institution. Group insurance, annual leaves, fuel adjustments, trips, or annual leaves could be offered to some employees at specific positions and organisations.  
Benefits of Business 
Initiating a business could have numerous benefits also. But these are often available once the business is settled and established. The benefits could be as follows.  
Chances to Enjoy Freedom 
Once the business is established, the chances of enjoying freedom in life are greatly enhanced. A person in a business can leave supervision on professional work and go for a trip on an annual vacation.  
The Opportunity To Become Your Boss 
In business, one becomes his or her own boss. In this way, they are not answerable to anyone supervising them. Instead, all staff works under them.  
The Sense Of Attainment Is Unparallel
When a business flourishes and enjoys success and expansion, the business owners, the ones who have taken the step to start it, enjoy a particular and proud self of attainment. The beauty of self0fulfilness results in self-appreciation, and that keeps one in a running capacity even in the elderly age.  
The Income Is Not Limited To Every Month 
Another benefit is that the income is not limited to a certain amount as it works in employment. Instead, the profit margins expand as the business operations become returning, rewarding, and successful. However, it is also possible that in the first few weeks, months, or even years, a business experience a loss or takes a long time to attain the breakeven point. That is the point where the nerve of the businessperson is tested.  
One Can Enjoy Other Benefits As They See Fit
Just like income is not restricted to a few bucks, the benefits are also customisable as they see fit. As the business owner is the decision maker himself, here the benefits are to be decided by him. Not only for himself but also for those who are working for him.  
No Fear of Loss of Employment 
In doing and managing a business, there is no fear of loss of employment. As you are your own boss, no one can kick you out of a job. However, if the business fails, then the situation can be the opposite.  
Earning Potential of Employment 
The earning potential in any government or private employment is linked with promotions and seniority. With the passage of time, person gains enriched experience and the potential earning increases likewise.  
Earning Potential of Business 
On the contrary, earning potential is directly linked with the business's success. The more it is accepted in the market, the earning scope and client base increase.  
Job Opportunities in Pakistan 
In a country like Pakistan, competition is brutal. Every year, many students enter the job market, and employers are always in the winning position to hire them for low bucks. Some people, no doubt, ace the job opportunities very well.  
Scope of Business Expansion in Pakistan
Pakistan is an underdeveloped country. It has a holding potential for innovation. Therefore, any business solving any social issue holds a massive scope of expansion and success in the current scenario.  
Conclusion 
We hope you can now decide the best choice for yourself, whether to do a job or start a business. A business is always initiable on a smaller level. It is good to start a business after you gain some market knowledge through a job. Anyhow, if you initiate an innovative business, you can start whenever you can, so we leave this to you to decide what is best: Business or job.