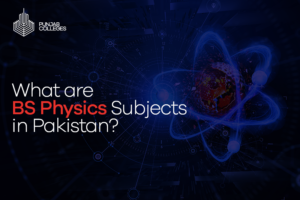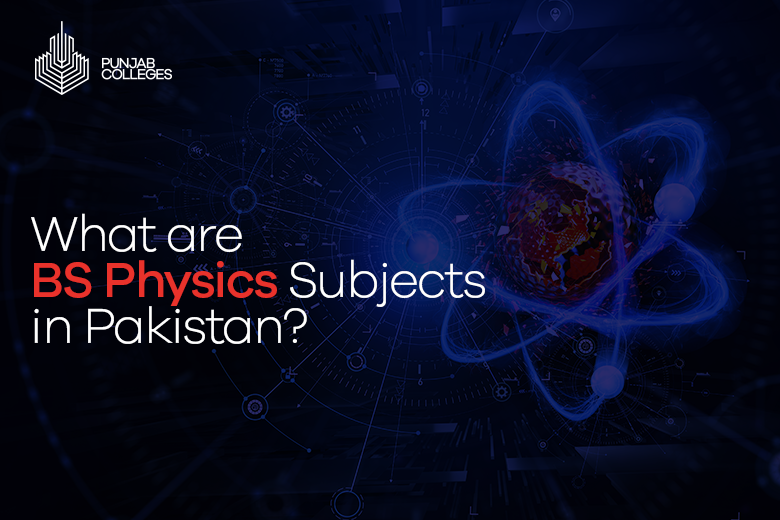 Physics aims to develop a basic understanding of how things work in the first place. Physics is part of the curriculum from the higher secondary education level in Pakistan because they are the country's base years of formal education. The main motive is to make the students aware of their interests in subjects that could make it easy to choose the right field for them as a future profession. Professional education starts from the undergraduate level in the country. To study in the desired domain, students must complete an intermediate in the relevant industry for base development. Therefore, we are going to discuss the subjects of BS Physics in Pakistan. To understand the importance and essence of physics and its subjects, ensure to read this article to the very end.  
Admission Pre-Requisites for BS Physics 
To apply for a BS in Physics at the undergraduate level of education in Pakistan, an intermediate in relevant subjects is needed. The exact criteria are mentioned below.  
At least 45% marks in F.SC Pre-Engineering/ICS/A Level or equivalent with Mathematics & Physics. 

 
Mathematics and Physics are required to ensure that student holds the necessary concepts, adaptability, and knowledge of Physics and related topics and sub-topics.  
Subjects and Study Plan of BS Physics 
After completing intermediate, students initiate the four-year degree program in universities and the entitled colleges to earn the undergraduate educational degree. The four-year degree program is known as BS in Pakistan.  
To complete a BS Physics degree, the student is required to complete 136 credit hours, studying various courses throughout the tenure. Subjects are mentioned in the following.  
Courses have a variety of subjects divided into compulsory courses, general courses, foundation courses, major courses, and elective courses, respectively. In addition, the research project is also a part of degree completion.  
Compulsory Courses in BS Physics 
The compulsory courses in BS Physics are essential for all students to study, and no choice is available for them to leave. Some of the mandatory subjects of BS Physics are stated below.  
Functional English 

 

Pakistan Studies 

 

Calculus 1 & 2 

 

Communication Skills 

 

Islamic Studies (for Muslim Students) 

 

Ethics (for Non-Muslim Students) 

 

Technical Writing & Presentation Skills 

 

Statistics 

 

Introduction to Computers 

 
These courses are distributed among the number of semesters per the institutions that seem fit. However, these are generally covered in early semesters. These courses are skill-building courses for students, preparing them with the basic, professional skills to perform at their best level in their careers.  
General Courses in BS Physics 
The general courses are taught to students to develop a general awareness about a number of things. The subjects included in the general category are as follows.  
Introduction to Sociology 

 

Physical Chemistry 

 

Differential Equations 

 

Computer Programming 

 

Linear Algebra 

 

Introduction to Psychology 

 

Environmental Physics 

 
Just like the compulsory courses, the general courses are also to be taken by students. These are not elective subjects.  
Foundation Courses in BS Physics 
Universities and colleges include a couple of foundation courses in BS Physics to ensure students have strengthened their physics foundation to build rich knowledge on it. The foundation courses have an additional ability that they already gained in intermediate. Some of the foundation courses of BS Physics are mentioned below.  
Waves and Oscillation 

 

Heat & Thermodynamics 

 

Heat & Thermodynamics Lab 

 

Modern Physics 

 

Optics 

 

Optics Labs

The major courses of BS Physics are next in the queue.  
Major Courses of BS Physics 
BS Physics has a variety of major courses. These courses are the advanced knowledge base for students in the degree program. The advanced and upgraded students are ready to make their mark with strong majors in the line. The majors of BS Physics are listed below.  
Mathematical Methods of Physics 1 & 2 

 

Quantum Physics 1 & 2 

 

Electronics 1 & 2 

 

Electronics 1 Lab  

 

Statistical Mechanics 

 

Atomic & Molecular Physics 

 

Atomic & Molecular Physics Lab 

 

Solid State Physics 1 & 2 

 

Electrodynamics 1 &2 

 

Classical Mechanics 

 

Advanced Experimental Lab 

 

Nuclear Physics 

 
Elective Courses of BS Physics 
The elective courses are chosen from the subjects that the institution offers to make a choice from. They could be any of the majors mentioned above. The students should select the electives by scoping research and keeping personal interests and career opportunities in mind while deciding. If one is interested in atomic and nuclear physics, one must not go for otherwise options.  
The best way to make a choice for electives in BS Physics is to consult your mentor and faculty for better guidelines. Furthermore, you can sort your confusion away with the video and text content on foreign college and video hosting websites.  
Skills and Abilities to Develop by BS Physics 
Choosing BS in Physics develops students' vast knowledge and skill bank. An overlook of skills and expertise is available in the following.  
Knowledge gains in BS Physics 
Learn to solve mathematical issues and identify connections between physical factors. 

 

Become familiar with the gathering, preparing, organising, and interpreting scientific data. 

 

Learn about natural laws in a variety of domains, such as biomedical physics, astronomy, astrophysics, electricity, magnetism, classical and quantum mechanics, and optics. 

 

Effectively do research, arrange knowledge, and create innovative ideas. 

 
Skill Upgrades in BS Physics
Conducting & Executing Experiments 

 

Skills of Theory Development 

 

Ability to understand & apply the Relevant Calculations 

 

Researching For the Valued Data 

 

Preparing Quality Oriented Technical Reports 

 

The Understanding of Mechanics 

 
Intermediate Course in Physics 
Before BS Physics enrolments, the students have gone through subjects of basic level understanding and knowledge development for Mathematics, Computer, Physics, and Statistics alongside English, Chemistry, and other subjects in their Intermediates and Matric level.  
Get Admission in BS Physics at UCP Colleges 
You can get yourself admitted to the constituent colleges of UCP. You will have an extensive opportunity in these colleges to earn a prestigious UCP degree with multiple scholarships. At the same time, you will get enriched and the latest education through well-equipped labs and laboratories under the guidance of world-class faculty. The admissions are open. You may apply today!