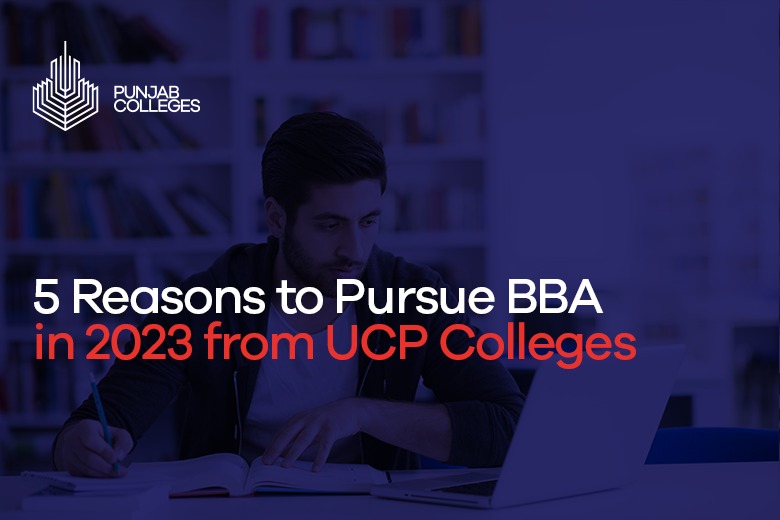 UCP is a renowned private sector university in Pakistan. UCP works under the umbrella of the largest educational network in the country. UCP decided to expand its education network to the entire province of Punjab. Therefore, students can earn an acclaimed degree while studying in their own cities. This article will cover the top five (5) persuasive reasons to complete a Bachelor of Business Administration (BBA) through a four-year degree program with us. To know more, please read out till the end of this writeup.   
BBA is Worth Considering in 2023
The world is moving fast-paced, yet business remains constant in this ever-changing world. Therefore, those who want to work in the business community in any capacity would only be an ideal fit with well-developed expertise in any of the business disciplines. Therefore, pursuing a bachelor's in business administration (BBA) is a great idea. Some of the reasons are available below. 
Multidimensional Learning  
Bachelor's in business administration (BBA) is a full-length degree programme. BBA ensures a robust business foundation as an undergraduate programme. It offers a vast number of courses relating to various sub-fields of business. Therefore, a BBA graduate can choose any of the subfields in business administration as suitable for his or her calibre and area of interest.   
The degree is subdivided into eight semesters comprising four years. Therefore, in the early years, it is ensured to build up a strong foundation for business graduates. Hence, the introductory subjects are taught. For instance, human resources, marketing, management, business mathematics, finance and computers are included in the course curriculum.  
In the later years, course advancement options are available before students choose from distinctive majors. Finance, Marketing, and Human Resources are the popular specialisation areas. These are the elective courses, in addition to the compulsory ones. You can check out the curriculum details here.  
Opportunity to Explore Latest Incomings 
With essential learning to advance skills, everything is covered in the BBA degree. Therefore, students can enter the field after successfully completing a Bachelor of Business Administration (BBA). Therefore, students can learn various practical skills at BBA, at their workplace and from online resources like Google, Microsoft, and Amazon for skill and certification upgrades. BBA makes it all easy and accessible for students.   
Straight Path to Pursue MBA in Future 
Furthermore, an MBA is a prestigious degree. It is demanded across the globe and holds massive benefits in both aspects of learning and earning. Therefore, if a student aims and dreams of doing an MBA, he should initiate a BBA in the preferred specialisation. After completing the BBA, they can register for an MBA as planned.   
Gateway Towards High Corporate Opportunities
Doing a proper degree from a well-known institution opens various doors to success. Hence, doing BBA will lead to the most anticipated future with numerous high-end opportunities. These opportunities would be available across the financial, corporate, educational, and tech-based organisations.   
Students would be in the capacity to either join the workforce as an employee or start a new business opportunity for others.   
UCP Colleges Offer the Following
Now that you know, a four-year business administration degree can open a world of earning. Also, it offers an untapped potential for opportunities. It would be best if you also learn the benefits of enrolling in UCP Colleges for BBA (Hons.)   
As a constituent college of the University of Central Punjab (UCP), the UCP Colleges has much to offer. That, too, is in the comfort of your city. Yes, you read it right! In addition, the advantages are penned down.   
Affordable Fee Structures

 

Multiple Scholarships & Concessions 

 

Wide Network Across Punjab  

 

Chance to Earn a Degree From UCP 

 

Experienced & Trained Faculty 

 

Well-Equipped Classrooms & Labs 

 
You can go through the facilities at UCP Colleges here.   
Explore UCP 
University of Central Punjab (UCP) is a proud part of the largest educational network in Pakistan- (Punjab Group). While located in the city of Lahore for more than a couple of decades, working as a beacon of light with quality education and world-class faculty. Moreover, the degrees are duly approved by the Higher Education Commission (HEC).    
Apply For BBA in UCP Colleges
One of the most alluring benefits of enrolling at the UCP Colleges is that you can obtain a world-class education in your city. Hence, you will not need to tolerate the long commute problems and the pain of leaving your family for your future building.   
If you are interested in business and want to join the corporate field as a business consultant or a businessman. BBA is the most suitable and relatable official degree for you. The admissions for 2023 are open at UCP Colleges. Apply through the online portal and take the proper steps in the right way, leading to success.   
Conclusion
BBA is a quad-year degree programme offered at the constituent colleges of the University of Central Punjab (UCP). Students living in other cities of Punjab do not need to commute to Lahore for higher education. UCP colleges are available in various cities across the province, to provide a world-class education in your city. Enrol today and take up the charge of your future now!