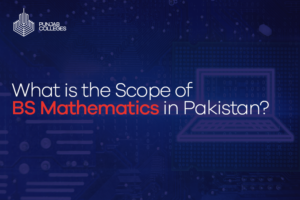 Mathematical analysis of numbers, structures, and change dates back thousands of years. It has its roots in ancient philosophy. Although mathematics, often known as "The queen of sciences," is frequently used for computations, measures, and counting, it is also a complicated area that encompasses theories, the creation of legal precedents, and identifying patterns. After attending the best math universities, many math majors go on to have highly lucrative and successful professions in computing, accounting, engineering, science, banking, and business. It falls under the category of STEM, which employers prize highly when hiring new staff. In the article below, you will learn about the scope of BS Mathematics in 2023.  
Career Prospects of BS Mathematics  
BS Mathematics is the golden ticket to a successful career in the national and international market. It is a four-year degree program. Upon completion, the general job areas you can join after completing BS Mathematics are as follows.  
Market Researcher 

 

Statistician 

 

Acoustic Consultant 

 

Actuarial Analyst 

 

Data Scientist 

 

Data Analyst 

 

Teacher 

 
These are all the possible career prospects for the graduates of BS Mathematics. You can either join the government sector, the semi-government sector, or the private sector. All these sectors are open with various job opportunities. In addition, in the finance sector, the insurance sectors have significant actuarial positions. Moreover, the chances are even brighter if you pursue your studies in MS and PhD programs.  
Salary Scope After BS Mathematics Pakistan
According to the research, the compensation ranges from job to job, sector to sector. For instance, after doing a BS Mathematics, a person can work as a teacher, actuary, investment banker, or civil servant. The salary and compensation range differs from seat to seat. However, the general range of earning potential lies between 19k to 902k and everything in between.  
Subjects of BS Mathematics Curriculum 
The subject curriculum is decided as per the policy of the higher education commission (HEC) in Pakistan. All institutions work accordingly. However, the content, teaching resources and practical and digital efforts distinguish a college from a college. The results speak larger than words.  
The study plan requires 130 credit hour completion. The whole scheme includes a variety of general, foundation, compulsory and elective courses to equip students with the latest, upgraded, and wholesome education covering the mathematics discipline in detail.  
Subsequently, subjects like calculus, analytical geometry, functional English, discreet mathematics, computer, topology, analysis, and probability are included in the study scheme.  
Choose the Best College for BS Mathematics 
Numerous institutions are offering a BS in Mathematics in Pakistan. However, choosing the one with an educational excellence legacy is best—the one having the best state-of-the-art facilities and a degree from a reputed and prestigious institution. We are talking about the BS Mathematics from UCP (University of Central Punjab) colleges. These are the project of prominent education providers known as Punjab Group. The UCP, CUST, and MAJU (Muhammad Ali Jinnah University) are the sister concerns of the Punjab Group of Colleges.  
Life at Punjab Colleges
Life at Punjab Group of Colleges PGC is super exciting. The same tradition is expanded throughout the degree and graduate levels in all the sister colleges of Punjab Group. The students have an equal opportunity to gain professional knowledge in addition to extra-curricular activities. Several societies working in full swing relate to a diverse range of causes. Some include seminars, dramatics, sports, recreational trips, environment-friendly initiatives and many more activities regularly conducted throughout the year.  
State-of-the-Art Facilities
While studying at Punjab Colleges, students have facilities throughout the campuses. The regular and uninterrupted power supply, customized campuses, and book-loaded libraries are the common and admiring positive attractions at PGC Colleges. In addition, digitally upgraded classrooms, equipped labs, and a fresh and clean cafeteria are always available to utilise.  
Scholarship Options at Punjab Colleges
The network of punjab colleges is widely spread in the province of Punjab. It offers an opportunity for students to get world-class classroom education. In addition, scholarship options are duly available for students. Some of the prominent types are as the following.  
Merit Scholarships are primarily available for BS mathematics and other disciplines.

 

Semester Scholarships 

 

ADP-Associate Degree Program Scholarships 

 

CGPA Performance-Based Scholarship 

 

PGC -Punjab Group of Colleges Alumni Scholarship 

 

Kinship Scholarship Options 

 
You can check out the scholarship options for BS Mathematics in the link here. In addition, to check out the availability of BS Mathematics in your city with fee structure you can click here.  
Opportunities for Further Studies After BS Mathematics 
After completing your BS in Mathematics, you can get admission to MS Mathematics and PhD for the doctoral level of studies. There is no looking back with such a highly demanded degree with a massively large specialization in mathematics.  
Admissions are Open  
The admissions for the year are open now. You can check out the details and requirements here. It is a golden chance to study in a prestigious and growth-oriented institution in Pakistan.