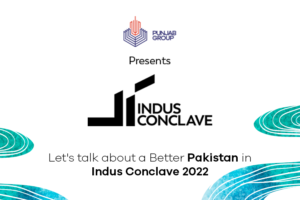 Punjab Group has added another feather to its cap by conducting a three-day conference at Alhamra Lahore. The forum has invited prominent and well-known speakers from all over the world. The talk is titled- Indus Conclave 2022. It is scheduled to be held from 14th October 2022 to 16th October 2022. Furthermore, Indus Conclave 2022 conference has been open for the public to attend in the last couple of days.  
About Indus Conclave 2022 
Indus Conclave 2022 is a three-day conference being held at Alhamra, Lahore. Punjab Group organizes the event and focuses on Arts, Climate Justice, Pakistani Cinema, and Urban Development.  
The conference has invited speakers ranging from business leaders, policymakers, diplomats, journalists, academics, writers, and environmentalists, to artists. These eminent people have massive experiences and a clear outlook on their subject matter.  
Speakers of Indus Conclave 2022 
You can expect thought-provoking conversations and discussions on diverse topics. Indus Conference 2022 is a depiction of the ancient Indus Valley- A water body serving land to bloom. Therefore, the ideas, solutions and modern perspectives are right to be expected at the conference setting.  
In addition, the speakers and organizers together are celebrating the cultural and literary heritage of our region and country. That is rich, advanced, and eloquent equally. The book launch is also included in the program. In addition, the digitalization and scope of its benefits are also addressed at the conference. Punjab Group knows the importance of digital Pakistan cannot be ignored these days!  
Justice Jawad Hassan, Najam Sethi and Salman Akram Raja & Justice Nasira Iqbal, Jehan Ara, Yasser Bashir, Dur e Aziz Amina, Bilal Tanveer, Mariam Tareen, Mosharraf Zaidi, Dr Zafar Mirza, Senator Ayesha Raza Farooq with Dr Shahzad Ali Chaudhry and Zulfiqar Jr. are some of the key speakers and prominent participants of the conference. You can check out the complete schedule here.  
Topics Addressed at Indus Conclave 2022 
From discussing the climate with past, and present standing to predict the future and safeguards. The conference has a critical eye on the development our country has done since the last 75 years of hard-earned independence.  
In addition, the literature, writing, and its essence with a western perspective are under discussion. On the other hand, digital age requirements are seen in accordance with Pakistan by digital giants.  
The event also has a book launch by the title- American Fever. In addition, music, arts, local people, and cities are the essence of the Indus Conclave 2022.  
The outlook from Indus Conclave 2022 
This conference aims to be a long-lasting gathering place for experienced experts, eminent thinkers, and aspiring innovators who are committed to making the world a more tranquil, just, and secure environment for everyone who lives in it. By hosting interactive workshops and displays, the conference also aims to highlight and explore the literary and cultural heritage of the area.  
 It can be said that this conference will pave the path for a creative, open-minded, and vigilant Pakistani society that thinks beyond mere and disturbing politics. The audience has an opportunity to take keynotes from speakers and to think openly. It is a massive chance for people who want to do something for Pakistan to see how experts in the fields see the country and perceive its future.  
Where, When and Why 
If you are a writer, urban developer, urban sole, reader, observer, book reader, music lover, art follower or a person or worker of a digital atmosphere, then this Indus conclave is for you! You will listen to the experts in your field that will help you get innovative ideas and thoughts with varied dimensions. This will enlighten your soul and brain to think ahead of what you already know.  
For instance, people who listen to the news can attend the 'news and bias's to differentiate between right and wrong as we experience the absence of actual news between the rating race! In addition, urban problems need serious attention and solutions to keep life going.  
Likewise, the arts and music lovers have a chance to see an art exhibition and learn about the present and future of music in Pakistan. However, climate change is real, and we have recently witnessed the destruction of floods in Pakistan. Therefore, it is crucial to do climate Justice. You can listen to experts on Indus Conclave 2022.