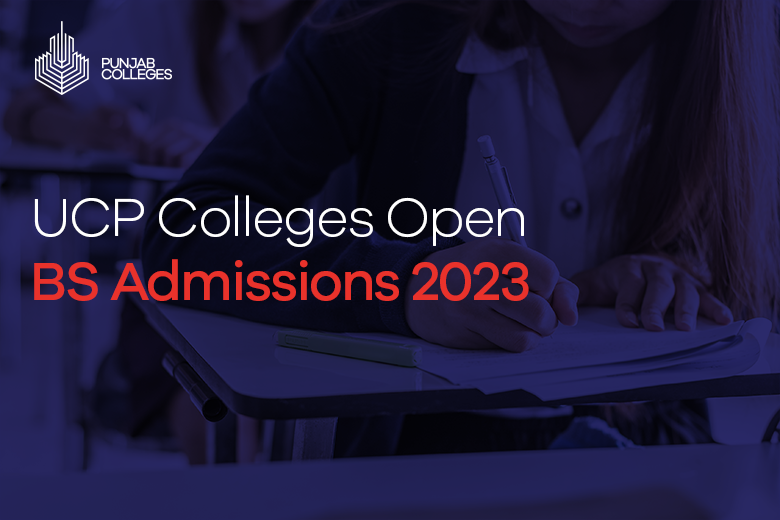 After intermediate, the next stop is to enter the life of advanced and professional education in Pakistan. For this purpose, there are universities and authorised colleges to offer higher levels of education to students in various disciplines. University of Central Punjab (UCP) is one of the prominent education providers, opening BS Admissions 2023 for students in constituent colleges of UCP.   
Benefits of Learning the Bachelors (BS)
You will have the following benefits once you decide to study at UCP Colleges (PGC Colleges). Every student gets entitled to receive state-of-the-art facilities.  

 

You will get the incredible opportunity to learn and study professionally through the world-class faculty of your degree program.  

 

Labs are an essential part of study procedures in Pakistan. UCP colleges understand this well. Therefore, they have constructed state-of-the-art labs for better learning experiences.  

 

The world is changing fast. The essence of education is to prepare students for the future with all the necessary skills and knowledge. The professional education providers at UCP Colleges are well-adapted to this reality. 

 

Another benefit of studying at UCP Colleges is that you will earn a prestigious degree from the University of Central Punjab (UCP). A professional degree from HEC recognised university is the best fruit of your efforts to get a head in professional education. 

 

Furthermore, while you study in any BS program at the UCP Colleges, you can avail of multiple scholarships and fee concessions on diversified grounds. The primary scholarship offerings are made for merit-based and need-based circumstances. 

 

In addition, highly qualified teachers' professionalism is the major significant point for taking this decision.  

 
Disciplines Offered for BS Programs 2023 
At UCP Colleges, there is a diversified and extensive range of programs for BS 2023 for students with different interests. A brief introduction to each of the BS programs 2023 is available below.  All the programs are scheduled for a period of four (4) years. 

Bachelors of Business Administration (BBA Hons.) 
The BBA (Hons.) programme combines a solid grounding in the basics of business with competence in one area of specialisation selected by the student from Management, Finance, Marketing, Information & Operations Management, and Entrepreneurship. The programme also gives students much exposure to social science and humanities.  
BS Accounting & Finance 
Our BS Accounting & Finance degree gives students the essential know-how and abilities they need to succeed in the financial industry. The benefits and scope of BS Accounting and Finance are wide and broad.   
BS Chemistry 
The BS Chemistry degree helps students thoroughly understand chemical processes and equips graduates with all the essential skills and abilities they need to succeed. You can join multiple careers after completing your BS in Chemistry.   
BS Computer Sciences 
Four Year BS in Computer Science programme prepares students to address contemporary tech-related issues. Students who major in computer science are equipped to work in the information technology industry.  
BS Economics 
If you want to become a successful and assertive economist, then BS Economics is for you. This BS Economics programme is designed to foster an in-depth understanding of both microeconomics and macroeconomics and strongly emphasises helping students hone their analytical abilities.  
BS English 
As an international language, English is accepted and demanded worldwide. Therefore, our syllabus for BS English is exceptional in many ways. English majors have a significant chance to profoundly understand literary works' organisation and subject matter.  
BS Mathematics 
Our BS Mathematics degree plan has been created to assist students in problem-solving by analysing, justifying, and communicating.  
BS Physics 
To assist students in developing a conceptual knowledge of the foundations of physics, we designed the BS Physics programme for future education.   
BS Psychology 
The professional four years BS Psychology degree aims to help students become systematic, statistical, and critical thinkers in relation to human behaviour.  
BS Zoology 
BS Zoology programme, created by a top-notch staff, enables students to study animal biology at all levels of biological organisation.  
Look Into Campuses 
Although learning is possible in every way, learning becomes easier in facilitations. Therefore, UCP Colleges offer the latest technology and state-of-the-art facilities for students to have the best education.    
Conclusion 
BS Admissions 2023 is waiting for you. You can get admission to BS four-year degree to achieve the academic and professional qualifications. Start your journey today!